Boost profitability with financial record-keeping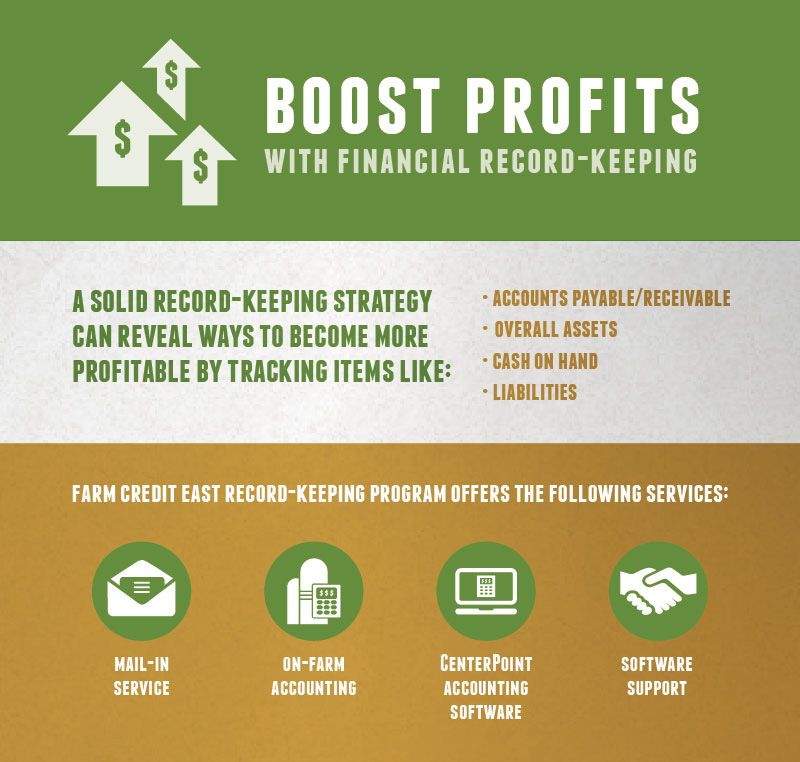 Record-keeping is important to every agricultural operation, and if for nothing else, to track information that the Internal Revenue Service (IRS) requires each year during tax time.
Beyond tax compliance purposes, a solid record-keeping strategy can reveal ways you can become more profitable by tracking items like accounts payable and accounts receivable, overall assets, cash on hand and liabilities.
How in-depth you keep your records is a matter of personal preference and record-keeping services, like Farm Credit East's Financial Record-keeping program, are typically custom-tailored to each operation depending on each individual producer's needs. Some producers base their record-keeping strictly on what the IRS requires on a Schedule F form, or a farm tax schedule, while others get considerably more specific.
How to boost potential profits with record-keeping
Good record-keeping can have a substantial impact on profitability in some cases. If you're accustomed to tracking cash only, but not considering overall accounts payable and receivable, you may be missing out on opportunities to boost profits by adjusting vendor payment frequency, sales terms or using other financial strategies.
By keeping more comprehensive records and reviewing trends, you may reveal, for example, switching vendors or service providers can save money and increase profits. Sometimes only watching cash balances can allow opportunities like these to slip by, since cash on hand doesn't always correlate to profits. Tracking total assets and liabilities, including, accounts payable and accounts receivable can help reveal areas where you can streamline your operation and increase profitability.
Getting started with record-keeping
If you're new to financial record-keeping on your farm operation, it may seem like a daunting task to get started. Some feel without a background in accounting, tracking more specific financial data points is too difficult a task. By working together with an accountant or record-keeping expert and utilizing accounting software, the barrier to entry into record-keeping is lowered and sometimes altogether eliminated.
What information do you need to begin keeping better financial records? Start with your bank statements; these help to track expenditures. Though not all variables are necessary for ongoing record-keeping, information to gather when beginning the process includes:
Balance sheets
Cash on hand/cash flow
Accounts payable
Accounts receivable
Asset values/cost basis
Vendor payment schedules
Loan/Lease terms and amortization schedules
Farm Credit East's Financial Record-keeping program offers mail-in services or on-farm accounting for important income and expense information, allowing our experts to prepare tax and financial reports. Our CenterPoint accounting software helps track critical financial data and provides reporting for key variables like payroll, balance sheets, management reports, invoices, payables and receivables. Ongoing, customizable software support helps ensure your records stay up-to-date.
Learn more about getting started with Farm Credit East's Financial Record-keeping program here.