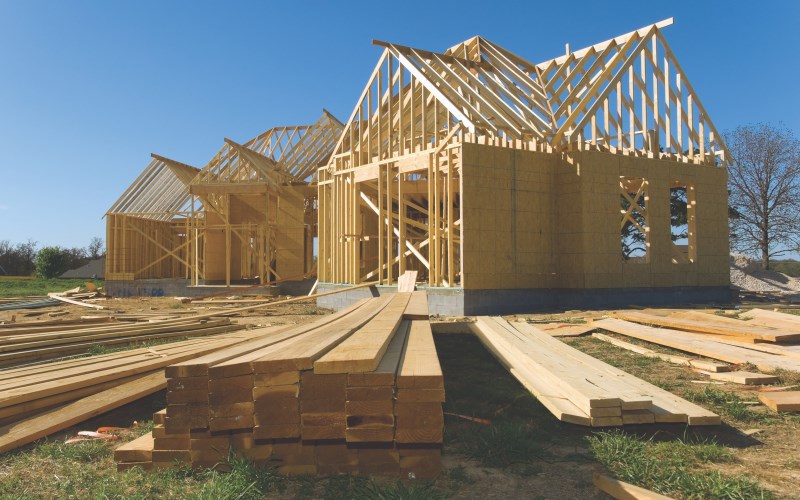 Planning to build a home in the country but don't know where to start? From floorplans to financing, new home construction projects require a lot of time and planning. If you're dealing with rural real estate for the first time, you'll likely be navigating even more unknowns.
Whether you already own rural land or are searching for your future construction site, building a home in the country doesn't have to be a hassle. With help from the right team, you can rest easy knowing all your planning and financing needs are being handled from lot purchase to final mortgage.
Construction Site Considerations
Two of the most important factors to consider when buying undeveloped land for new home construction include the unique features of the property and the location of the site itself. Road frontage, septic systems, access to water and electric services are important aspects rural property hunters need to keep in mind when building in the country. Other examples include conducting a perc test to measure soil drainage, researching zoning limitations and estimating the costs needed to complete site work for future construction.
Because the location of a rural property influences land values, buyers should also consider distance to major roadways and proximity to metro areas that can provide employment and education opportunities, medical services, shopping, and other recreational amenities.
Many lenders won't finance vacant land because of the risk involved, and if they do, they often have acreage limits or require a large down payment and higher interest rates. Country Living's lot loans offer the flexibility to purchase land now and build at some point in the future. And if you're ready to build, Country Living offers a one-time closing for construction to permanent financing.
Unlike other lenders, Country Living fixes the interest rate for home construction at loan closing and it remains fixed through both the construction phase and the entire life of the loan. Country Living offers a huge database of rural land sales and the expertise to help guide you through the loan process.
Securing Financing
Once you've found the perfect site to build your future home, the next step involves planning for the construction phase and securing financing for the project. It's recommended to start the rural home construction loan process at least two to three months before breaking ground because the loan process takes anywhere from 45-60 days.
Since a construction loan with Country Living is completed in one closing, buyers typically have a 12-month timeframe to begin construction. During this time, buyers are encouraged to get organized and do their homework as they finalize the details of their country home.
If you plan to buy land and build a house all at once, you need to have your house plans ready to go when we the appraisal is completed. That includes everything from the type of home being built, such as a modular, stick built or a log home, to the quality of the finishes you plan to install.
Although a general contractor is not necessarily required, it's a good idea to compare multiple estimates and select a reputable builder who is looking out for your best interests.
Don't be afraid to check out the quality of other homes if you have a particular builder in mind. Our appraisers can help walk you through this decision making process and let you know if any costs have been overlooked.
It is also recommended to visit the local tax assessor to determine how the property will be assessed once it is no longer considered vacant land.
In addition to higher taxes, buyers should count on having cost overruns with their home construction project. We like to factor in at least 10 percent for cost overruns. As part of the underwriting process you'll need to show you have money saved up or liquid funds available for unexpected costs, and as your lender we want to ensure we're helping you stay within your borrowing capacity.
Getting pre-qualified for a new construction loan is a great way to calculate what you can comfortably afford. By starting the loan process early, we can help you work within your budget as you prepare your plans and estimates.
One of the biggest advantages of working with Farm Credit East is that we only charge interest during the building phase on the funds that have been advanced. This saves buyers from making full principal and interest payments on the total loan amount right away, so payments will gradually increase over time and buyers will settle into the principal and interest payments only when construction is done.
And most importantly, don't cut corners. New home construction is not a project where you want to rush through planning and financing. The best thing you can do is plan ahead and be realistic about your goals. Our experienced mortgage specialists are here to help provide you with personalized service every step of the way.
Contact your Country Living local mortgage specialist to learn more about rural home construction financing today.