Building your Career: An open mind makes all the difference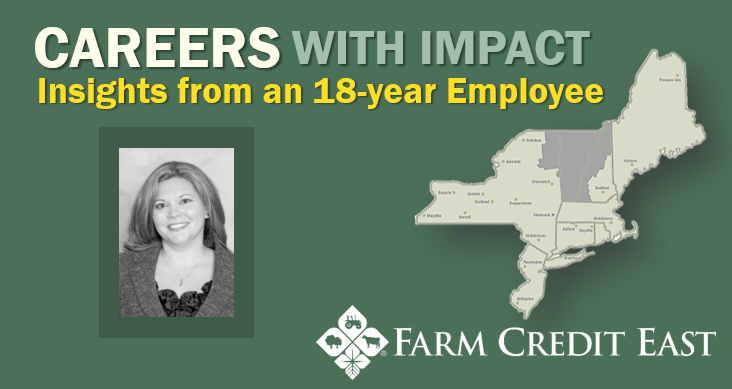 Jenny Montalbano is a Branch Manager in Farm Credit East's Mayville, NY, branch office. She has had a diverse career with Farm Credit, helping to mentor many new employees (fun fact: I was one of them!) and leading special projects and initiatives along the way. I recently talked with Jenny to learn more about the breadth of her career and the takeaways she has gleaned thus far. Here is what she had to say.
Jean Gallagher: How did you discover Farm Credit and why did you choose Farm Credit East as the starting point for your career?
Jenny Montalbano: Farm Credit was on my radar when I was a sophomore at The Ohio State University where several Farm Credit Associations recruit on campus. I met with each of the Farm Credit recruiters and connected well with Farm Credit East's recruiter. At that time, I had an internship with Deere and an accounting internship with a small business, and Farm Credit East liked that mix of experience. I ultimately decided to join Farm Credit full-time after I graduated because I liked the idea of working in different types of industries and going different places. I grew up in Ohio and hadn't spent much time outside of the state prior to taking the job with Farm Credit.
JG: Tell me a bit about your career.
JM: My career has been interesting. I didn't know a lot about credit but that's the position where my Farm Credit career began in Riverhead, NY. When I started, I said I was willing to talk to people and do whatever it was Farm Credit needed me to do. And that has been my stance since.
The year I started (2001) was an interesting time in credit. The agricultural industry was really strong and many offices were growing rapidly. I spent a lot of time making new loans and getting to know customers. With lots of new loans also comes the need for appraisals. The Riverhead branch didn't have their own appraiser at the time, so to help George (the Enfield, Conn., appraiser covering the Riverhead office) get the appraisals done quickly, I would collect all of the information he needed and assist with the property inspections.
It went on like that for a couple of years. I didn't know at the time that I was actually growing into my next position. I think it's important to realize that you don't always have to have a master plan.
As the Riverhead branch continued to grow, they decided they needed their own appraiser. The branch manager asked if I was interested in shifting into an appraisal role before the position was even open to other candidates – that is something I like about Farm Credit, if you show interest in an area of the business, they talk with you about it before looking outside the organization.
Once I became an appraiser, I made sure to not lose the skills I had gained in credit. It can be hard to focus on more than one job function at a time, but I made the time to do it. I helped train new loan officers who joined the Riverhead team to retain my credit knowledge. I kept up with software changes, too.
JG: Tell me about your current role as the Mayville, NY, Branch Manager.
JM: My role is to implement the vision of our senior leadership team within my branch territory. Day to day, the tasks to achieve this can look very different. The primary way I achieve this is by being available to customers and staff and consistent in how I work with them.
JG: What has helped make you a good leader at Farm Credit East?
JM: All of my experiences up to this point helped prepare me to be a branch manager. It's important to know your values and how they tie into the organization. I also have a strong and steadfast belief in the organization and a love of agriculture.
JG: What is your most memorable experience with Farm Credit East?
JM: Early in my career, I had the opportunity to attend a planning meeting. This planning meeting included senior leadership, branch managers and one staff member from each branch office. We first had a half day teambuilding activity to help us get to know each other so we could go into the planning meeting with an open mind and feel comfortable speaking freely to contribute to the strategizing effort. I chose the kayaking activity. Kayaking is awkward unless you do it frequently, and it was a very equalizing activity. Some people fell over, some people got caught in the brambles. It didn't matter what people's positions were.
It was a freeing experience and we had a lot of fun together. We had a really successful business planning meeting afterwards. All of this helped me really understand Farm Credit, what it stood for and how we work together as a team. Before this, I had a job with Farm Credit. Afterwards, I knew I had a career with Farm Credit.
JG: What are you most proud of accomplishing with Farm Credit East?
JM: I'm proud of the longstanding customer relationships I have developed and the impact I feel I've had with individual farms. This stands out more than anything else.
JG: What is the hardest part of your job?
JM: The best part can also be the hardest – working with the customers and farms I have impacted. I don't agonize over anything else.
JG: Why have you spent 18 years with Farm Credit East?
JM: In the early part of my career, it was because I didn't want to quit something I had just started. But then the next opportunity was always here at Farm Credit. I never even thought about anything else. I'm not a "grass is greener" type of person anyways. I would see other opportunities, but nothing ever seemed better than what Farm Credit provides. I also really enjoy and appreciate the people in my life who are also my Farm Credit colleagues. I used to laugh when people described Farm Credit as a family, but now I get it.
JG: What do you like to do when you are not at work?
JM: I really like to do things in my community – activities and projects that make a difference. I also like to do things with my kids. I want to be with my kids every moment outside of work, so a lot of the things I do are based on that.
Jenny's work ethic, positive attitude, relationship building skills and eagerness to learn are all things I appreciated and admired as she mentored me during the early years of my career. I'm proud to say these traits ring true across Farm Credit East as our team works hard to help our customers achieve success. If you or someone you know are interested in making a career at Farm Credit East, check out our opportunities at FarmCredtiEast.com/Careers.