The 2017 Census of Agriculture: Stand Up and Be Counted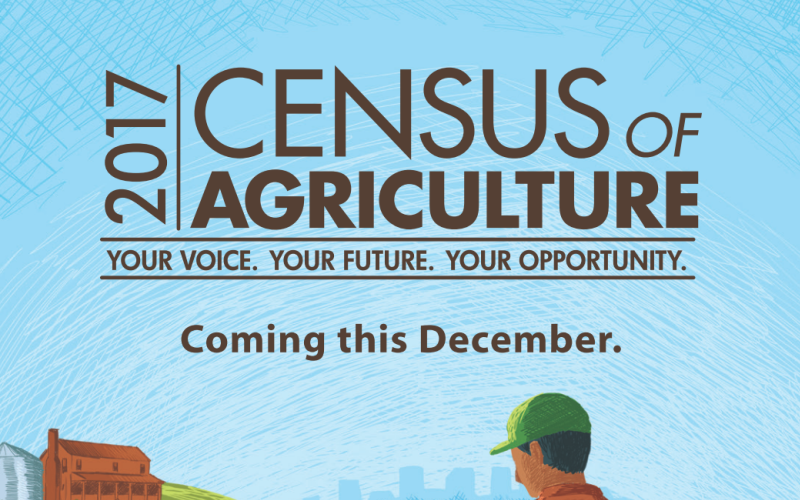 Response forms for the USDA Census of Agriculture have started to be mailed and are available online. It's critically important that all producers respond – large, small, rural, suburban or urban – whatever products you produce! The census information is used by various agencies, institutions and organizations.
This year's online questionnaire has been revised extensively to make it more convenient for producers, including timesaving features and accessibility from many devices. Further revisions were also made to try and capture emerging trends and document industry changes.
Conducted once every five years, the Census of Agriculture is a complete count of all U.S. farms, ranches and those who operate them; it is the only source of uniform, comprehensive and impartial agriculture data for every state and county in the country. Farmers and ranchers, trade associations, government, extension educators, researchers and many others rely on census of agriculture data when making decisions that shape American agriculture – from creating and funding farm programs to boosting services for communities and the industry.
Organizations like the USDA and it's related agencies use census data to make funding decisions, establish program priorities and more. Elected representatives use census data to understand agriculture's impact in their districts and to determine their legislative priorities. Decisions made based on census data will shape the future of farm programs for years to come. By responding to the census, producers are helping themselves, their communities and U.S. agriculture.
Here at Farm Credit East, we extensively use census data in our research to track trends across regions, industries, economic and demographic categories.
Census results shape programs and initiatives that benefit young, beginning and veteran farmers and ranchers; help expand access to resources for diversity and inclusion in agriculture; and help famers diversify into new markets, including local and regional food systems, specialty crops, and organic and niche production.
Data collected in the census of agriculture is completely confidential and released in aggregate form only. The USDA ensures that no individual producer's or operation's data can be identified, and farm-level data is specifically excluded from freedom of information requests by federal law.
The Census of Agriculture is a producer's voice, future and opportunity. For more information about the 2017 Census of Agriculture, click here or call (800) 727-9540. The census response deadline is Monday, February 5, 2018.