Thank You from Bill Lipinski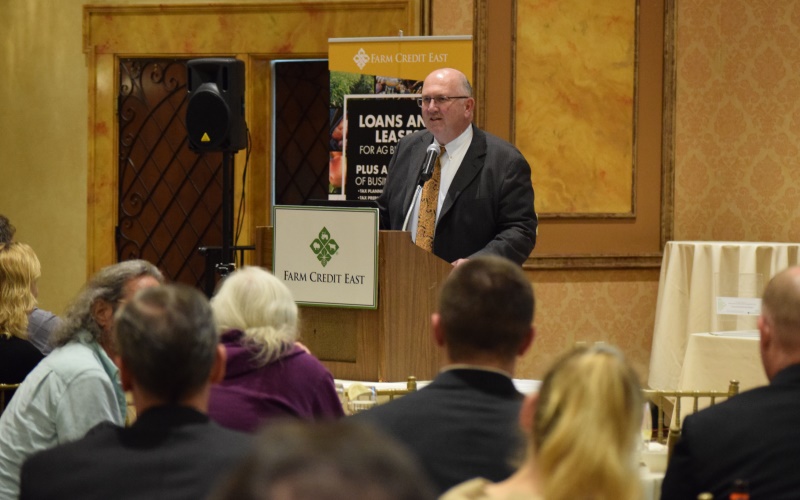 As I step down as Farm Credit East CEO on December 31, this column is bittersweet. It has been an honor to lead our cooperative in serving the hardworking farmers, commercial fishermen and forest products producers across the region for the past 25 years. So in my final column I'd like to reflect and say thank you to everyone who made it possible and helped me along the way.
First, I'd like to thank the employees I have had the privilege of working with throughout my career. I've been fortunate to surround myself with a talented and dedicated team who followed my lead, but also helped guide me. One of the most rewarding aspects of being a leader is seeing the people you hired develop and become leaders themselves. I know the cooperative is in good hands with the team that is in place going forward.
Having such a high performing team wouldn't be possible without the support of the board of directors. From the board that chose me to lead this organization in 1994 as well as those that have allowed me to continue leading it since, I am grateful for the opportunity and for your commitment to providing all of us the resources we need to be successful.
Finally, and most of all, I want to thank Farm Credit East's customers. I am thankful for your confidence in allowing Farm Credit East to be your capital and financial services provider of choice. Our cooperative would not be as strong as it is today without your continued partnership. It has been gratifying to work with generations of families to achieve their business goals.
Northeast agriculture, forest products and commercial fishing have undergone many changes over this last quarter century, and because of that, Farm Credit East has had to adapt as well. I continue to be amazed and inspired by the resilience and innovative spirit of our members, and I'm pleased to have led an organization that shares those same characteristics.
Northeast agricultural industries have certainly faced challenges, but I remain optimistic, precisely because of what I've observed over these last 25 years. Producers have found ways to adapt through technology, production practices, marketing approaches, diversification, or some combination of those strategies. That ability to adapt and grow, and at times endure, is what gives me confidence for the future.
I also see a talented next generation returning to farm businesses along with entrepreneurs who are new to agriculture. They bring a unique energy to carry existing businesses forward or embark on new ventures that take advantage of the Northeast's dynamic marketplace.
I hope many of you had the chance to meet incoming CEO Mike Reynolds at the fall customer appreciation meetings. In his nearly 30 years of service at Farm Credit East, Mike has distinguished himself as a strategic thinker and talented leader. The board and I are confident he will do an outstanding job leading the Farm Credit East team, and I know you'll enjoy getting to know him in the years to come.
I deeply appreciate all the good wishes I have received these last few months. Many of you have asked what's next for me. Other than spending more time with my wife Alicia and our four children and seven grandchildren, my current focus is assisting Mike in transitioning to his new role. I also hope I'll have more opportunity to reconnect with the many friends I've made during my Farm Credit career, and find some other ways to contribute to the success of Northeast agriculture as I've had the privilege of doing these last 25 years.