Changing Landscapes for Food Retailing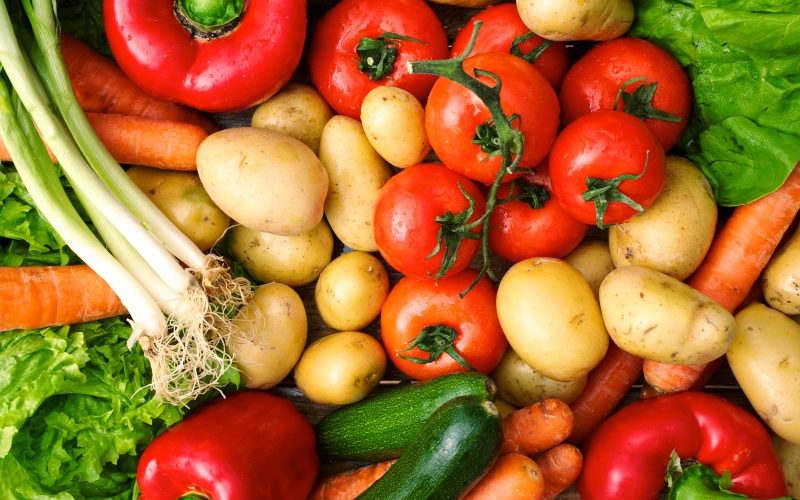 Amazon's purchase of Whole Foods adds a new wrinkle to the complex landscape of food retailing in the United States.
While the combined volume of the two companies amounts to only a 2.5 percent share of the overall retail grocery market, there are two important things to consider. First, the food and beverage market is enormous – more than $1.4 trillion, according to the USDA's Economic Research Service, split roughly half-and-half between food consumed at home and food consumed away from home.1 Secondly, although Amazon-Whole Foods' market share may be small, it represents the merger of two significant disruptors in retailing.
While "health food" stores have been around for a long time, it was Whole Foods that turned this niche market mainstream. Starting from a single store in 1980, they have grown to become the largest retailer in the "natural and organic foods" category, with more than 450 stores and $15 billion in sales.2 The growth and success of Whole Foods has pressured other grocery retailers to offer more selection in the natural and organic category, and to improve the look and shopping experience in their stores.
Amazon has been an even more significant disruptive influence on the retail landscape. Started in 1994, the online retail powerhouse has grown to $136 billion in sales 3and is single handedly credited with changing the way America shops. While Amazon has been remarkably successful in online retailing of shelf-stable "hard goods," everything from books to clothing, it and other online vendors have struggled with the "fresh" category of products. Things like expiration dates, finicky handling and temperature requirements, and the low margins of the grocery industry have vexed online sellers and left the landscape riddled with failed startups.
Can Amazon succeed where so many others have failed? By some measures, they already have. The company sells more than $1.4 billion in grocery products annually through their conventional distribution system. But it is perishables that are attracting the most attention. "Amazon Fresh," the company's perishables division reportedly topped $10 million in sales in the first quarter of 2017,4 despite only offering the service in a limited number of cities. It's the "last mile" of distribution that has caused many online grocers to stumble, but Amazon's expertise in distribution and logistics, coupled with their demonstrated willingness to endure prolonged losses in order to expand market share, makes them a formidable competitor to the established grocery store model.
The time may be right for a disruption in grocery retailing. The idea of shopping online for most products has gone from a novelty to the norm, leaving quiet malls and vacant storefronts in its wake. Can grocery be far behind? A 2015 report from Nielsen entitled, "The Future of Grocery," reported that about 25 percent of their survey respondents routinely ordered at least some grocery products online, and that 55 percent were willing to do so in the future. This growth potential is highly influenced by the coming of age of "Millennials" and "Generation Z," those 34 years of age and under who are significantly more open to buying groceries online than older generations.5
Neither Amazon nor Whole Foods has said much publicly about their plans for the future, but it will be interesting to see how the merged company approaches grocery retailing. Whole Foods has made sourcing from local farms a priority for their stores to capitalize on consumer demand for local product. It remains to be seen whether Amazon's purchase of the chain will open new opportunities for local suppliers or not.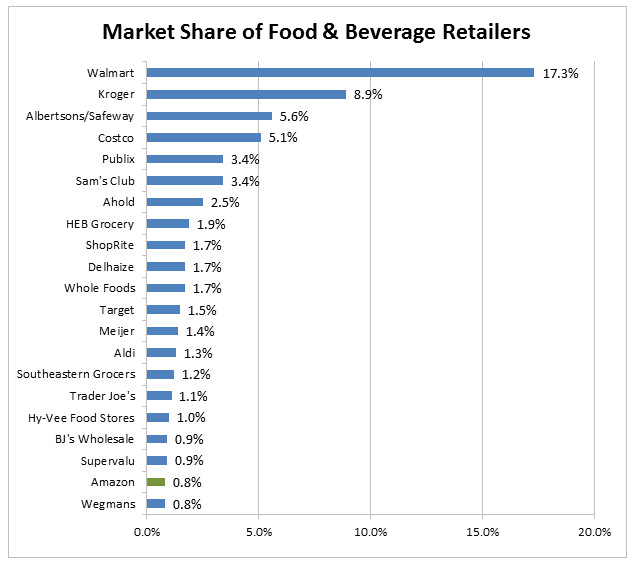 ---
1 USDA/ERS, Food Expenditures. 2014 Data.
2 Whole Foods Market, 2016 Annual Report
3 Amazon.com, 2016 Annual Report
4 "Amazon Fresh sales hit $10M in Q1: Report," Supermarket News, April 14, 2017
5 "The Future of Grocery," The Nielsen Company, April 2015