Connecting with our Local Communities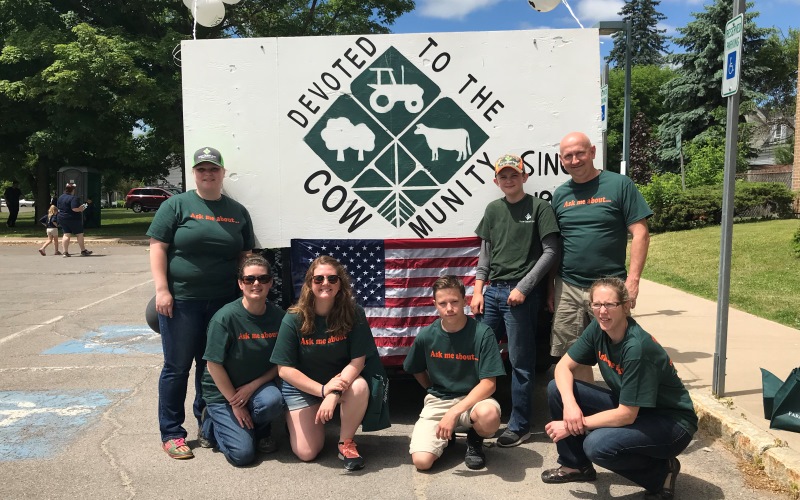 Farm Credit East branch offices are active in the communities we serve in a number of ways, including participation in local parades. Participating in local parades is a fun way to get the whole team involved, spur their creativity and engage with our local communities. From the humidity in July to the chill of November, here are a few offices that have parade spirit!
Cooperstown participates in historic July 4th parade
The Independence Day parade in Springfield, NY, is one of the oldest, continuously running parades in the country, second only to Bristol, RI. One-hundred four years strong, many office members participated in this annual parade throughout their childhood as part of their local school band or dairy promotion. 2018 marked the inaugural year of Cooperstown office participation.
Having only opened for business in Cooperstown earlier this year, branch staff decided to kick-off their involvement as a fun way to bring together branch staff and their families, as well as to get involved in their new community that they are proud to be part of! This year's theme was "It's a Grand Old Flag," and staff enjoyed marching down the streets in tie-die shirts waving to members of their community.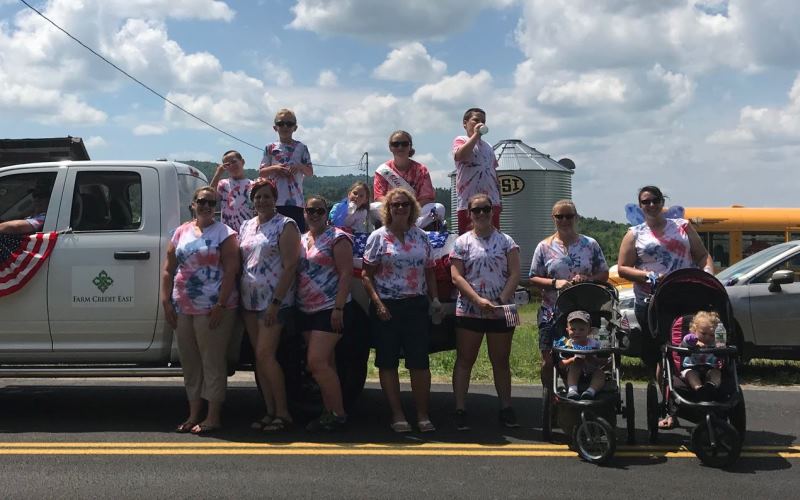 Cortland fuels up with milk
"Fuel up with Milk" was the theme of Farm Credit East's Cortland, NY, office float during the Cortland County Dairy Parade in early June. The parade's focus is always to promote milk, and this year was no exception, as all floats highlighted milk as part of an active and healthy lifestyle.
The Cortland office has made this annual parade a tradition dating back to the late 1990's. Staff come together to build the float in the days ahead of the parade. On the day of the parade, crowds line the streets to watch the dozens of floats make their way along the mile-long parade route on Cortland's Main Street. Staff and their children ride on the float and/or hand out candy to the kids along the parade route.
The Cortland office wouldn't consider missing the opportunity as it's both a highlight of their summer and an important event for the community! Staff were excited that their "Fuel Up & Get Mooving with Milk" float took Best Business Float for 2018.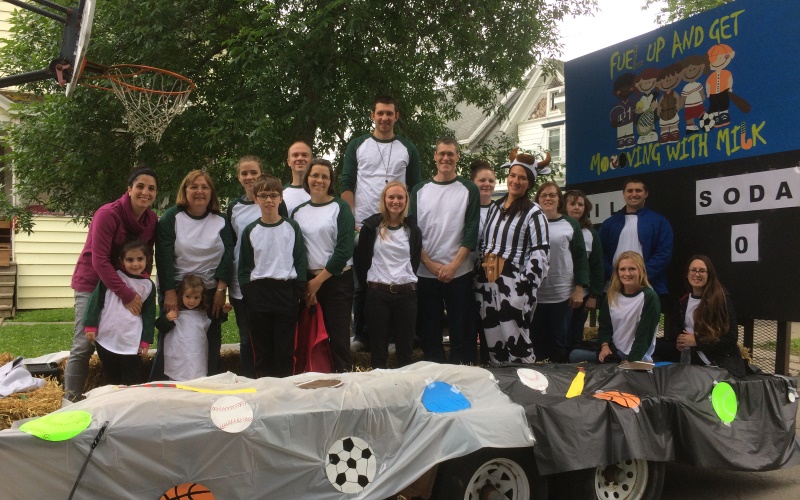 Potsdam shows their support of the "Cow-Munity"
To kick off June Dairy Month, the St. Lawrence County dairy princesses host an annual dairy princess parade. Farm Credit East's Potsdam, NY, office is excited to participate in this event each year as it gives them a chance to engage with the community.
In line with the theme for this year's parade, "Devoted to the cow-munity," Potsdam staff created a float showcasing the many activities staff is involved in. Their goal was to let the community know that Farm Credit East staff are so much more than just their tax preparer, appraiser or loan officer, but are also actively involved in the "cow-munity." The parade also gives the office a way to show gratitude and to promote one of the largest ag industries. They were excited to win second place in the commercial division for the most creative and colorful float.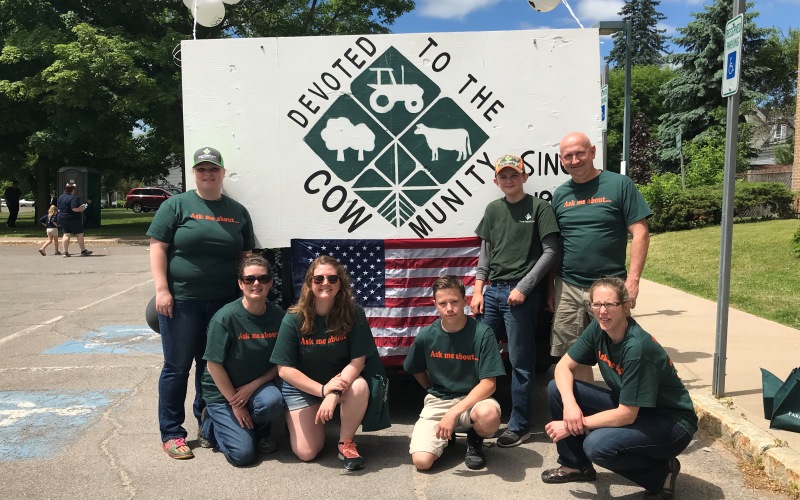 Greenwich Lighted Tractor Parade
When the Northeast starts to feel a chill in the air, it's time to get out the Christmas lights in eastern New York. Farm Credit East's Greenwich, NY, office is a gold sponsor and participant in the annual Lighted Tractor Parade. Now in it's sixth year, this has become a very competitive and high quality event.
The parade maxed out with 75 tractors, wagons and floats trimmed with holiday lighting and decorations that follow a route through the Village of Greenwich. Last year's theme, "Spreading Holiday Cheer," had staff decorating their float with thousands of lights for days. The office took home second place.
The most unique part of this annual parade is that residents, farmers and businesses in the Greenwich community work together to celebrate their rich agricultural history and thriving business district. The parade, usually the third weekend in November, draws over 5,000 attendees, linking non-farm residents to the farm community. The event continues to be a fun staff team-building event and a great community outreach opportunity.
The funds raised through this event support agricultural education scholarships. In 2017, $18,000 was raised and more than $50,000 has been raised since the event's origination.