The 2016 Northeast Dairy Farm Summary – Another Challenging Year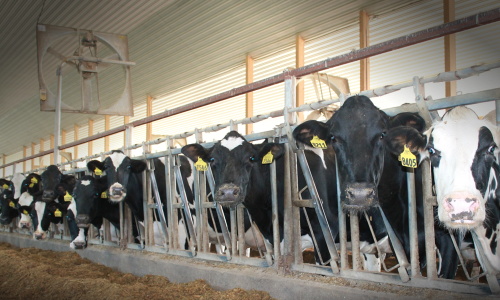 Despite a $1.39/cwt. drop in milk prices, dairy farms showed remarkable resilience with slightly improved financial results in 2016 compared to 2015. After family living expenses, however, the average farm realized only a small profit of $15/cow compared to a loss of $30/cow in 2015.
These were some of the results recently reported during a webinar held by Farm Credit East on the 2016 Northeast Dairy Farm Summary. This unique report is produced by Farm Credit East in partnership with Yankee Farm Credit and this year, compiled actual financial data from more than 450 dairy farms.
Declining cost of production … and cash flow
As a result of increased productivity and reduced spending, producers' cost of production fell by $1.57/cwt in 2016. Spending declined for feed, fuel, supplies, repairs and crop inputs.
The story is not as positive when we look at the average farm's cash flow. When debt service is factored in, the average farm generally had insufficient cash flow to meet all its obligations, falling short by about 10 cents per hundredweight. This shortfall was made up primarily by borrowing or by restructuring the terms of existing debt. Average debt-per-cow increased by 14 percent, topping $4,000 per cow for the first time.
The experts weigh in
Following the presentation of this year's results, a panel joined the webinar to offer perspective and insight on the Dairy Farm Summary results, as well as the dairy industry nationally and in the Northeast. The panel included Ben Laine, senior economist of CoBank's Knowledge Exchange division; John Fessenden, Farm Credit East senior loan officer; and John Lehr, Farm Credit East business consultant.
Dairy production in other regions
Farms further west tend to have larger herd sizes and slightly lower costs of production, but they also often receive lower prices for their milk due to less Class I utilization.
Even though California is still the largest dairy state, production there has been stagnating in recent years. Ben Laine noted some farms are converting to almonds and other tree nuts.
Key dairy management concepts
It can be tough to "grow out" of a cost problem when the most significant costs are variable costs. It's important to get "better" before "bigger". Don't just milk cows, milk the "right cows" – the "right cows" are the most productive and the most profitable ones.
Cow comfort remains an important issue and usually has good payback on investment.
Margins are tight. Understanding your variable and fixed costs is very important. Some operations are focused on their core business, shedding some extraneous assets and positioning themselves for a low price environment.
Investing in technology is important to consider; improving dairy genetics through genomics is a growing trend.
Cropping remains an area where some efficiencies can be gained. For example, does it make more sense for your operation to take advantage of custom operators when possible?
Milk buyer and consumer demands, such as GMO-free feed, are changing the scope of our dairy landscape. Consumers will determine how our industry moves forward.
Utilizing the Dairy Farm Summary
Farms should look at their cost structure and management. The tables in the back of the 2016 Northeast Dairy Farm Summary provide examples of gross margin cost structure.
Understand where your farm may be out of balance and where there is a need for investment. It's striking that our data shows dairy farms lost less money last year than they did in 2015.
Click here to view this year's Northeast Dairy Farm Summary report. To view the recording of the webinar, click here.