Despite Downturn, It's Hard to Not Be Bullish on Agriculture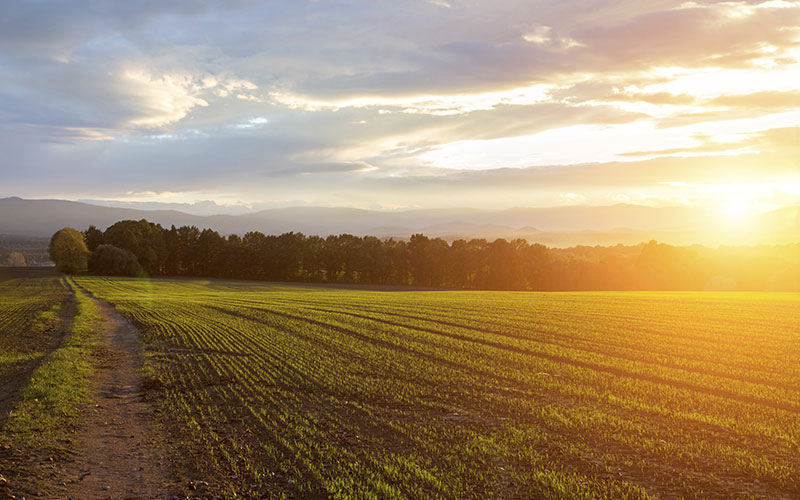 The new year is starting off on a continued sluggish note for many sectors of agriculture, but fundamentals like global food demand will likely usher in a return to more profitable markets. When that will happen, however, remains unclear. Agricultural markets typically follow cyclical patterns of high prices followed by low prices, and we are currently in the midst of a low price cycle.
Not everyone in agriculture is seeing a downturn — at least not in the Northeast. Those in the greenhouse (ornamental and vegetable), equine and ag retail sectors are seeing improved returns, while those producing commodity crops like corn, soybeans and dairy products, are experiencing thin margins. Unfortunately for those producers, we expect to see a continuation of depressed market prices with few signs of improvement in the first part of 2016.
Weathering the downturn
As margins continue to squeeze profits for many crop and livestock producers this year, getting through the downturn will depend, to some extent, on how you managed your business during the high point of the cycle. Those who handle their earnings prudently and shore up their financials during the good times, generally fare better during down cycles.
For some producers, 2016 could present even greater challenges than the year before. Many grain producers have had to endure an extended period of low prices, and savings from the "good times" are often not enough to carry them through the bearish market.
Reasons for optimism
But what goes down must come up, and looking farther down the road, there's reason to be optimistic for the future. It is said that, "the cure for low prices is low prices". Cyclical markets generally recover after supply contracts due to low prices. Moreover, fundamentals like a growing world population continue to underpin food demand.
It's not just population numbers: the world's middle class is growing, causing overall protein demand to rise. If you multiply population growth, by growth in income, the answer is clear: We're going to need a lot more food. According to the United Nations, the world population is projected to increase by 2.6 billion over the next 45 years. Meanwhile, people are "trading up" on their diets. In China, per capita meat consumption grew by 20 percent during the first decade of the 2000s. Yet it is still less than half that of the United States, indicating considerable room for further growth.
Farmers will likely need to grow more food in the next 50 years than they did in the last 1,000 years. Considering that, it's difficult to remain bearish on overall food demand for too long.
The USDA's long-term projections to 2024, issued in 2015, suggests that while farmers will need to ride out the current down cycle, longer run projections for world economic growth, and demand for food and biofuel feedstocks should support increases in trade and pricing of agricultural products. We have seen up and down price cycles in the past, and undoubtedly, will continue to do so, but on whole, the future looks bright for U.S. farmers.
New technology rising
Technology continues to advance across many sectors of agriculture. Advances in plant breeding and precision farming have significantly increased the yields of major row crops.
Specialty crops haven't been left behind. Innovations such as vertical farming and hydroponics have proven to be reliable and ready for production. While this style of growing may not be economically feasible in every case, Northeast vegetable and ornamental plant growers are well-positioned to capitalize on the controlled environment agriculture tech boom.
This year will be a challenging one for many in agriculture, but the current cycle we find ourselves in will eventually turn higher. It's not a matter of if, but when, it happens. In the meantime, we stand ready to work with customers to come up with solutions that fit their unique business concerns.
Farm Credit East will host a 2016 Economic and Ag Markets Outlook webinar on Tuesday, February 9 from 12 noon to 1:30 p.m. EST. For more information, or to register, go to farmcrediteast.com/webinars.