A Review: 2017 Northeast Dairy Financial Results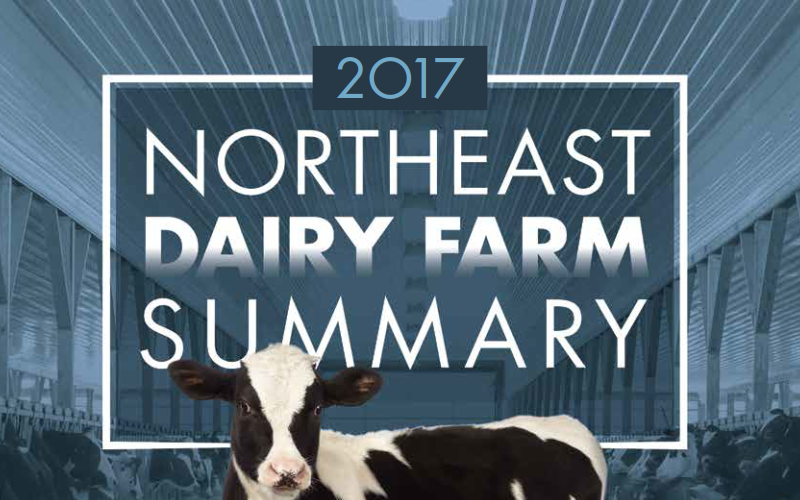 Farm Credit East recently hosted a webinar to provide an overview of the 2017 Northeast Dairy Farm Summary (DFS). The DFS is a unique and long-running project within the dairy industry. Since 1979, Farm Credit has collected and analyzed actual financial results from hundreds of dairy operations in the Northeast region. This year, we analyzed the results from 320 farms, which we believe represents a good cross-section of the region's better-than-average dairy farms. Our average herd size, at 470, indicates that our sample is somewhat skewed towards larger farms compared to the overall region average.
The results from 2017 indicate that the "average" farm from our sample had accrual earnings of $291 per cow. This represents a significant increase over 2016's earnings of $15/cow. The reason for this is that milk prices increased by $1.47 per hundredweight for the year, while farmers managed to keep a lid on cost increases – net cost of production (NCOP) increased by only $0.39/cwt. over 2016. The difference between the higher milk price and the NCOP resulted in increased earnings for 2017.
However, while accrual earnings were $291/cow, when debt principal payments are accounted for, cash flow came in at roughly breakeven. This is the third year in a row of either small cash deficits or breakeven results.
Overall liabilities per farm increased to $1.79 million in 2017, an increase of just over $100,000. However, debt-per-cow, a commonly reported metric, decreased slightly to $3,814 due to an increase in herd size.
Looking more closely at milk prices, 2017 represented an "up year". Average milk price increased from $16.85 to $18.32, roughly the same as in 2016. The last three years have all been well below the 2014 high of $25.58, and below the five-year average. Prices peaked in August of 2017, and have since fallen dramatically, coming in at a seasonal low at around $14.35 in February. Economists predict that prices "bottomed out" at that point for the year and will increase through the end of 2018, but that still means that 2018 will have a lower average price than 2017.
This puts significant pressure on dairy farms throughout the region as three years of poor financial results have taken a toll on farm balance sheets. Farms' Current Ratios and Quick Ratios, two measures of short-term liquidity, have significantly declined over the past three years. This means that farms are basically waiting for their milk checks to come in to pay their bills – and that cash goes out as fast as it comes in – leaving little extra for upgrades or improvements to their businesses.
It's important to note that in 2017, as in most years, we saw a wide distribution of financial results, with some farms earning more than $1,000 per cow, and others losing similar amounts. In the webinar, we presented a chart with a distribution of NCOP, showing a cluster around the center, or "average", but wide "tails" above and below the midpoint. This indicates that each farm really has it's own NCOP, rather than a single number, and that many farms saw results better, or worse, than the average of $291.
The webinar concluded with an examination of the "top 25 percent profit" groups and what makes them different from the pack. There are multiple ways to achieve superior results. We looked at five of them: superior cow productivity; labor efficiency; getting a better price for your milk; being frugal with expenses; or a balanced combination of things.
To access the webinar recording and presentation materials, click here.
To access the complete DFS report, click here.