Employment Eligibility Verification: How to comply in an era of increasing enforcement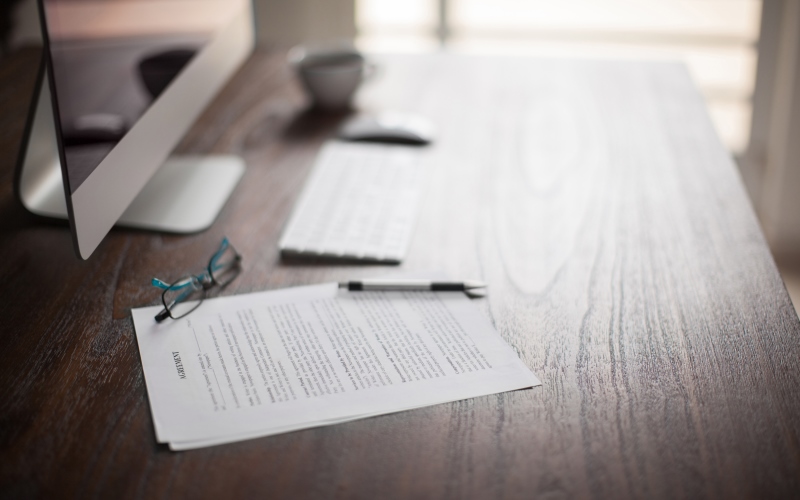 When it comes to our employees, we all want to comply with government regulations and avoid allegations of hiring discrimination. In this era of ever-increasing enforcement, employers must navigate compliance with immigration law and laws relating to discrimination. For example, you can not specify a preference for U.S. citizens. You must offer equal opportunity to all individuals legally authorized to work in the U.S. Businesses of all sizes are being targeted, so how best to ensure your business is compliant?
Farm Credit East recently hosted a webinar with presenter Leonard D'Arrigo, Partner, Whiteman Osterman & Hanna LLP, to discuss the ins and outs of employment eligibility and compliance. LJ covered the I-9 hiring process and pitfalls, I-9 completion and record keeping, the I-9 Audit Process and how to handle an ICE raid on your farm.
When it comes to hiring employees, asking about employment eligibility can be tricky. LJ's motto is, "Look at the facts, not the faces." In other words, don't try to judge a person's status based on how they look. Additionally, do not ask if the applicant is a U.S. Citizen, what country they are from or whether they have a "green card". Instead, ask, "Do you currently have unrestricted work authorization for the U.S., or would you require sponsorship for a working visa?" The following provides a summary of the webinar and offers some helpful best practices when navigating employment eligibility verification.
Navigating the I-9 Form
Section 1 – Employee Verification
: Employees must fill this form out in front of the employer within three days of when they start work. The form must be signed and dated as indicated. It is the employer's obligation to make sure the employee completely fills everything out. If a translator/preparer is used to assist the worker in completing the I-9 form, this person must sign Section 1 of the I-9 form under the "Preparer and/or Translator" box.
Section 2
–
Employer Verification
:
You cannot ask an employee to see a specific document as it relates to the I-9 process.
Employees can submit a document from
List A OR one from List B and one from List C of the guidance document
. List A documents establish both identity and employment authorization. Over-documenting can be just as bad as under-documenting, so if you have one List A document, STOP.
It is better not to over document.
List B documents establish identity and List C documents establish employment authorization. The employee can submit any combination of documents that satisfies this requirement, and if the documents appear genuine and related to the person, you must accept them.
Should you keep copies of documents? This thinking has changed over the years. It's now recommended to make copies of supporting documents that your employee is bringing to you. Remember not to over document.
Section 3 – Reverification and Updating of Documents
: It's important to have a system in place to monitor the expiration of any documents that must be reverified.
Do not reverify too early!
It is recommended to contact employees 90 days prior to expiration. If they come to you first with updated documents, you can accept them, but do not request them sooner. Identity documents (i.e. driver's licenses) do not require reverification. Permanent resident cards ("Green Cards") do not require reverification, because their status is permanent, even though the card has an expiration date.
Common Pitfalls
Employer specifies which document the employee is to produce
Employer requests or records too many documents!
Employer fills out the I-9 form too early
Employer fills out part 1 FOR the employee/lack of employee signature and date
Employer fails to record expiration dates of work authorization documents to permit proper reverification
Retention
You must have completed I-9s for all current employees. Once the individual's employment has terminated, the employer must determine how long after termination the I-9 form must be retained. For former employees, retain the I-9 form for three years from the original date of hire, or for one year after they leave your employment, whichever is later. (i.e. if a worker leaves after one year, retain the form for two more years, if they leave after four years, retain the form for an additional year.) It is a best practice not to retain forms any longer than legally required.

Independent Contractors
I-9 forms are not needed for independent contractors. Unless a worker is on payroll as an employee, there is no I-9 requirement. If an operation is receiving workers from a farm labor contractor and these workers are not on the operation's payroll, no I-9 is needed.
Best Practices
Require every new employee to complete Section I on the first day of employment.
Employee must provide verification documents by the end of the third work day or be terminated. If the I-9 has not been fully completed by the third day, and they quit, you can just make a note on the I-9 form explaining the situation.
Employee may present any acceptable document; do not request specific document(s).
Make copies of both sides of documents.
If employee is on a work visa, note the visa expiration date and mark on the calendar when to reverify.
Keep I-9s separate from other personnel or payroll records.
Train hiring managers on I-9 procedures regularly and document training.
Always use the most recent I-9 form.
Audit your I-9s regularly and correct errors. Never backdate, never hide a change. Instead, cross out incorrect information, add new information, initial and date it.
Be consistent in your practices.
How does participation in E-verify affect I-9 compliance?
The E-verify program is IN ADDITION to the I-9 requirements. An employer would need to first complete the standard I-9 process and at the end, enter the required information into the E-verify system. E-verify is NOT a replacement for I-9 completion.
In Case of an Inspection
Neither consent nor warrant are required for the I-9 inspection. It can happen at any time. Employers have the right to a 3-day notice by statute. Always take your three days! You will need that time to prepare. Limit the scope of agent(s) on site. Agents do not have the right to roam the premises or talk to unauthorized employees.
To view the recording of this webinar, which goes into greater detail on the above topics,
click here
.

Additional resources