Customer Appreciation Meetings: An Opportunity to Thank You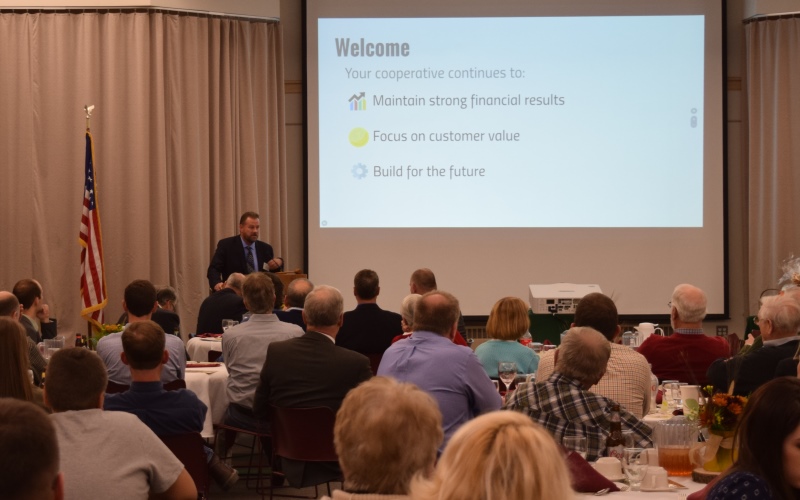 Farm Credit East was pleased to welcome more than 2,000 customers and their families to its fall Customer Appreciation Meetings. As part of these meetings, attendees were able to visit with fellow producers and Farm Credit East board and management, enjoy a meal and receive reports from the CEO and Board of Directors. For those who may have missed this year's meeting, here's recap of the main points covered.
Report from the Board of Directors
Farm Credit East Board Chair Matt Beaton and Vice Chair Henry Huntington opened the formal presentations to give attendees a glimpse into the board room. Their presentation helped members understand Farm Credit East's Enterprise Risk Management approach, a framework that provides structure for board meetings. The board uses more than 100 metrics to gauge how Farm Credit East is doing within 11 risk categories. These metrics ensure the board knows the risk factors with greatest impact, which factors are changing and what factors to focus on.
Chair Beaton and Vice Chair Huntington also gave insight into board committees. Committees allow directors to divide into smaller groups to dig deeper into particular aspects of the Association's operations and governance. For insight into how the committees operate, three short videos featuring the chairs of the audit, aginitiative and governance committees highlighted the duties and responsibilities of each committee.
The board report also highlighted the importance of member engagement. Customer Service Councils, made up of Farm Credit East customers from each branch, are an important way Farm Credit East's board receives input about how the Association is doing. The councils report on local issues impacting the industries we serve, service and product concerns, competitive situations and more. If you are interested in serving on a Customer Service Council, please contact your branch office.
The board presentation concluded with a look into the upcoming 2018 Director Elections, where there will be three seats up for election.
CEO Report
Following the Board of Directors report, CEO Bill Lipinski highlighted the Association's strong capital base to allow for future growth and to withstand credit challenges. This was reflected in the 2017 financial results update, which indicated more than 96 percent of loan volume is acceptable, 2.37 percent return on assets (ROA), which show both strong credit quality and profitability that allowed Farm Credit East to pay $56 million in patronage dividends in 2017.
Bill's presentation also reported on the current challenges Northeast agriculture, commercial fishing and forest products industries are facing, including the always-present weather factor, as well as farm labor availability and regulatory costs.
He also stressed reasons for optimism, including the overall economy and employment, strong markets for local and niche products and fewer new federal regulations and his continued confidence in Northeast farm businesses.
Bill concluded his comments by again emphasizing the importance of customer engagement. He encouraged customers to participate in the Voice of the Customer survey (now complete) to share their thoughts on their experience doing business with Farm Credit East and areas for improvement.
Final Thoughts
Farm Credit East financial services can add value to your business and we are also committed to serving the next generation of producers.
Farm Credit East is proud to serve Northeast agriculture, commercial fishing and forest product sectors. These customer appreciation meetings are our way to highlight YOU, the customer, and to show appreciation for your choice to partner with us.