Farm Credit East Employees Give Thanks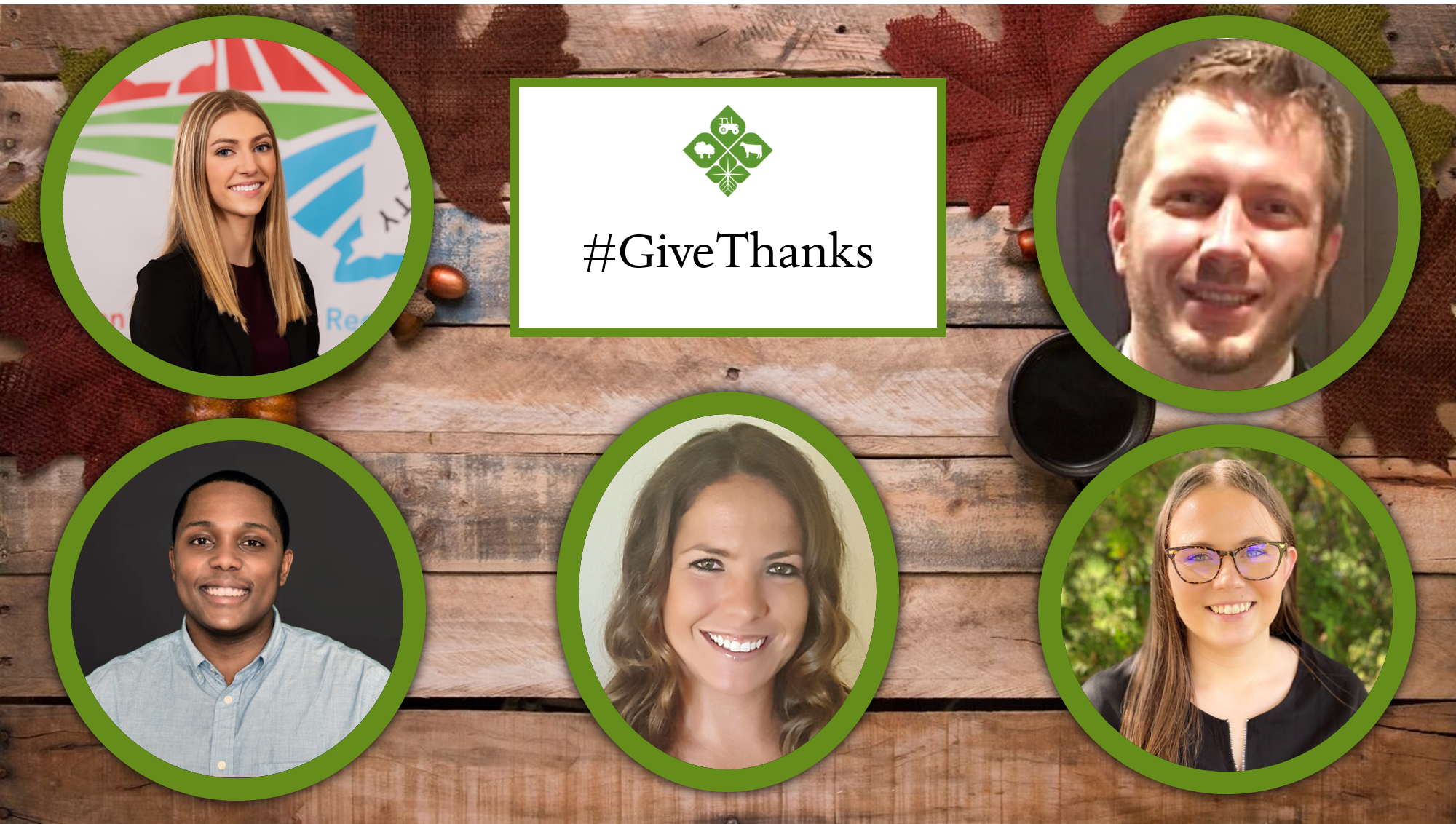 One Thanksgiving tradition in my household is to go around the table and tell what you're thankful for before dinner. But this Thanksgiving season is a bit different than most. With COVID-19 disrupting many of our traditions, some people may think they have less to be thankful for.
However, there's still so much to be thankful for, even during this unprecedented year. I reached out to some of my colleagues for their reflections on this past year, and it was uplifting to hear what many of them had to say.
"I am thankful to work with a team that shows such great appreciation for each other. Every day, I feel encouraged and excited to provide the best possible service to our customers. I am also thankful to have such adaptable customers, which has made the transition to primarily remote work that much easier!" – Faith Clancy, Accounting Associate, Cortland, N.Y.
"I am thankful that all of my friends and family have remained well during these uncertain times. I am also thankful to work for Farm Credit East, which has been adaptable throughout the pandemic and given its employees the ability and tools necessary to continue collaborating, whether it be remotely or in the office. Most of all, I am thankful to work in agriculture alongside farmers who continue to feed the world no matter what gets thrown their way." – Meghan Coldwell, Branch Operations Associate, Greenwich, N.Y.
"During a time when it's been hard to find things to be thankful for, I'm thankful for Farm Credit East giving me one less thing to worry about during the pandemic. I've been fortunate to work from home and spend more time with family. I'm also thankful for how welcoming and helpful my coworkers and supervisors have been during my time at Farm Credit." – Jheilyno Colon, Mortgage Specialist, Cooperstown, N.Y.
"I'm thankful to work for a company that values their employees and their families, provides flexibility and tools to navigate a global pandemic, and that provides the skillset and support to provide extraordinary value to our clients." – Nicholas Andreassi, Accounting Associate, Potsdam, N.Y.
"I am thankful for the opportunity to work for an organization that supports its employees and customers through challenging times like we have faced this year with the COVID pandemic. Having the ability to work remotely has been very helpful, and being able to continue to serve our customers with little to no interruption in how we conduct business is pretty remarkable. It is rewarding to work with the customers and industries that we do, and to see how resilient they are in times like these. Farm Credit East provides a great opportunity to its employees to be a part of these agricultural industries, and for this, I am thankful." – Shannon Webber, Senior Loan Officer, Auburn, Maine
Thank you to my teammates for sharing what you're thankful for this year. You will find this to be a common theme among Farm Credit East staff — our customers and employee team are what make Farm Credit East great. I am proud to work for an organization that is as committed to its customers as it is its employees.
As Thanksgiving approaches, find some time to sit down and reflect on what you are thankful for this year, and be sure to share it with those around you, whether in person or over a video call. With this reflection, my hope is that you'll enter the holiday season feeling more appreciative for all we have to be thankful for.