Farm Credit East Hosts Upcoming Webinars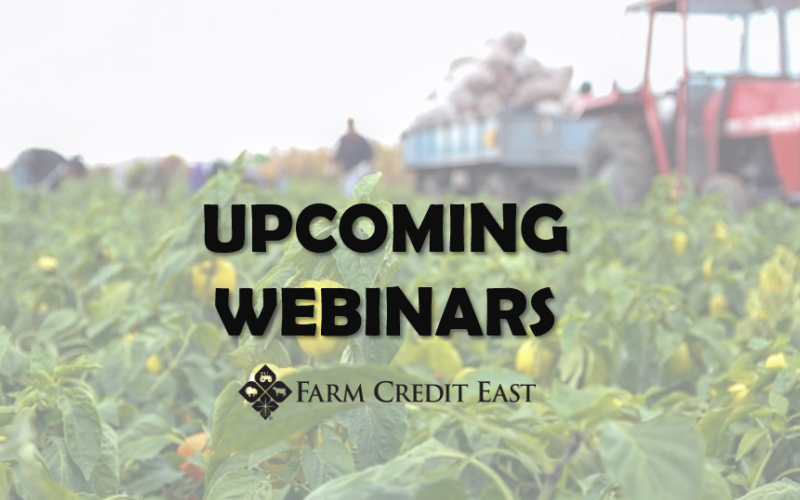 Each winter, Farm Credit East hosts a webinar series on current topics relevant to Northeast farming, fishing and forestry. Farm Credit East webinars are not just for the cooperative's members, but free to all attendees. Information regarding all upcoming webinars and recordings of past webinars can be found at FarmCreditEast.com/webinars. We are always looking for feedback and suggestions for future topics, so please contact Christopher.Laughton@FarmCreditEast.com with any comments or suggestions. Here's a preview of a few of our upcoming webinars.
Overview of New York Labor Regulations
To prepare New York producers for the agricultural labor laws taking effect on January 1, 2020, Farm Credit East will be hosting a webinar to provide an overview of these regulations and their implications for New York farms. This free webinar to be held Thursday, December 12, from 10:00 – 11:30AM, is co-sponsored by New York Farm Bureau and the Northeast Dairy Producers Association.
Dr. Richard Stup, Agricultural Workforce Specialist for Cornell Cooperative Extension, will present this webinar. He will discuss the requirements of the new regulations, including overtime wages for employees who work over 60 hours per week, a day of rest, and updates to disability, paid family leave and other wage and hour laws.
Business Basics for Beginning Farmers
Farm Credit East's Director of Knowledge Exchange, Chris Laughton, will present several financial topics relevant to people either running an early-stage farm enterprise or considering starting one. This one-hour webinar will be held Thursday, December 19, from 11:00AM – 12:00PM. The topics presented will include:
Financial Statements: What they are, how to read them and why they are useful
Budgets and Cash Flow: How to put together a budget and why it's important to your enterprise
Credit and Financing: How to approach a lender, sources of financing and how credit decisions are made
Dr. Mark Stephenson, Director of Dairy Policy Analysis at the University of Wisconsin, Madison, will present his annual economic outlook for the dairy industry on Wednesday, January 15, from 11:00AM - 12:00PM. Dr. Stephenson is an internationally-recognized expert on dairy economics and worldwide market trends. He brings a global perspective and breaks it down to what it means for us here in the Northeast. He will cover regional, national and international markets and talk about what the coming year might bring for Northeast dairy producers. REGISTER HERE
Plus, keep an eye out for these webinars coming later in 2020
March 18: 2020 U.S. and Green Industry Economic Outlook presented by Dr. Charlie Hall, Texas A&M University
May 1: 2019 Northeast Dairy Farm Summary presented by Chris Laughton, Farm Credit East Director of Knowledge Exchange
Farm Credit East webinars are free to attend and open to the entire farm community. To register for upcoming webinars, visit FarmCreditEast.com/webinars. For more information, please contact Chris Laughton at 800.562.2235 or Christopher.Laughton@FarmCreditEast.com.