Farmland Protection in the Northeast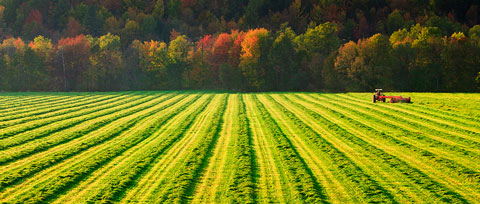 Northeast farmland provides the foundation of the region's strong and diverse agricultural industry. Because the region is so heavily populated, there has always been competing uses for this land. In New England alone, farming takes place alongside a population of more than 15 million people.
That is why the Northeast has always been a leader in farmland protection through the acquisition of development rights, conservation easements or other means. As shown in the following table, the seven Northeast states served by Farm Credit East have collectively protected over 4,200 properties comprised of more than 436,000 acres. Keep in mind that this chart refers only to state programs (though some state programs are carried out with local partners), as throughout the Northeast, many private land trusts and other municipalities have also been involved in farmland protection efforts.

Source: Farmland Information Center
A prime example of this is Suffolk County, New York on Long Island which has protected more than 10,500 acres since 1974, one of the oldest and most successful programs in the country.
While the Suffolk County program has been instrumental in keeping Long Island farmland in farming, some recent events have raised concerns about the future direction of farmland protection on Long Island and elsewhere, as Northeast agriculture evolves.
At issue with the Suffolk County program is a 2016 court ruling that restricts improvements or structures needed for agricultural production and calls into question allowable activities on the protected land. Though not in the courts, similar issues are playing out in other states where the permissible activities on protected land are becoming increasingly limited.
The concern is that the rules about activities on protected land become so restrictive that farms can't carry out legitimate farming activities, thereby threatening their viability. Agriculture in many areas has changed since these programs were started. As agriculture evolves, it is critical that farmland protection programs be flexible enough so that farms can make the necessary investments and carry out farming and business activities to allow their operations to be successful.
Many farm businesses that Farm Credit East works with have benefitted from farmland protection programs. In many cases, the sale of a conservation easement or development rights has provided an important infusion of capital into the business and/or helped the transition of the land and the business to the next generation. At the same time, these programs have helped preserve both the natural resource and the critical mass needed to sustain agriculture in a local area.
Certainly landowners considering selling development rights must consider carefully both the rights and restrictions that come with such a sale. It is my hope that on Long Island and elsewhere, those restrictions don't become so onerous that farming on the protected land becomes one of the prohibited activities.