FFA Star Program helps mold future Northeast agriculture leaders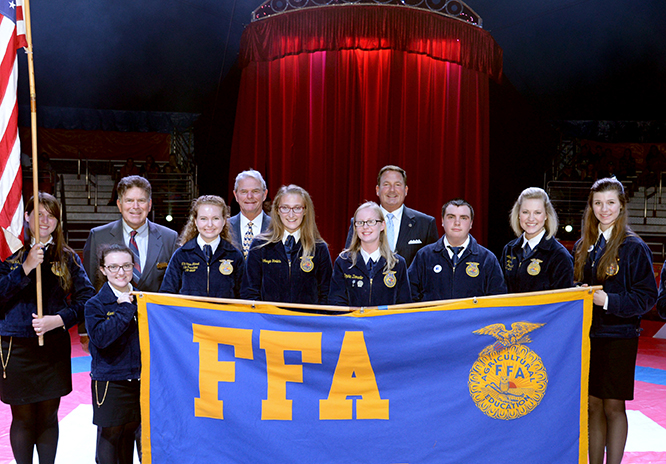 Some are the youngest generation of family farms in rural areas and others grow vegetables in urban areas. But, there's a common thread among the students participating in agricultural education programs and Future Farmers of America (FFA) in the Northeast: They all have a passion for agriculture, and the FFA Star Program is a way to recognize that passion and turn it into plans for the future.
From Maine to West Virginia, around 100,000 high school students are enrolled in agricultural education programs. Many of those students participate in FFA. This combination of education and experience goes a long way to preparing them for higher education and entry into the agriculture industry. The FFA Star Program recognizes the "cream of the crop" among these students with aspirations in sectors like plant science, animal science, ag mechanics, natural resources and aquaculture in four categories: Star Farmer, Star Agribusiness, Star in Agricultural Placement and Star in Agriscience.
The Star Program application process is not an easy one; it is similar to the process of building a business plan for a farm or agricultural venture, often the culmination of ag education and supervised agricultural experience (SAE). It stresses leadership, entrepreneurial spirit and aspirations to enter the ag industry. Applications are judged by a panel of Northeast agricultural leaders, some of whom represent Farm Credit East.
The Eastern Region FFA Star Program, this year supported by a $10,000 Farm Credit Northeast AgEnhancement grant, culminates with judging and the selection of each year's "Stars" at the Eastern States Exposition (The Big E) held in West Springfield, Massachusetts each September. The judging and selection of the FFA Stars represents a unique opportunity to showcase the region's agricultural youth and inform the public about the diversity and scope of Northeast agriculture.
Twenty-three students participated in this year's competition held Saturday, September 17, at The Big E. More than half of those students reside in states served by Farm Credit East. Participating students' focuses ranged from livestock production and veterinary services to machinery maintenance and repair, bookkeeping, marketing and soil nutrient research.
FFA Star Program participants often go on to serve as role models for fellow FFA members in their respective hometowns and states. Many ultimately go on to apply leadership skills honed in FFA and their agricultural education, including SAE, to serve Northeast agriculture.
Learn more about the Eastern States FFA Star Program
Learn more about Farm Credit's Northeast AgEnhancement program