Financing the Northeast Lobster Industry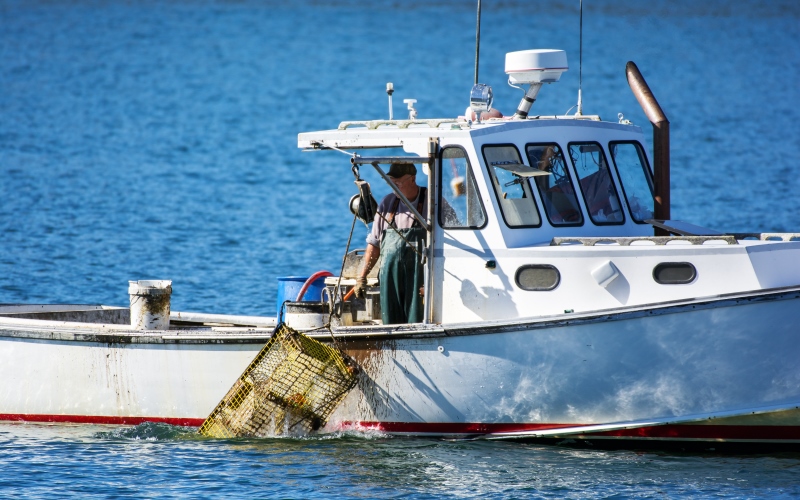 While there is still a sizable lobster industry in all of the New England coastal states, Maine continues to have the most landings. In 2016, the Maine lobster catch was a record 130 million pounds, which was valued at more than $533 million. The state's 6,000 licensed fishermen landed 8.4 million pounds more lobster in 2016 than in 2015. Lobster represents 75 percent of the state's commercial fishery value.
The Northeast's lobster fishery is important to the region's overall commercial fishing infrastructure. The significant number of lobster vessels support boatyards, mechanics, boat builders, bait suppliers, transportation companies and many other vendors. The lobster fishery is also important to the Atlantic Herring fishery as Herring is a favorite bait fish for lobster boat operators.
A heavily regulated industry
Like most of the natural resource-based businesses Farm Credit East finances, the fishing industry is susceptible to changes in local, state and federal government regulations. Maine's lobster fishery is very well managed with a focus on sustainability.
There are specific regulations restricting the landing of female lobsters, as well as restrictions on the size of lobsters that may be harvested. Specifically, both juvenile and large adult lobsters are not permitted to be harvested.
There are also specific trap limits for each of the state's licensed fisherman. The objective of this management is to prevent overfishing and the trend in Maine lobster landings indicates that this management has been successful.
Financing Options
Farm Credit East provides financing for short-term operating lines (one year) and gear lines (three years). Term financing is available for vessel purchases, construction or overhaul (5 to 10 years, depending on the age of the boat), or other equipment purchases, such as trucks. Long-term financing is available for shore-side facilities, such as wharfs or a residence for a full-time fisherman.
Farm Credit East understands the seasonality of the lobster industry, so we structure payment schedules accordingly. If you're fishing state waters (within three miles), we typically set up a seasonal payment schedule that begins in August and ends in January. Boat operators that fish in both state and federal waters are more likely to make year-round payments.
Collateral
Financing the fishing industry doesn't come without risk. The collateral is very specialized, and with the volatility of the fishing resource, some collateral can lose value very quickly.
To determine the value of a boat, it is a good practice to require a Marine Survey (inspection and appraisal) done by a licensed surveyor. We maintain a database of lobster boat sales, which is another indicator of value if the boat is typical to the market. The value of the vessel is important to determine the down payment amount or equity infusion required. Farm Credit East typically finances no more than 70 percent of the value of the vessel.
We also assign collateral value to federal lobster permits, as those can be sold in the open market. If the boat is a Coast Guard documented vessel, we will work with a documentation company to research the title to make sure there are no liens. Then the documentation company prepares the documents to facilitate the transfer of the vessel and any permits. If the boat is not a Coast Guard documented vessel, then a UCC search is done on the seller to determine if there are any liens. A UCC and Security Agreement are signed at closing.
Working with Farm Credit East
To get started, we require three years worth of tax returns along with a balance sheet. If the previous year's tax return has not been completed, the applicant's lobster buyer can provide a landings report. We will typically ask new applicants to provide references from the region where they fish, which is important in an industry as self-regulated as the lobster sector.
Additionally, for those looking to get started in the lobster industry, Farm Credit East's YBSV (Young, Beginning, Small and Veteran) program may be a good fit. In Maine, after new entrants work their way through the student license and the apprentice programs, they may be ready for their first boat. In some cases, a new lobsterman can purchase a used boat and gear for less than $75,000. Through the YBSV program, the young lobsterman has access to discounted Farm Credit East financial services, such as tax preparation, appraisals, accounting software, consulting and assistance on interest rates.
Farm Credit East has been working with Maine lobstermen and other commercial fishing businesses for decades. As a commercial fishing business grows, the Farm Credit East relationship can grow with it. Farm Credit East has the capacity and expertise to provide financing and business services for all size fishing operations. Contact Farm Credit East today to see how we can work together.