FSMA's Produce Safety Rule - The Need to Know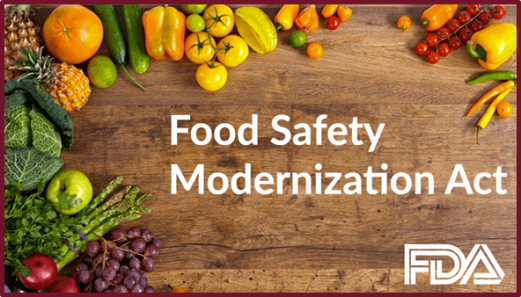 The Food Safety Modernization Act (FSMA) was signed into law January 4, 2011, and deals primarily with the prevention of food contamination. This Act is a significant overhaul of our nation's food safety laws, with its thousands of pages of regulation, more than a dozen rulemakings, at least 10 guidance documents and a number of reports, standards and notices.
Among the FSMA regulations is the Produce Safety Rule, which was published November 27, 2015, and went into effect in early 2016. This rule focuses on identified routes of microbial contamination, covering most everything that comes in contact with a raw agricultural commodity – from planting to harvest – including water, soil, employee handling, storage, packaging and wildlife contamination. While you do not need a written food safety plan to comply with these standards, there are some documentation and record-keeping requirements.
The rule goes into effect at different times depending on the size of your farm:
Very small farm: January, 2020
Average annual value of produce sold >$25,000, but not more than $250,000
Small farm: January, 2019
>$250,000, but not more than $500,000 in annual sales
Farms with more than $500,000 in annual sales: January, 2018
Who must comply
Under the rule, a farm is defined as being established under one management in one general physical location, but not necessarily contiguous, devoted to the growing and harvesting of crops or the raising of animals (including seafood).
The rule also applies to secondary activity farms, which are not located at the primary farm, but devoted to the harvesting, packing and/or holding, provided the primary farm(s) owns or jointly owns a majority interest in the secondary activities farm (i.e. cooperative).
Qualified exemptions
Farms with less than $500,000 in annual sales from the previous three years (starting with January 2016 documentation) and that sell more than 51 percent of their produce direct to consumers, including restaurants and retail food establishments in the same state or within 275 miles of where the produce is grown, are exempt from FSMA requirements, but must still comply with some labeling requirements.
Growers with qualified exemptions must begin to include their farm name and complete business address on the product label, whether a box, clamshell or other type of packaging. For a roadside stand that is selling produce direct to the consumer, a sign with the same information must be prominently displayed at the point of purchase.
Farms that sell less than $25,000 in produce are completely exempt from FSMA regulations and labeling requirements.
Agricultural water
One of the identified routes of microbial contamination under the Produce Safety Rule is agricultural water (Subpart E), or water that is intended to or likely to contact produce or food-contact surfaces, including irrigation, water used in pesticide application, growing sprouts, washing or cooling produce, ice or preventing dehydration.
Agricultural water is required to be microbially safe and the only way to know water quality is through testing. The risk of contamination can be reduced by maximizing the time between application and harvest. Water testing, both pre- and post-harvest, helps to understand the quality of your water source, establish a baseline for water quality and determine if corrective actions are necessary.
Soil
Under the rule, Subpart F covers biological soil amendments of animal origin which may contaminate produce. The rule provides standards for handling, conveying and storing produce, as well as soil treatment methods and application methods and intervals.
Untreated soil amendments of animal origin are considered the highest risk since they have not been treated to reduce or eliminate pathogens. This includes raw manure, 'aged' or 'stacked' manure, untreated manure slurries, compost teas made with raw manure, any soil amendment mixed with raw manure or table waste.
Composting is a treatment option that controls the biological process that decomposes organic matter and reduces pathogens. Only an approved, scientifically valid composting process, such as static or turned composting, ensures adequate pathogen die-off. Monitoring and recordkeeping is critical to ensuring the compost is safe.
If purchasing compost, treatments, certificates of analysis and any microbial test results must be obtained annually.
Employee training
Anyone who works on the farm, including family members and contracted personnel, must be trained annually – and this training must be documented. Training includes how to properly use the facilities, personal cleanliness, what to do when injured or ill, how to implement food safety procedures and how to communicate food safety risks. Additionally, resources such as toilets, toilet paper, soap and clean water must be provided.
Equipment, tools and buildings
Subpart L of the rule addresses all things that may touch or impact the produce, either before, during or after harvest. All items must be inspected, maintained, cleaned and sanitized as necessary. This includes coolers, storage areas, packing containers and equipment, transport vehicles, hands and clothing.
Animals - wild or domestic
The requirements of Subpart I of the rule apply if there is a reasonable probability that animals will contaminate covered produce – this includes either domestic pets or intrusive wildlife. The FDA is primarily looking for the presence of fecal material, not necessarily the actual presence of animals.
Ways to monitor animal activity, especially if it's wild, include checking for feces and other evidence of intrusion, such as trampling, rooting, feeding or tracks. This potential presence needs to be monitored both during the growing season and prior to harvest.
Another potential entrance for animal contamination is run-off from pastures, corrals or manure storage locations into production or packing areas. It's important to cover piles or build berms to prevent this type of run-off.
Learn more: Farm Credit East recently hosted a webinar with Dr. Wesley Kline of Rutgers Extension to help navigate the complicated terrain of the FSMA regulations as they apply to growers of fresh produce. In this webinar, Dr. Kline provides more specific information relating to the topics above, along with some tips on how to comply. To listen in on this practical discussion of the Food Safety Modernization Act, click play below to view the webinar's recording.
Farm Credit East Disclaimer: The information provided in this communication/ newsletter is not intended to be investment, tax, or legal advice and should not be relied upon by recipients for such purposes. Farm Credit East does not make any representation or warranty regarding the content, and disclaims any responsibility for the information, materials, third-party opinions, and data included in this report. In no event will Farm Credit East be liable for any decision made or actions taken by any person or persons relying on the information contained in this report.