Latest Updates on the FSMA Produce Safety Rule & Practical Advice for Growers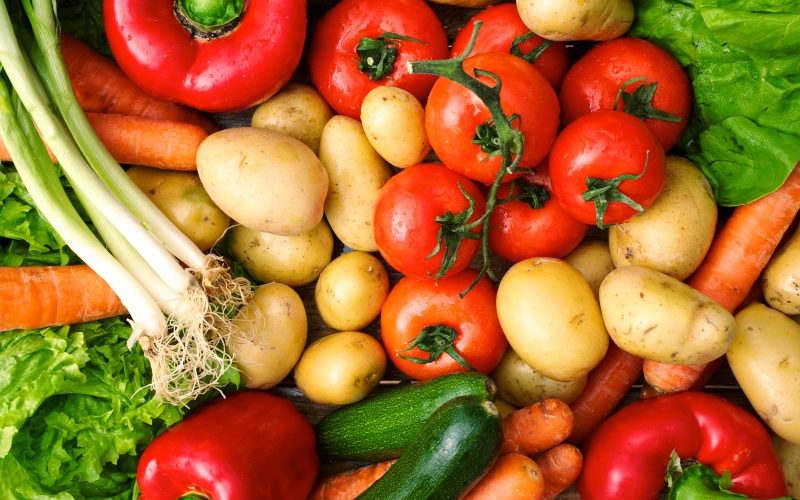 What is on your farm's to-do list today? With a laundry list of tasks to be completed, food safety is likely just one critical priority among many for fruit and vegetable growers in the Northeast and across the United States. That priority list may change for some growers in the next few months, with the initial compliance dates having arrived for the first ever federal food safety regulation that will affect the growing, harvesting, packing and holding of fruits and vegetables.
Although some growers may be exempt from this new regulation, the U.S. Food and Drug Administration's (FDA) Food Safety Modernization Act (FSMA) Produce Safety Rule (PSR) is likely to change the playing field for all growers when it comes to buyer requirements (e.g., third party audits for food safety) and the standardization of practices for the safe production of fruits and vegetables. This article provides key updates from the FDA regarding compliance with the FSMA PSR as well as tips that all growers can use to reduce food safety risks, prepare for future market demands and get organized for the upcoming regulation, if applicable.
When does my farm need to comply?
For those not familiar with the FSMA PSR, published in the Federal Register on November 27, 2015, the FDA has produced a fact sheet that provides an overview of the regulation's requirements and potential exemptions and exclusions that growers may fall under.
The first compliance dates (See Table 1) have arrived for the largest farm category and FDA has proposed an extended timeline for certain provisions, specifically the agricultural water requirements within Subpart E. These proposed changes to compliance dates within the rule follow an earlier announcement made in March 2017 where FDA acknowledged that they had received feedback that the agricultural water standards may be too complex for growers to understand and implement on the farm. In response to these concerns, FDA has been considering how they might simplify these requirements and have proposed extended compliance dates for the agricultural water standards which would allow four additional years from the effective date of the rule for each business size category.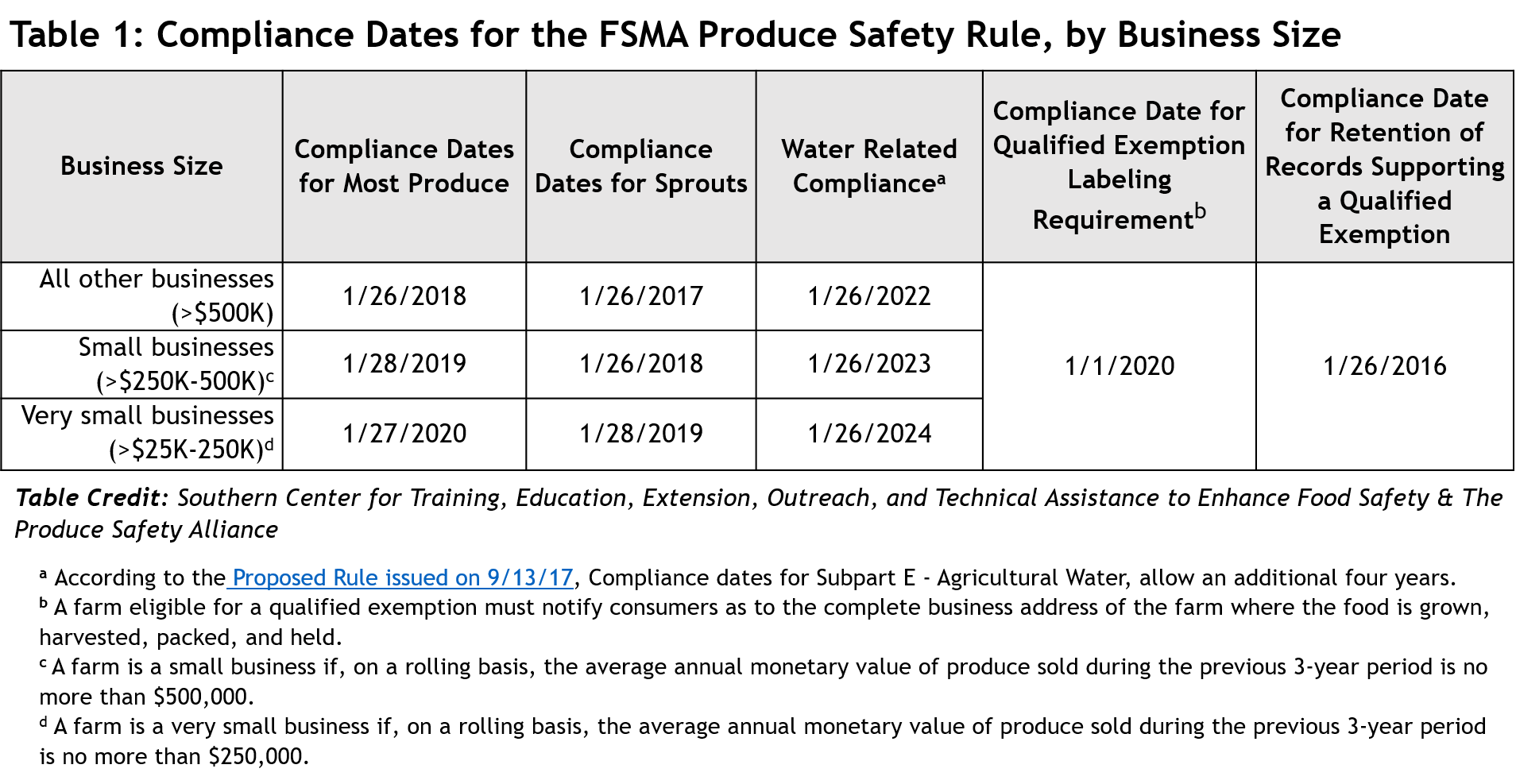 How is the FDA addressing concerns about the FSMA Produce Safety Rule and what updates do I need to know about?
It is clear that growers, educators and the produce industry have been vocal about their concerns in implementing this new regulation, and likewise, FDA has been listening. In the initial draft and revision of the regulation, FDA fielded over 13,000 comments during the first open comment period alone. The following year, in 2014, FDA released a supplemental document to the proposed rule to revise the standards to make them more flexible and less burdensome in a few areas. This is a step in the right direction to assist growers in compliance, while fostering a better opportunity to protect public health.
In addition to proposing extended compliance dates for the agricultural water provisions, the FDA, with the help of the Center for Produce Safety and agricultural water experts from around the country, convened a colloquium in April 2017 on this topic. The result: FDA has made the agricultural water testing requirements a bit more practical for growers by providing more information on test methods that the agency considers to be "scientifically valid" and "at least equivalent to the method of analysis in § 112.151(a) in accuracy, precision and sensitivity". Previously, the FSMA PSR only listed one test for generic E. coli, Method 1603, for use in testing agricultural water. This particular method presents significant limitations for some growers, as the test is not widely available at labs across the country. In September 2017, the FDA released a fact sheet that recognized eight additional equivalent test methods for generic E. coli (Table 2), the required microbial indicator for monitoring agricultural water quality. This list of test methods expands growers' options for monitoring their water quality while also achieving compliance with the FSMA PSR Subpart E requirements for testing. When contacting the lab, be sure to confirm that they can provide one of the test methods below for generic E. coli.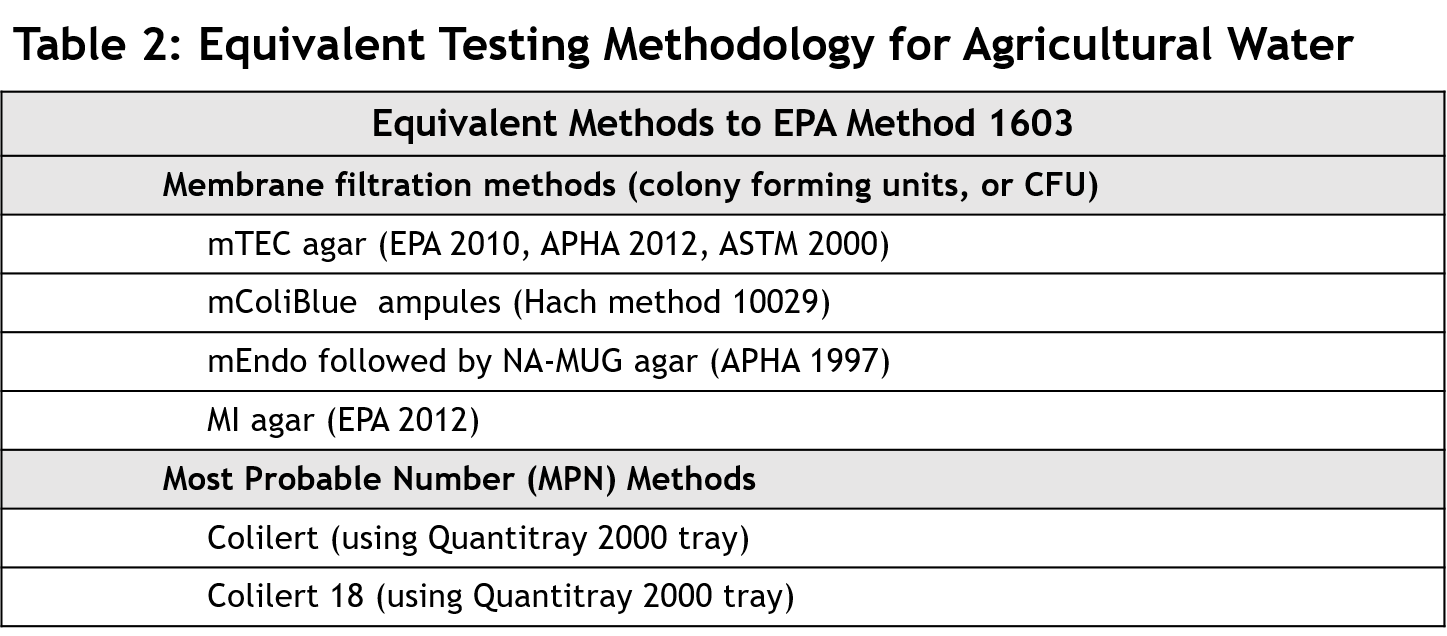 Around the same time that the announcement about additional test methods and the proposed extension of compliance dates for Subpart E was made, FDA Commissioner, Dr. Scott Gottlieb, addressed state agricultural commissioners in a speech at the annual conference of the National Association of State Departments of Agriculture (NASDA) in New Orleans. During Dr. Gottlieb's speech, he announced that inspections for the non-water requirements within the Produce Safety Rule for produce (other than sprouts) would not begin until 2019, despite the first compliance dates for the largest farms beginning in January 2018. This delay will give FDA and its state partners more time to provide education and training opportunities to growers, state officials, cooperative extension agents and other FDA produce safety experts on the new requirements. Take advantage of this extra time by attending a training, getting familiarized with the FSMA PSR requirements, writing a food safety plan (not required by the FSMA PSR, but required by many buyers), or by scouting out labs and test method availability for the agricultural water requirements.
What should I be doing now?
If the information and updates provided above leave you scratching your head, you are not alone. There have been quite a few announcements from FDA since the FSMA PSR was published in the Federal Register in 2015, and likely more adjustments to the agricultural water standards going forward. Keep in mind that although FDA has announced that they will not begin inspections until 2019, growers will still need to comply by the appropriate date based on the farm's business size category (See Table 1), with the exception of the Subpart E requirements for agricultural water because of the proposed extension of compliance dates.
Guidance is also a critical piece of the puzzle missing for growers and educators. In September 2017, FDA published a guidance document for small entities to aid in compliance with the FSMA PSR, but its' functionality and utility are debated among the produce community after initial review. While many in the produce community wait for the primary guidance to be released for the FSMA PSR, you can start by reviewing these five key steps to prepare for produce safety market demands and compliance with the regulation, if applicable to your farm.
5 Steps to Prepare for Produce Safety
1. Be aware that produce safety will impact your farm.
Whether the regulation applies to your farm or not, it is likely that produce safety will impact your business either through buyer requirements or through increased public awareness of the new regulation. Even some of the smaller scale markets (e.g., local farmers' markets, Farm-to-School programs) are beginning to ask for documentation of produce safety practices. Many third party audits are also now incorporating FSMA Produce Safety Rule requirements into the audit metrics. Additionally, foodborne illnesses that have been linked to produce commodities diminish consumer confidence and can even impact consumption trends and market prices, not to mention the significant impact to business viability and overall health of local communities.
2. Stay up to date.
It is probably evident by now that there are a lot of moving pieces and parts related to regulatory compliance dates and revision of certain provisions within the regulation. The best thing you can do to prepare your farm is to stay in the loop. Consider joining the PSA's general listserv or the Northeast Center to Advance Food Safety (NECAFS) newsletter distribution which provides relevant updates to the FSMA PSR and other produce related educational opportunities and resources, both nationally and regionally.
FDA also offers a subscription to e-mail updates related to FSMA on their Subscription Management Center.
3. Consider attending a training or an On-Farm Readiness Review (Coming Soon!).
Now more than ever, opportunities to learn about produce safety abound. Some growers may already be familiar with produce safety practices through Good Agricultural Practices (GAPs) training or from participation in a third party GAPs audit. Although there is quite a bit of cross-over between basic GAPs and the requirements within the FSMA PSR, the regulation is new to everyone and there are certain nuances to which you should be aware. Additionally, third party audits (e.g., buyer requirements) and inspections (e.g., FSMA PSR) are not the same thing. It is best to become familiar with both, since your farm may be subject to both.
A list of Produce Safety Alliance Grower Trainings, both domestic and international, are available on the PSA website and the course is one way to satisfy the FSMA PSR requirement outlined in § 112.22(c) that requires 'At least one supervisor or responsible party for your farm must have successfully completed food safety training at least equivalent to that received under standardized curriculum recognized as adequate by the Food and Drug Administration.'
Lastly, attending an On-Farm Readiness Review (OFFR) will help prepare your farm for the FSMA PSR requirements. On-Farm Readiness Review (OFRR) is a plan and tool-kit designed to be used by regulators and educators to prepare farmers for compliance with the FSMA Produce Safety Rule. Currently, the OFFR has been piloted in six states in conjunction with the FDA and NASDA and is due to launch in 2018. Either of the listserves mentioned earlier in this article will announce when those opportunities are available.
4. Don't Bite Off More Than You Can Chew.
It is easily to get overwhelmed very quickly after attending a training or reading up on the regulation. Don't stress. Start with the following:
Prioritize – biggest risks first, the ones that will give you the "most bang for your buck".
Organize – begin by writing a food safety plan if you do not have one already, or consider developing or revising new Standard Operating Procedures (SOPs) and checklists. There are plenty of resources out there to get you started with writing a food safety plan and keeping records, so do not reinvent the wheel.
Make an action plan – choose 2-3 things to get done this winter, when it is too cold and miserable outside to work in the field. Pick tasks that you know you can achieve, not that you hope you can achieve!
5. Ask questions when you need help!
Especially before making any big changes, such as changing a water test method or renovating a packinghouse! With FSMA funding available for states and Regional Centers to help growers understand and implement the new regulations, there are plenty of individuals to assist in answering your questions.
A good place to start is by contacting any of the Produce Safety Alliance Staff here.
The Northeast Center to Advance Food safety (NECAFS) also services and collaborates with 12 states (CT, DE, MA, MD, ME, NH, NJ, NY, PA, RI, VT, WV) and the District of Columbia to make up the Northeast region which aims to jointly advance understanding and practice of improved food safety among the region's small and medium sized produce growers and processors.
---
Resources for writing a food safety plan and keeping records
Farm Food Safety Plan Writing Resources. Produce Safety Alliance. Available from: https://producesafetyalliance.cornell.edu/resources/farm-food-safety-plan-writing-resources
Records Required by the FSMA Produce Safety Rule. Available from: https://producesafetyalliance.cornell.edu/sites/producesafetyalliance.cornell.edu/files/shared/documents/Records-Required-by-the-FSMA-PSR.pdf
References
FSMA Final Rule on Produce Safety. Available from: https://www.fda.gov/Food/GuidanceRegulation/FSMA/ucm334114.htm
FDA Considering Simplifying Agricultural Water Standards. Available from: https://www.fda.gov/Food/GuidanceRegulation/FSMA/ucm546089.htm
Standards for the Growing, Harvesting, Packing, and Holding of Produce for Human Consumption; Extension of Compliance Dates for Subpart E. https://www.federalregister.gov/documents/2017/09/13/2017-19434/standards-for-the-growing-harvesting-packing-and-holding-of-produce-for-human-consumption-extension
Equivalent Testing Methodology for Agricultural Water. Available from: https://www.fda.gov/Food/FoodScienceResearch/LaboratoryMethods/ucm575251.htm
FDA Commissioner Addresses State Agriculture Commissioners; Announces New Steps to Enhance Collaboration with States and Ensure Farmers Are Prepared for FSMA. Available from: https://www.fda.gov/Food/NewsEvents/ConstituentUpdates/ucm575532.htm
Guidance for Industry: Standards for the Growing, Harvesting, Packing, and Holding of Produce for Human Consumption: What You Need to Know About the FDA Regulation - Small Entity Compliance Guide. Available from: https://www.fda.gov/Food/GuidanceRegulation/GuidanceDocumentsRegulatoryInformation/ucm574281.htm
Arnade C, Calvin L, Kuchler F (2010) Consumers' Response to the 2006 Foodborne Illness Outbreak Linked to Spinach. Available via USDA Amber Waves. https://www.ers.usda.gov/amber-waves/2010/march/consumers-response-to-the-2006-foodborne-illness-outbreak-linked-to-spinach/