Giving back to local communities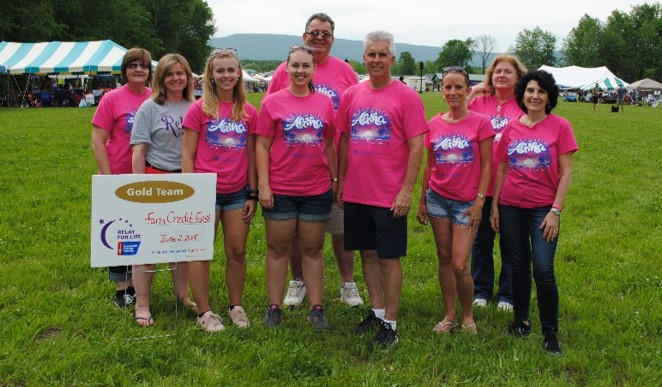 Whether it's small, continuous donations or an annual event that benefits a cause important to our organization, raising money for families and local community organizations gives our staff a good feeling. Here's just a sampling of some of the activities and events that our staff participate in to benefit Northeast rural communities.
Bridgeton, N.J., hosts annual golf tournament
Bridgeton's largest fundraising event is their annual Joshua Geary Golf Classic typically held the third Thursday in September. Staff look forward to this event each year. This September will mark the 13th anniversary of the Golf Classic, which originated to raise funds in memory of Joshua Geary, a Bridgeton loan officer lost in a tragic accident in 2005.
The mission of the Joshua Geary Memorial Fund is to keep the "Garden Growing in the Garden State." Support provided by the fund is focused on Future Farmers of America, 4-H projects and student scholarships throughout New Jersey. Since inception, this fund has raised a remarkable $710,000 for the benefit of the agricultural community. Close to 100 scholarships have been provided to State FFA members. In 2017, the fund committed $150,000 to the Curriculum for Agricultural Science Education (CASE) to support the development of an agribusiness course.
Claverack, N.Y., supports community charitable organizations
Each year, the Claverack branch's fundraising committee solicits ideas from branch staff for a charity to support in the upcoming year. Each staff member can submit a charity of their choice with the understanding that they become an honorary member of the committee if their charity/cause gets picked. This is a great way to support various charities from year-to-year, since different causes are important to different people.
This past fundraising "season," the Claverack branch raised money for College Possible! whose mission is to help students from their local school district afford all the "little" things that make college life possible; from school supplies to toiletries and bedding. To raise funds for this cause, the branch hosted multiple fundraising events throughout the year. Their events included a 'Paint and Sip' party, an 'employee-made lunch' where employees provided lunch for their co-workers at the cost of $7 each, and their annual June golf tournament. In addition to six laundry baskets loaded with supplies, the Claverack staff recently presented College Possible! a check for $5,750.
Some of the charities that the Claverack branch has raised money for in previous years include: The Ronald McDonald House; American Cancer Society; Wounded Warrior Project; The Epilepsy Foundation of Northeastern New York; Columbia-Greene Humane Society; and The Regional Food Bank of Northeastern New York. Since the start of their fundraising efforts in 2010, the Claverack branch has raised over $50,000 for various causes near and dear to their hearts.
Cooperstown, N.Y., builds donations throughout the year
"Every donation helps," seems to be the motto of staff in the Cooperstown, NY, office, who have taken it upon themselves to collect small donations throughout the year. Each week the office has a 'casual Friday' initiative, but it comes with a price. If you choose to dress down, you are responsible for donating $3 to their "charity jar." Collections from this initiative go to local food banks in Springfield and Cherry Valley, NY.
In addition, every month, the credit, financial services and Country Living departments rotate in sponsoring an office lunch. All office members are invited to join the luncheon for a $5 donation. Staff members also have a flower, pie and cookie sale within the office at different times of the year. This collection of funds is then used to sponsor families for Christmas gifts at the conclusion of the year.
Middletown, N.Y., raises $5,800 for cancer research
For the eighth year, Farm Credit East's Middletown, NY, office participated in the Pine Bush, NY, Relay for Life to support the American Cancer Society. After months of planning, on the day of the event, hundreds of participants gather to walk in support of friends and family who have or are currently battling this disease and to remember loved ones lost.
Staff from Farm Credit East's Middletown office look forward to this event each year. They raffled a "basket of cheer" filled with local wines and hard ciders that were generously donated by Farm Credit East customers. They also held two ice cream sundae fundraising events with ice cream donated by Stewart's. The cool treats were enjoyed by children and adults alike!
In total, friends, family and customers of the Middletown office generously contributed more than $5,800 toward cancer research and awareness – ranking in the top 10 of all fundraising teams! Overall, this year's event raised $157,617, exceeding their goal of $150,000!