Innovating a traditional vegetable to capitalize on consumer trends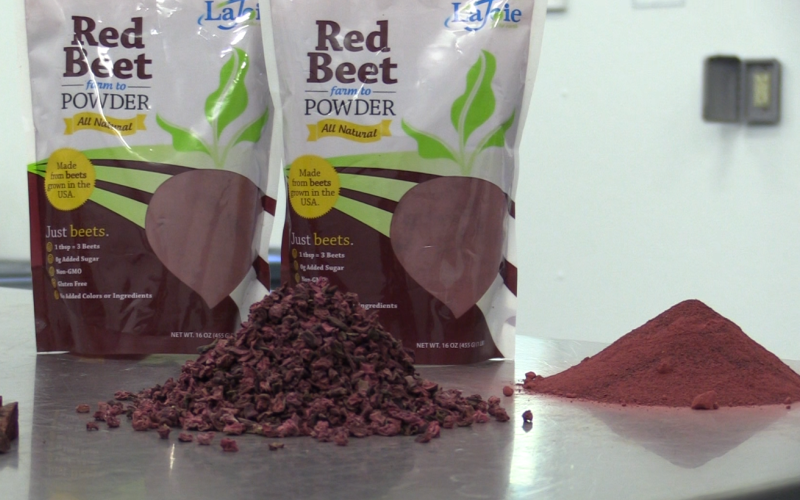 The LaJoie family has always been open to the possibility of producing a value-added product. But for years, they couldn't put their finger on what crop to add to their product mix that would flourish in northern Maine while also differing from the common potato chip. That all changed in 2006 when the family started growing beets.
After over 10 years of growing this ordinary vegetable, Jay LaJoie, co-owner of LaJoie Growers, LLC, started to sense an opportunity as he watched the beet thrive in Maine's cool climate. But his vision went beyond the raw beet. "We wanted to produce a dehydrated product with an extended shelf life that also matched the current health trends," said Jay. So the family began experimenting with their beets in a small test kitchen and ran trials for about a year until they felt they got it right. And so was born: LaJoie of the Earth red beet powder.
"Beets are a superfood that promote natural energy and lower blood pressure," explained Jay. "Beet powder is a convenient way to consume beets for the vegetable's health benefits." In fact, Jay said that one tablespoon of powder offers the nutrients of three beets.
Since its inception in January 2019, customers have not only given a thumbs-up to the dehydrated superfood, but have been supportive of a locally grown, small-batch processed and packaged product.
The product has also helped the LaJoie family lessen the impact of a major variable in their equation – transporation. Living in such a northern geographic area, fresh vegetables have limited tolerance for weather, longevity and market competition. A shelf-stable product not only helps secure peace of mind, but it also provides a boost to the farm's future generations. "We're able to ship right out our door, anywhere around the world," commented Jay, "and that's given us a more stable revenue stream that we hope to continue to grow in the future."
For more on the LaJoie's product, watch the video below.
This is the fifth post in our series highlighting innovation in Northeast agriculture. Click below to read other posts in the series:

Tapping trees for more than just syrup: This New York farm partnered with a conservationally-minded entrepreneur to turn the byproduct of maple syrup production into a value-added product.

Adding some spice to the Pioneer Valley: Kitchen Garden Farm is most known for its variety of more than 100 kinds of hot peppers and the unique value-added products the farm produces from those spicy delicacies.

Nature's Own Lawn Mowers: Read how a New Jersey herdswoman is using her sheep to make a green initiative even greener.

Innovation at Work in Northeast Agriculture: Learn more about a New Hampshire oyster farm aiming to improve water quality in the Great Bay area.