Gaining career experience at Farm Credit East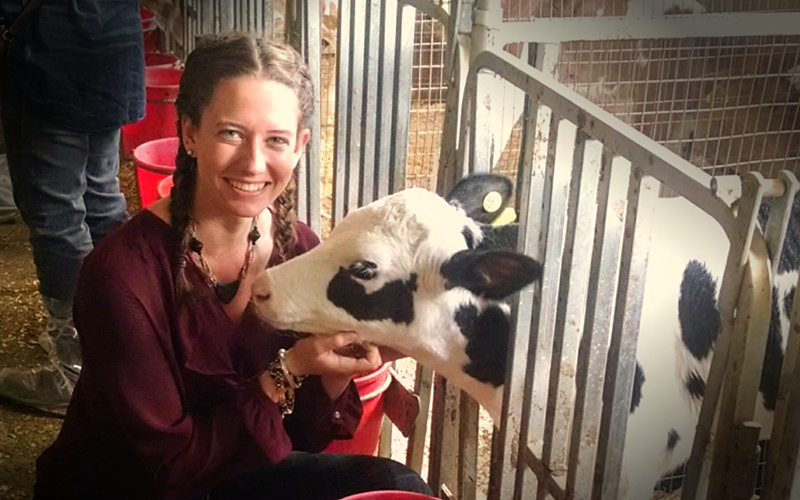 As summer comes to a close, Farm Credit East thanks the 18 interns who worked alongside our team this summer. These interns learned about Farm Credit East and our different job functions, and will leave a lasting impact through the strategic projects they completed that help fulfill many business plan initiatives. I recently caught up with Tara Hammonds, one of this summer's interns, on her perspective of her summer internship.
Tara is entering her senior year at Cornell University where she studies International Agriculture and Rural Development (IARD). She is also getting a head start on a Master's in Professional Studies in IARD, which she plans to complete by the end of summer 2018. Tara spent her summer in Farm Credit East's Claverack, NY branch office.
Jean Gallagher: What first attracted you to Farm Credit East's internship program?
Tara Hammonds: Through my studies of IARD, a lot of my understanding of and experiences in the agricultural industry have been strictly on the production side of things – soil health, field cropping systems and sustainable farming practices. I felt that limiting myself to just this aspect of the industry was hindering my full picture of farming operations. To work professionally in agriculture, I realized it was important to gain a more comprehensive understanding of the financial planning and business management that go into a successful farm business.
JG: What were the highlights of your summer internship?
TH: Some of my fondest memories will be of farm visits and interactions with customers. While many businesses dread visits and calls from their accountants or loan officers, Farm Credit East's clients seemed eager and prepared for our visits with not only their financial statements, but also their sense of humor, decades of stories and the kind of wisdom that comes only from years of farming experience. I enjoyed being a part of the relationship Farm Credit East has with their clients.
Another highlight was the opportunity to visit Farm Credit East's Presque Isle, Maine branch for a few days. Excited to be hosting someone who had never before seen a potato farm, both the office staff and the farmers we visited were thrilled to show me the area and take me on tours of everything from their solar fields to their potato storage buildings. It was a really informative experience to see first-hand how much agriculture varies throughout the Northeast.
JG: Each intern completes a strategic project for Farm Credit East. Tell me a bit about your project and how it will impact our organization.
TH: My summer project helped standardize Farm Credit East's record-keeping process, as well as to promote this service to customers. I did this through the conversion of the Presque Isle office's records to CenterPoint, an agriculture-specific accounting platform used by the majority of the Association's customers.
I began by learning CenterPoint myself with the help of the Claverack office staff and through various user guides and training videos. This was challenging as CenterPoint is a relatively complex software platform, but it was an in-depth and hands-on way for me to learn about financial accounting and record keeping.
Once I was comfortable with the software, I created a sample CenterPoint database and a set of consolidated training materials, sorted by job function, to help each employee learn CenterPoint and convert their files as efficiently as possible.
Lastly, I created materials promoting the benefits of CenterPoint to be distributed to customers, and an employee sales guide that provides an overview of the software so that employees know when it is appropriate to cross-market the product.
JG: Has your summer experience influenced your career goals?
TH: Before this summer, I had my career goals pretty definitively set. I would finish my BS and MPS in International Agriculture and Rural Development and then pursue a career working with developing countries to help advance the livestock industry. However, my summer experience has me rethinking those plans and seriously considering the type of career that Farm Credit East could offer me - one more focused on the finance and business side of the agricultural industry.
JG: Now that you have spent the summer with us, how would you describe our company culture?
TH: Farm Credit East has made me feel that a very sincere investment and interest has been taken in my experiences, aspirations and personal growth. I have come to understand that Farm Credit East is a place that encourages open communication in a way that helps each employee understand how important and appreciated their work is to the success of the company.
As an intern, I found that all of the work I was asked to do was real work that would be used to benefit the company. Beyond that, I was surprised by how often I was asked for my ideas or opinions on various matters by other employees and upper-level management. Everyone valued what I had to say. All-in-all, I felt it was a culture of deep respect for everyone from the CEO to the summer interns, which created such a positive and productive work environment.
Good luck, Tara, and the rest of our summer interns as you embark on this last leg of your collegiate journey! We look forward to continuing to work with you all - either as colleagues, customers or friends of Farm Credit East!