Farm Credit East Interns Share Their Stories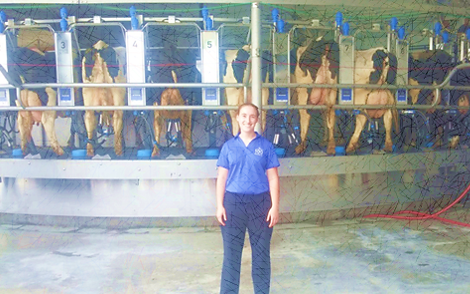 It's the time of the year when college students are finalizing their plans for a summer internship. Farm Credit East plans to welcome 15 interns this summer. We consider the internship experience an informal interview; our branch office staff get to know the intern, the intern gets to learn about our company and their experience gives them insight into the type of career they'd like to pursue. Better yet, our interns are our first go-to for full-time positions with Farm Credit East.
I was a 2014 intern in Middleboro, Mass., where I spent the summer on cranberry bogs, oyster farms, dairy operations and more. I found a lot of similarities between my experience and the recent interviews I had with some Farm Credit East employees who also began their career as Farm Credit East interns. Here's what they had to say about their experience and what led them to choose us for their career.
Internship Flexibility
"One thing I loved about my internship was the flexibility of the start date," said Meagan Holveck, now a Country Living Mortgage Assistant in our Cooperstown, NY, branch office (and pictured in the photo above). "Starting the Monday after my semester ended, I was excited to meet everyone at the branch office. Twelve weeks allowed plenty of time to work on my project, as well as go on farm visits and spend time learning about different aspects of Farm Credit." Meagan now assists customers in finding their dream home in the country.
Kelsey Neckers, a Consulting Practice Specialist in Batavia, NY, thoroughly enjoyed her internship experience with Farm Credit East as well. "The length of the internship gave me plenty of time to experience all that Farm Credit East has to offer – credit, financial services, crop insurance and more!" Kelsey expressed that she enjoyed having enough time to tour agribusinesses and gain invaluable insights from her Farm Credit East mentor.
"From my internship experience, I could tell that Farm Credit East is dedicated to its employees and its customers, which is one of the main reasons I decided on a career here." Kelsey now works with a team of consultants to help deliver a diversity of consulting products to a wide range of ag businesses.
Introduction to all Aspects of Farm Credit East
Ryan Willits, a Training Associate in Enfield, Conn., remembers not being stuck just looking at one aspect of the lending process during his internship in Burrville, NY. "I received a great deal of exposure to all aspects of the credit process, from first meeting with the customer to closing the loan. I was able to do the underwriting for a loan, key monthly records, attend a consulting visit and help with the appraisal for a loan."
In Ryan's post-college career search he remembered his Farm Credit East experience. "Find a company that you want to work for and they will help you to find the career you want." Ryan now works in Farm Credit East's Human Resource Department facilitating trainings and educational initiatives.
Robert (RJ) Linder enjoyed the exposure to all facets of agricultural finance as well. During his 12 weeks in the Potsdam, NY, branch office, he was able to experience what it was like to be a records specialist, tax preparer, appraiser, loan officer and a consultant. "The staff made it a point to get me involved and allowed me to participate, not just observe, as much as possible."
"The on-farm visits and inspections were my favorite part. At the end of my experience, I was inspired to switch course and pursue a career loaning money!" RJ now works as a Credit Representative in our Batavia, NY, branch office where he enjoys the people, both colleagues and customers, he gets to work with.
The Intern Project
All interns receive an assigned project for the summer. These projects cover a wide range of areas and often fulfill initiatives in our annual Business Plan. These projects contribute valuable information to be used in reports and future planning.
"The work I performed in my internship was real work," stated Ryan VanValkenburgh, Accounting Associate in Cooperstown, NY. She worked on a director compensation project during her internship. "I knew this project truly made a difference to Farm Credit East," she said after presenting her findings to Farm Credit East's senior management team. "I could sense I was part of a knowledgeable team and, at that point, I knew I wanted to pursue a career with this team-oriented association." Ryan enjoys her role as a financial services associate.
Farm Visits
Kirsten Sheffer, Credit Representative in Enfield, Conn., appreciated the variety of farm visits she made over the summer. Her internship was in central New York where there was a variety of dairy, livestock, vegetable, retail and equine operations. "Visiting operations with loan officers, appraisers and financial service staff not only allowed me to meet ag business owners, it also showed me how many different programs Farm Credit East offers. I put myself in the shoes of the Farm Credit East employee, which helped me to decide the area I was most interested in." Kirsten now works on credit analysis for businesses primarily in our Bedford, NH, office territory.
"Getting out to meet with farmers was what I loved most about my internship with Farm Credit East," said Kaitlyn Kelder, Credit Representative in Cooperstown, NY. "Many banks are transactional and the relationship ends at the handshake, but Farm Credit East builds relationships, working with family farms from one generation to the next."
Kaitlyn appreciated that while the internship only lasted 12 weeks, her conversations with ag business owners truly had an impact. "Those customer meetings left a lasting impression on me, which is why I chose to begin my career with Farm Credit East. I wanted a career where I could work with farmers every day and have a positive influence on the industry." Kaitlyn now covers four counties in New York, where she continues to build on the customer relationships she values so much.
Apply for an Internship
As an employee who found my career path through a Farm Credit East internship, I can attest to the supportive work environment, value placed on customer relationships and the shared commitment to support Northeast agriculture, commercial fishing and forest products industries that resonates through our entire employee team. My internship project, The Economic Impact of Successful Immigration Enforcement in the Northeast, is what sparked my interest in public policy issues that impact Northeast producers and led me to the fulfilling career I have today.
Farm Credit East's 12-week, paid summer internship program is aimed towards college juniors. If you'd like to learn more about an internship opportunity, click here.