Northeast Lobster Industry Outlook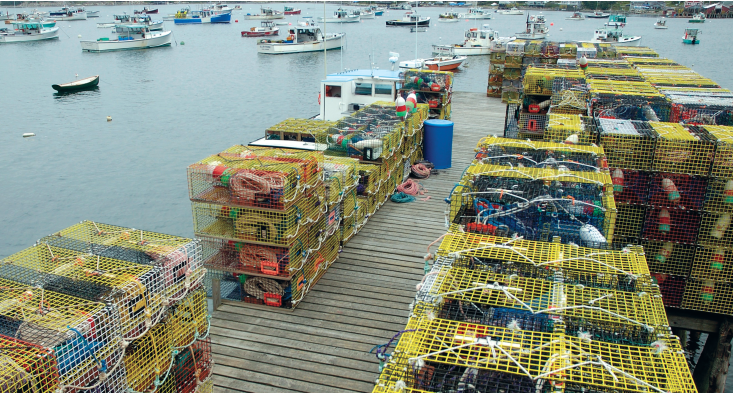 Expect New England's lobster fishery to be above the fold news in 2019, and much of it will be bad. The industry faces threats on several fronts, some unique to the fishery and others more common across the business spectrum.
Lobstering now ranks as the nation's third most valuable fishery, trailing only the varied salmon and crab fisheries largely concentrated on the West Coast. American lobster landings were valued at $550 million in 2017. Maine's 75 percent market share dominates the fishery, with Massachusetts a distant second at nearly 20 percent. Maine's 2017 landed lobster value of $430 million has more than doubled over the last two decades, even after adjusting for inflation. It is a lucrative fishery and its revenues – from both fishing and shoreside support services - have become increasingly important to communities in Downeast Maine.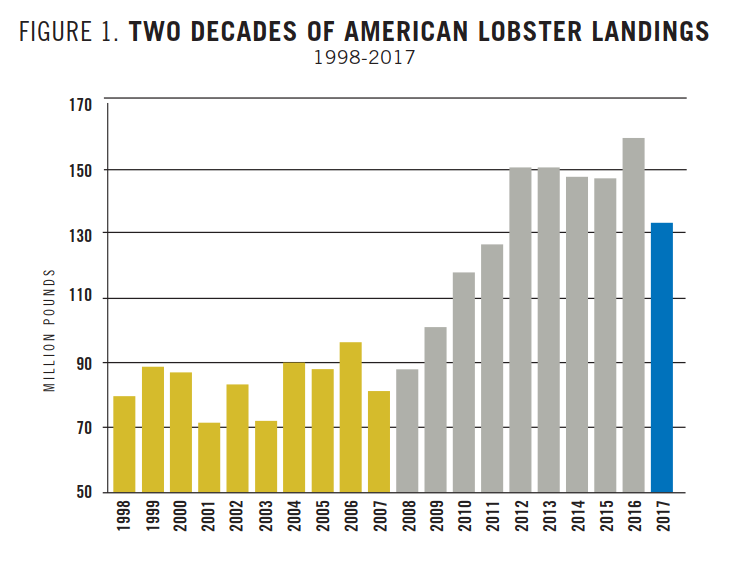 However, despite this tremendous success, there are reasons for concern. Last year's $550 million region-wide catch – though among the highest ever – actually dropped sharply in value from 2016's record-crushing $660 million. It was almost entirely a result of fewer pounds landed, and though no one can say with certainty that the slide will continue, history suggests there is more downside catch risk than upside opportunity (Figure 1).
Fisheries are often interdependent, and the lobster fishery is highly dependent on the tiny herring used as bait for its traps. Once largely a food fish, over the last few decades, herring has transformed into a cheap, abundant, and locally sourced baitfish. But for 2019, concerns over population growth of that species have led the government to recommend a more than 50 percent reduction in the amount of herring allowed to be caught and made available for bait.
Cutting bait use by 50 percent is not likely to increase your catch of lobster, and the industry is already scrambling to establish new sources of supply. Alternatives do exist –alewives caught from Maine to the mid-Atlantic, skates from southern New England, even frozen redfish carcasses imported from overseas. But they are rarely as local, often more expensive, and usually less enticing to a crustacean effectively weaned on herring bait for a generation or more.
A much different, but no less significant, problem is the unintended catch of the not- so-tiny Atlantic right whale. Yes, lobster gear can, in a fashion, catch those too, though lobstermen are often scapegoated for what is a multifaceted problem. Of course, these 50-ton behemoths can't possibly squeeze into a trap, but they are prone to entanglement in the vertical lines which connect buoys on the ocean surface to traps resting on the seafloor. Once entangled, it becomes difficult or even impossible for the whale to shed the fishing gear, and death can result.
Right whale populations were devastated in centuries past by whaling, and perhaps 400 of the Atlantic stock remain alive today. It is a slow-growing, endangered species, which has shown little evidence of reproduction over the last few years. Over the same period, perhaps five percent of the remaining population succumbed to a combination of large ship strikes (the most common source of human-caused mortality) and entanglements with American and Canadian fishing gear – including lobster and crab traps, and stationary netting designed to catch finfish.
Each of these industry segments which pose a risk to right whales has implemented mitigation measures. Ships reduce speed in some zones to provide the whales more time to detect and evade the traffic. Lobster and finfish gear has for years been deployed with "weak link" joints, designed to break apart if a whale swims into it, thus decreasing the chance of entanglement. Most recently, the Canadian government required crab-pot fishermen to remove all traps from an area the whales were congregating in for a time.
That last step is a draconian possibility for the Northeast's half-billion dollar lobster fishery. But Maine fishermen alone set out nearly three million lobster traps annually. Though more than one trap can be affixed to a single line, there's something akin to a roped obstacle course for whales deployed in the water column throughout the Gulf of Maine.
The industry is working on solutions – better weak links, reductions in lines used, even experimenting with rope-less, radio-activated traps that bob to the surface when electronically summoned. But the federal government is under increasing legal pressure to preserve the remaining right whale population no matter the cost, and New England lobstermen will inevitably have to invest large sums in that preservation effort.
Aside from these unique challenges, the industry faces other issues common to employers across the country. The opioid epidemic has been acute for some time in fishing communities. Oxycodone and cheap heroin are prevalent on the waterfront to the point that many vessels carry the overdose antidote Narcan on board. In Massachusetts, fishermen are about five times more likely to die from an overdose than other workers in the state – not while on the job, but mixing narcotics with hydraulics on the high seas is never a good idea.
Back on land, lobster wholesalers find it increasingly difficult to secure qualified labor, to the point that the Maine Lobster Dealers' Association recently partnered with that state's Department of Corrections to pitch about 50 interested inmates on employment opportunities upon their release. Not just a job fair, the Association has developed a training and certification program in lobster handling, equipment safety and other topics to prepare candidates in advance of employment.
Maine Corrections Deputy Commissioner Ryan Thornell said, "Preparing these individuals for meaningful work is our duty. We recognize the unique position we are in, that helping those in custody prepare for in-demand Maine jobs has a direct and positive impact on Maine's economic and labor outlook."
And so, the table for 2019 and beyond is being set: While the lobster fishery is likely to continue to deliver significant revenue for the region, there is some uncertainty about the volume of lobster to be landed, yet virtual certainty that costs of goods used to catch them – bait and labor – will be less plentiful and thus more expensive. The burden of preserving right whale populations will increasingly fall on lobstermen in both the regulatory and legal arenas, which ultimately means more money out-of-pocket. The fishery isn't going bust, but the recent and comfortable spread between revenues and expenses could be narrowing in coming years.