One Mission. Many Voices.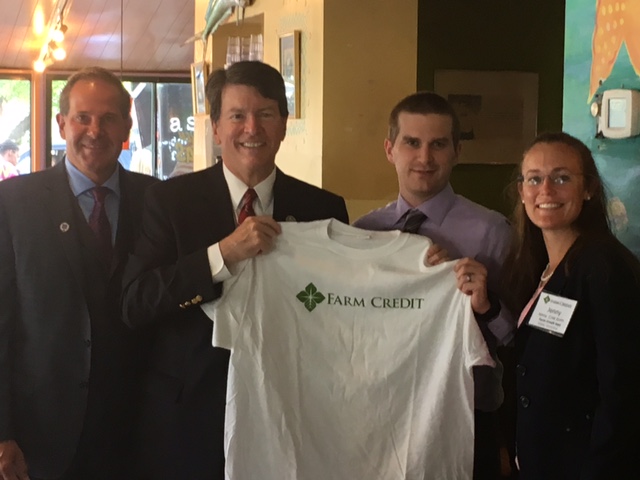 Last week launched Farm Credit's "One Mission. Many Voices." campaign. It's purpose? To share Farm Credit's mission – to provide a reliable source of credit and financial services to rural communities and agriculture today and tomorrow – through the many voices of the agricultural producers, commercial fishermen and forest products producers that Farm Credit serves.
To kick-off the campaign with a spark, more than 600 Farm Credit representatives from across the country, including employees, directors and customers, recently spent the week in Washington D.C. to meet with Senators, Representatives and their staffs. Farm Credit East's representatives visited with 25 Members of Congress and their staffs throughout the seven states we serve. Our goal was to communicate the Farm Credit's mission to members of Congress, to make sure Congress opposes any attempts that limit Farm Credit's ability to serve its members. Participants also started the conversation about the 2018 Farm Bill. Specifically, we advocated for the following programs:
Maintaining a strong crop insurance program: crop insurance is an important tool to help producers manage their risk. The importance of crop insurance was underscored in 2016 with the early freeze and severe drought in parts of Farm Credit East's territory.
Continued support for USDA direct loan and loan guarantee programs; including an increase in the loan guarantee cap. USDA loan guarantees are an important tool for Farm Credit East to support farms with long-term viability that may be experiencing financial stress, while those operations make the necessary adjustments to return to profitability. The current cap is at roughly $1.4 million.
Include rural priorities as part of any infrastructure package: whether part of the Farm Bill or as stand-alone legislation. These priorities include investments in broadband, rural water and energy systems and critical community facilities like hospitals, encouraging public-private partnerships where possible.
Another key topic of discussion was the importance of ensuring Northeast agriculture has a stable supply of farm labor. This continues to be a major concern for Northeast agriculture, so we made our voices heard on the need for a new agricultural guest worker program that allows for seasonal and year-round farm employees.
Overall feedback from Congressional staff was positive and we look forward to continuing to engage with Congress around the Farm Bill, agricultural labor and the importance of the Farm Credit System to agriculture and rural America. These meetings also created quite the buzz on social media. Visit @FCEast's Twitter to read the full feed.
The week concluded with a Farm Credit Farmers' Market in the Library of Congress. Congressional staff were invited to attend the market which featured products from Farm Credit customers nationwide. Farm Credit East was pleased to feature maple syrup from Happy Jack's Maple in Locke, NY; whipped honey from Best Bees based in Boston, Mass.; and Allagash beer which is brewed using barley grown by Buck Farms in Mapleton, Maine.
Farm Credit Week in Washington was just the launch of the One Mission. Many Voices. campaign, so we look forward to continuing to share Farm Credit's story through the voices of the hardworking producers we serve. The System has launched a Farm Credit Voices website to share these customer stories via videos and written profiles. Check out one of Farm Credit East's voices, that of Jenny Crist Kohn, a fifth-generation farmer from Walden, NY, who returned home to help manage her family's operation, Crist Bros. Orchards, here. Her story and many others will continue to be featured on the Farm Credit Voices website.