OSHA Local Emphasis Program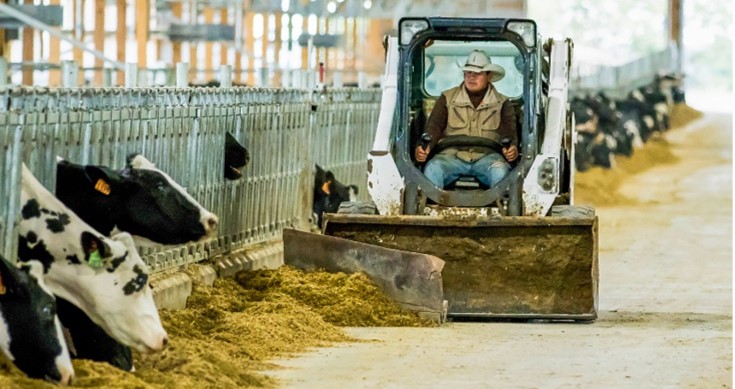 Recently, Farm Credit East hosted a webinar covering the OSHA Local Emphasis Program (LEP) for New York dairy farms. The regional OSHA offices in Buffalo, Syracuse and Albany have a LEP for programmed inspection of dairy farms in their jurisdictions. Inspections are intended to focus on common activities conducted by farm employees which may expose them to occupational hazards. The program has been in place since July 2014, in response to injury and fatality rates in this sector being significantly above the average for private employers.
Inspection priorities for OSHA include the following:
Imminent danger – a hazardous situation is observed on the farm that could result in injury or death.
A fatality or catastrophic injury has occurred on the farm.
A non-fatal, severe injury is reported.
A complaint or referral about the farm to OSHA.
Programmed or scheduled visits (LEP).
Exemptions
It is important to note that under the appropriations act, a farming operation is exempt from all OSHA activities if it employs 10 or fewer employees currently and at all times during the last 12 months; and has not had an active temporary labor camp during the preceding 12 months. For the purposes of the LEP, only the number of employees is taken into consideration. Note that family members who work on the farm are not counted when determining the number of employees, and a part-time employee is counted as one employee.
Reporting requirements
All employers are required to notify OSHA when an employee is killed on the job or suffers a work-related hospitalization, amputation or loss of an eye. A fatality must be reported within eight hours and an in-patient hospitalization, amputation or eye loss must be reported within 24 hours.
Referrals
Referrals can be received by other agencies, such as police or fire departments responding to an incident. The Department of Labor Wage & Hour division can refer to OSHA. An OSHA inspector driving by the farm who sees unsafe practices can refer an inspection, and OSHA can respond to media reporting.
Formal complaints can be made by employees, family members or a representative of a current employee, requesting an on-site inspection. Non-formal complaints can be made by former employees or the general public. OSHA will generally contact the employer by phone or fax to follow up and the employer must respond to any non-formal complaint in writing within five days.
Standards
OSHA standards relating to agriculture that will be referenced during inspections include:
29 CFR 1904: Recordkeeping
29 CFR 1928: Agriculture
29 CFR 1910: General Industry: As referenced from 1928
General Duty Clause Section 5(a)(1)
Records of injuries must be kept for all businesses employing 11 or more employees.
The "General Duty Clause" applies when there is not an applicable specific safety standard. It says, "Each employer shall furnish to each of his employees employment and a place of employment which are free from recognized hazards that are causing or are likely to cause death or serious physical harm to his employees."
LEP inspections began in July 2014. Since that time there have been 40 inspections conducted under the program. They were initiated by:
Complaints – 8
Fatalities – 2
Follow up on prior inspections – 1
Referrals – 3
Non-fatal accidents – 3
Programmed / Planned 23
82 Violations were issued, and the average violation fine was $2,283.
The top ten OSHA standards cited were:
General Duty Clause (75 percent of citations)
Hazard communication programs (including Safety Data Sheets, labeling and training)
Guarding of power transmission components
Guarding of tractor power take-offs
Removal of guards
Existing guards inadequate
Lock out / tag out procedures
Farm equipment training
Stationary equipment with unguarded PTO shafts
Reporting of non-fatal accidents
Specific common violations of the general duty clause were:
Unguarded bench grinders

E

lectrical deficiencies
Using corrosive chemicals without adequate eye wash stations
Unguarded open-sided floors and platforms / fall hazards
Unguarded floor holes
Stairways without hand rails
Entering confined spaces without removing hazards
Working at the shear face of silage piles / engulfment or struck-by hazards
Improper use of ladders or lack of safety cages on fixed ladders
Skid-steer operators not properly trained
Unguarded table saws
OSHA has a voluntary, on-site consultation program for employers with 250 employees or fewer. The program features include:
Hazard identification and correction
Assistance in safety and health program development
No-cost and confidential
Exemption from OSHA's programmed inspections
Training and technical assistance available
For more information, visit Osha.gov/dsg/topics/agriculturaloperations/ or contact Ronald Williams at Williams.ronald@dol.gov or 315-451-0808 x3002.
To view the webinar recording, click here.
Note that this synopsis provides only a broad summary of the LEP program and related regulations. For more information, view the webinar and visit the website referenced above.