Overcoming Ag Labor Challenges: Implementing Technology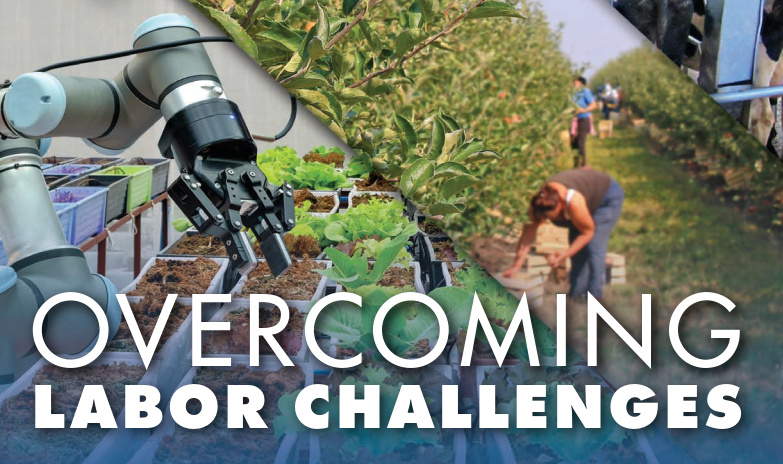 In Part II of our ag labor strategy series, we focus on the success some operations are finding by implementing technology to cut back on labor demands. Read Part I in the series to learn more about partnering with vocational schools.
Mechanization
Pete Hionis operates Hionis Greenhouses. Located in Whitehouse Station, NJ, this family operation founded in 1985 grows 14 acres under cover and has 65 acres of outdoor production. The operation grows seasonal plants and flowers, including Easter bulbs; spring flowers, bedding and hanging baskets; hardy mums; and poinsettias. Their plants are distributed to garden centers, landscapers, grocery stores and some re-wholesalers.
In recent years, the farm was increasingly facing challenges in finding labor. "Back in the day, when someone didn't work out so well, you could easily find somebody else. That's no longer the case. The labor pool has really dried up," said Pete.
The 2017 season was the turning point. The farm began investing in structural changes towards mechanization and automation. Last year, with the help of financing from Farm Credit East, the operation purchased a whole production line with a transplanter. Along with it, they purchased a flat filler to synchronize the production line.
They also purchased additional conveyor belts so that fewer hands were needed to move things around. For example, now when it's time to pack the flowers, they're all brought to a centralized area and put on a conveyor belt to move down the line — from potting, to adding the UPC and then boxing them.
The farm also purchased cart pullers to move the carts around versus a person manually pulling them. Lastly, they invested in infrastructure improvements, such as loading docks. The improved loading docks save time on shipping and receiving because trucks can be loaded more easily.
"In the last couple of years, we've definitely invested a lot of money in automation and infrastructure," said Pete. "And we're going to continue doing that because the labor situation is only getting worse."
Now a year in, when asked if these investments were the right move, Pete's response: "Absolutely! We used to need 15 people on the transplanting line and now we only need four. Not only have we been able to trim down on labor expenses, but we've also increased production and sales."
"The automation has also freed up staff time to do other jobs," Pete continued. "A job that typically took 15 people one week to complete, is now getting done in one day with just four people. That frees up their hands to do other work."
As Pete looks to the future, he says they're continuing to look at new automation to eliminate other steps in their operations. For other producers looking to go this route, his advice to them is to get the automation in sooner rather than later. "We really have no choice," he said.
"Increased minimum wage laws are only going to escalate things — workers currently earning $15 an hour will want more. Workman's comp and payroll liability will increase— it's going to create a tsunami effect."
Dairy Robotics
Another technology that is increasingly being adopted by some Northeast dairy farmers is robotic milking equipment. Dubbed "Automatic Milking Systems" by their manufacturers, these machines can significantly reduce the labor needed for milking cows.
Coupled with automated feeding and manure management systems, farms can reduce the employees needed to operate their farm. Equally important, it frees staff time to take on higher-value tasks, such as managing the herd for optimal health and production, rather than milking.
In addition to saving labor, producers are realizing other benefits. By allowing cows to determine when to be milked, these systems often increase productivity. They also collect a significant amount of data that can be used to improve herd management.
The number of automated milking systems in use in the Northeast has grown consistently in recent years as producers respond to the ongoing challenges relating to labor availability and turnover. It is estimated there are now more than 200 units installed in the region.
All of this, of course, comes with a cost — about $175,000 per robotic unit. There can be other challenges to integrating these units into existing dairy operations but for some, it's been worth the investment, and they have seen the benefits of the technology.
Stay tuned for the third part of the ag labor strategy series, which will focus on improved employee housing as a means to retain employees.