Structural Changes in Northeast Agriculture
Over the past several decades, Northeast agriculture has continued to evolve and adapt, and will continue to do so well into the future. That's one of the resounding qualities of Northeast producers — their agility and capacity to adjust their businesses to respond to consumer demand and marketplace conditions. In this blog post, we look at what some of those changes to the Northeast's overall agricultural landscape have been over the past 30 years, including changes in total number of farms, acreage involved and products produced.
Number of farms
According to the USDA, the number of farms in the region has increased slightly over the 30-year period from 1982-2012, rising from 76,442 farms in 1982 to 79,535 in 2012. Interestingly, the state with the greatest number of farms, New York, saw a decrease in farms from 42,207 in 1982 to 35,537 in 2012. Therefore, the increase in the number of farms was due to more farms in the other seven states.
The increase in farm numbers was chiefly due to a large increase in farms grossing less than $10,000 per year. Farms grossing more than $250,000 also increased, while those farms in between declined in number.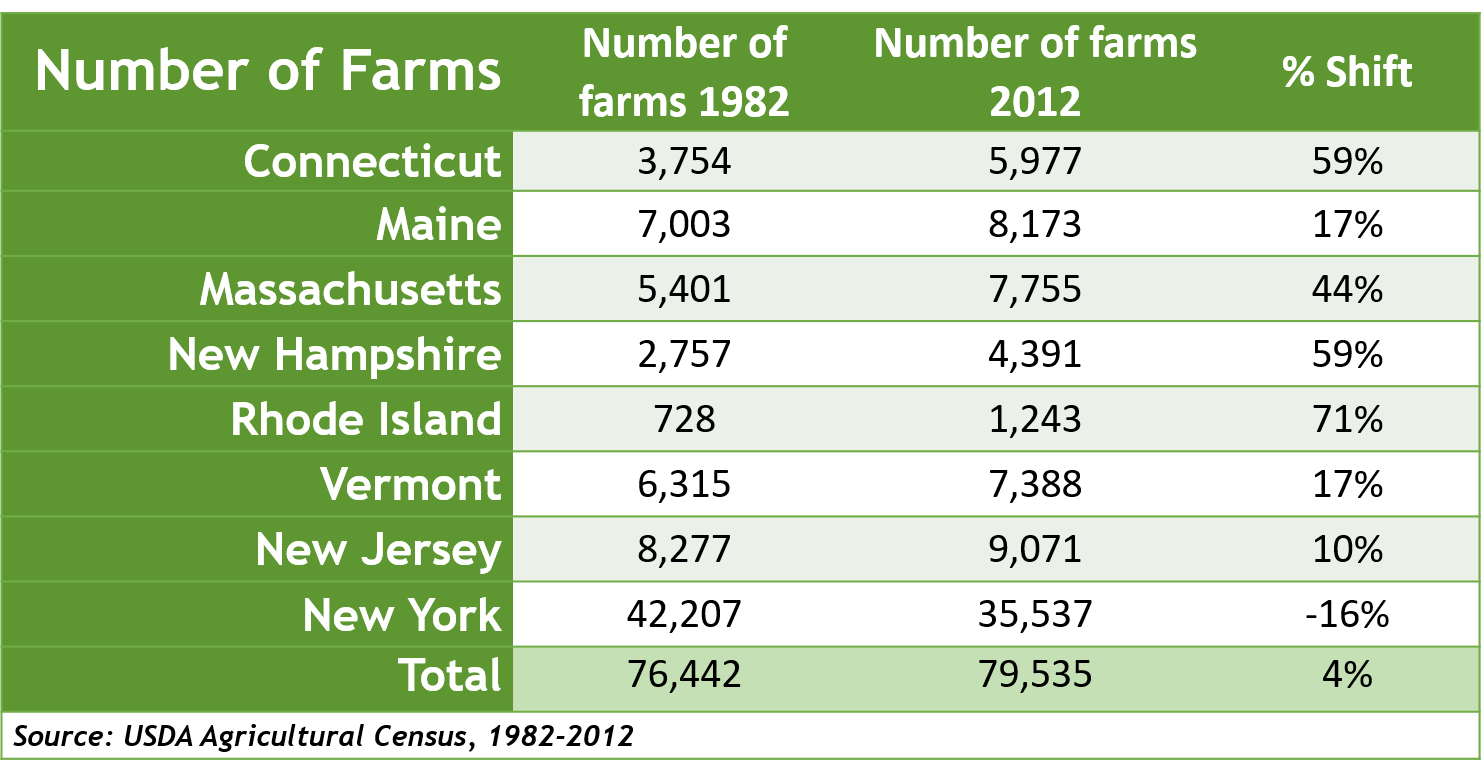 Farmland
Over this time period, we saw a 18 percent decrease in overall land in farms. In 1982, land in farms was at 14.7 million acres compared with 12.1 million acres in 2012. This could be due to many factors like consolidation, selling out or shifting farmland to another purpose.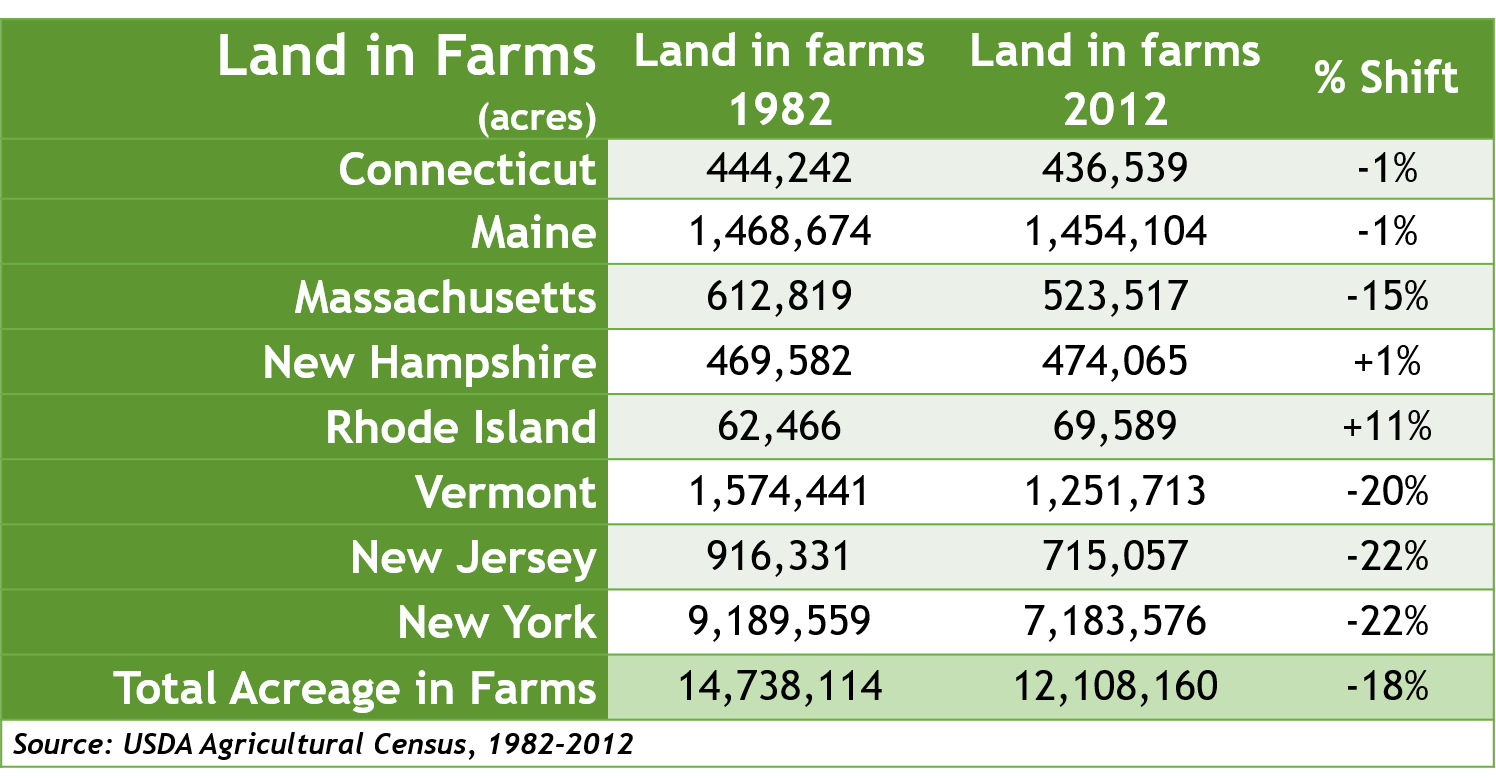 Farm product value
Since 1982, the average value of products sold per farm grew significantly from an average of $54,091 in gross revenue per farm in 1982, to $88,697 per farm in 2012. New York and New Jersey saw average farm revenue more than double: New York increased from $57,501 to $152,380, and New Jersey increased from $52,672 to $111,006.
During this period, Vermont's average value of products sold increased by 81 percent and Maine's by 64 percent, while the other New England states showed smaller increases in average value sold.
Also during this period, the total market value of farm products sold more than doubled, going from $4,331,372 to $9,254,618. This is due to both inflation in agricultural commodity prices, as well as increased output per farm.
Farm type
Looking at full-time versus part-time farming, the number of farmers who consider farming their "primary occupation" remained relatively stable, but decreased slightly from 44,043 to 42,006. Meanwhile, the number of farmers considering their primary occupation something "other than farming" increased by 16 percent, from 32,399 to 37,479.
Change by commodity
For commodities produced, there were some major changes. The largest decrease was in dairy, which had 20,924 producers in 1982, but only 7,868 in 2012. Land in dairy farms similarly decreased from 7,188,841 acres to 3,129,245 acres.
The largest increase was in "other crop farming," which increased from 9,453 participants to 19,659 participants. Land in other crop farming increased from 1,718,594 acres to 3,156,923 acres. This could be indicative of a number of trends coming together, including consolidation in the dairy industry; a number of dairy farmers selling their herds and shifting to crop production; and an increase in lower-intensity agriculture, such as hay.
Other commodity categories include:
Oilseed & grain farming, which declined in number of producers by 29 percent;
Vegetables increased by 31 percent;
Fruits declined by 11 percent;
Greenhouse/Nursery increased by 101 percent (roughly doubling number of farms);
Tobacco decreased by 48 percent;
Beef decreased by 14 percent;
Poultry increased by 50 percent; and
Aquaculture/other animal increased by 15 percent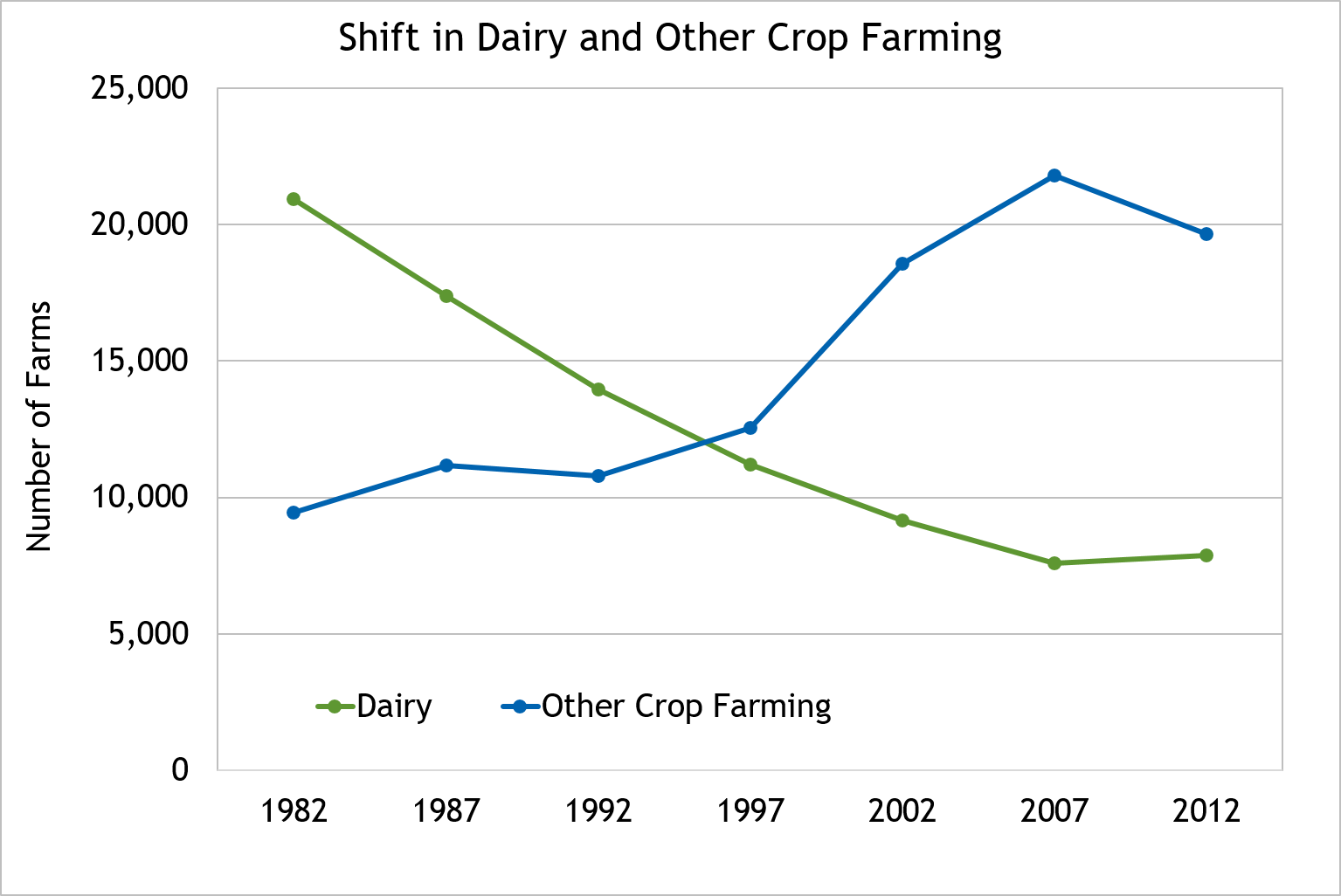 The increase in farms grossing more than $500,000 is particularly noticeable when it comes to the percent of overall farm production by size class. In 1982, only 19 percent of total farm production in the Northeast was by farms in the largest size class. By 2012, that figure grew to 70 percent. Meanwhile, farms between $10,000 and $99,999, and farms between $100,000 and $249,999 shrank in both relative and absolute terms.
What does the future look like?
While Northeast agriculture has undergone a number of structural changes over the last three decades, it is notable that the overall number of farms has not significantly changed. However, farms' distribution among size classes certainly did. Particularly notable is the decline in "mid-sized" farms, those grossing between $100,000 and $249,999, and the growth in larger farms, those grossing more than $500,000. The products produced by Northeast farms has also shifted, with the most notable trend being the decline in the number of dairy producers.
As we look to the future, we anticipate the structure of Northeast agriculture to continue to evolve. As new entrants come into the industry and the next generation moves into management roles, they bring new goals and ideas. And as consumers' demands shift, Northeast producers will adapt their business and potentially their products to meet those demands, just as we've seen them do for the past three decades. One thing we know for sure is that Northeast producers are progressive and resilient, so we look forward to what the future holds.