Thank You for Choosing to Partner with Us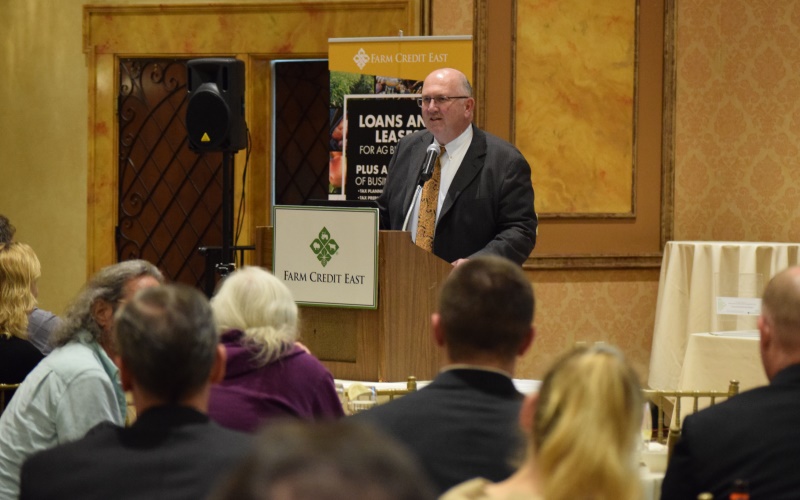 Bringing together nearly 1,600 customers within three weeks is no small feat, but our annual Customer Appreciation Meetings are important to Farm Credit East's mission and grassroots foundation. These meetings are held to thank our customers for choosing to partner with us. These meetings also provide an opportunity to visit with fellow producers, meet Farm Credit East's board, management and staff, and enjoy a meal together. If you weren't able to attend this year, here's a review of the highlights.
Giving Back to Northeast Rural Communities
Farm Credit East has been a partner to Northeast agriculture, commercial fishing and forest products for more than 100 years. But being a true partner means more than just providing reliable credit and financial services; it means supporting you, our customer, the industries you are part of and the rural communities you call home. At this year's meeting, we showcased some of the ways staff are involved in supporting Northeast agriculture and rural communities. Click here to watch the 12-minute video on Farm Credit East efforts to partner with Northeast communities.
Board of Directors Report: Alignment
Farm Credit East Board Chair Matt Beaton and Vice Chair Laurie Griffen provided the board leadership presentation at each meeting highlighting the state of our cooperative. They reported that Farm Credit East continues to have the capital, services and expertise members need to grow and be successful. While some ag sectors are doing well, others face financial stress. Farm Credit East's portfolio diversification helps us maintain our financial strength to follow through on our commitment to Northeast agriculture through industry cycles.
Chair Beaton and Vice Chair Griffen discussed the importance of the organization's culture and how it starts with our members – the grassroots which are the foundation for the alignment among staff, management and the board. To gain insight into what alignment means to our board of directors, board members provided their views on the concept of alignment. The major themes – communication, transparency, trust and vision – create an all-encompassing environment for success. This 4-minute video explains more.
The board report also highlighted the importance of member engagement. Customer Service Councils, made up of Farm Credit East customers from each branch office, are an important way for Farm Credit East to receive a customer perspective. The councils report on local issues impacting the industries we serve, Farm Credit East's service in the marketplace, competition and more. If you are interested in serving on a Customer Service Council, please contact your local branch office.
The Nominating Committee is also an important alignment tool at Farm Credit East. As stated by director Skip Hardie in the alignment video, "The Nominating Committee is separate and independent of the board of directors, and I believe that's a critical way of making sure that those that end up serving as a director are brought up not by the directors themselves, but rather from the nominating committee and the general membership." If you are interested in serving on the nominating committee, click here to learn more.
The board presentation concluded with a look at the upcoming 2019 Director Elections, where there will be four seats contested.
CEO Report
Following the Board of Directors report, CEO Bill Lipinski highlighted the Association's strong earnings and capital base to allow for future growth and to withstand credit challenges. This was reflected in the 2018 financial results update, which indicated the year-end 2018 forecast of more than 96 percent acceptable loan volume and 2.55 percent forecast of return on assets. These forecasted numbers exemplify strong credit quality and profitability, which allowed Farm Credit East to pay $60 million in patronage dividends from 2017 earnings, as well as an additional $15 million special, one-time patronage payment in October for a total 2018 patronage paid of $75 million.
One of the biggest take-aways from CEO Lipinski's presentation was the net cost per $100 of loan volume, a measure of Farm Credit East's operating efficiency. Even with increasing regulation and compliance requirements, this cost continues to stay low, with a forecast of $0.87 per $100 of loan volume for 2018.
The CEO presentation also reported on the current challenges Northeast agriculture, commercial fishing and forest products industries are facing, including low commodity prices, weather, labor availability, trade uncertainty and continuing structural changes. CEO Lipinski also touched on interest rates.
Bill concluded his comments by again emphasizing the Association's priorities with a focus on growth in credit and financial services, new technology platforms to better serve customers, regulatory compliance, and the focus on recruitment and development of talented staff. He also stressed the reasons for his optimism about Northeast agriculture, including the region's access to markets, strong interest in local foods and rural lifestyle, a talented next generation, and a vibrant Northeast ag community.
Final Thoughts
Farm Credit East's board of directors is committed to good governance and maintaining alignment. Both are fundamental contributors to Farm Credit East's strong financial position. And it takes a talented, hard-working team of staff and management to help our members succeed. Yet none of this would be possible without our customers' innovation and commitment to Northeast agriculture, commercial fishing and forest products.
Thank you for choosing to partner with us.