Thankful for Farm Credit East's Customer Owners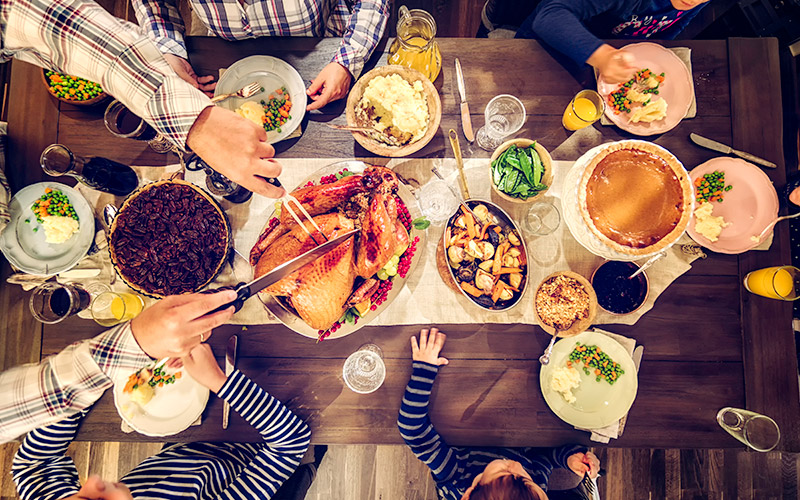 With harvest finished across the Northeast, the traditional Thanksgiving meal is a special time to gather with friends and family and give thanks.
As it has done every year since 1986, the American Farm Bureau Federation (AFBF) has released its survey of the cost of a Thanksgiving dinner. This year, the AFBF's estimate of the cost of a traditional dinner for 10 with all the fixings' is $49.12, the lowest since 2013. It's amazing to think that such a feast costs less than $5 per person, which may reflect some of the low prices producers are currently experiencing.
Reviewing all the menu items, it occurs to me that Farm Credit East customers produce almost every one of the ingredients for the meal from the turkey, cranberries, peas, onions, potatoes, and sweet potatoes, to the milk for the whipped cream and butter, and wheat for the flour. Probably the only Thanksgiving meal item we don't produce in the Northeast is the coffee!
That Northeast agriculture produces such a wide range of crops and livestock products is part of what makes our region so unique. With more than 12 million acres of Northeast farmland, producers are responsible for a diversity of farm products that not only feed us and our fellow citizens but also contribute to the local economy. Their efforts, combined with those of farm-related service businesses and processing activities, generate more than $103 billion in economic impact across the region.
In October and November I travelled across the Northeast to attend customer appreciation events hosted by all 21 of our branch offices. From Bridgeton, New Jersey to Mayville, New York all the way to Presque Isle Maine, I always enjoy visiting with customers about what's going on with their businesses. Visiting with customers I always come away with a renewed appreciation of how they persevere through the challenges like low market prices, weather and regulation.
Helping customers overcome those challenges by providing reliable, consistent credit and financial services has always been the mission of Farm Credit East. As part of the cooperatively owned national Farm Credit System, we realize that our success and our customer owners' success are tied together. That's why as part of a new national campaign to educate policymakers about the Farm Credit System's mission, we've turned to our customers to tell that story.
The One Mission. Many Voices. campaign tells the story of Farm Credit through the voices of customers across the Northeast and across the country. Their stories are as diverse as the menu items on the Thanksgiving table.
So as we gather to celebrate this Thanksgiving, at Farm Credit East, we're thankful for the diverse bounty of Northeast agriculture and the customers who make it all possible.