The Farm Credit Experience: From a Summer Intern Perspective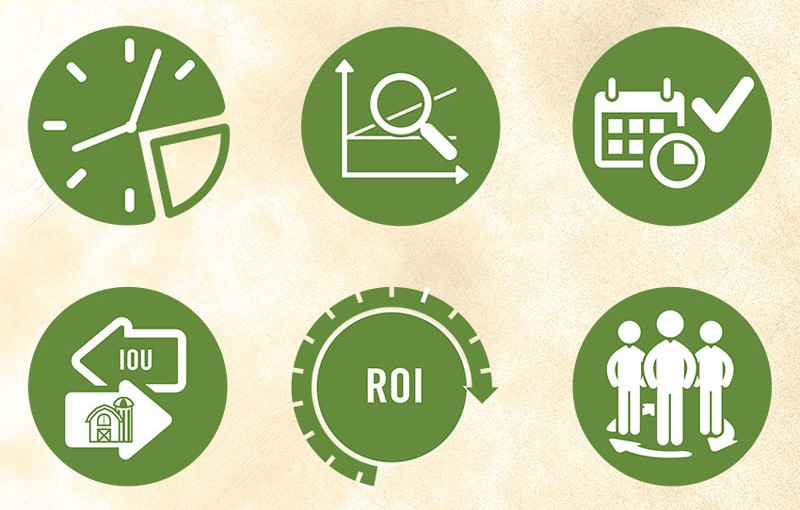 This summer, Farm Credit East welcomed 16 interns to the team. Our interns always leave a lasting impact through the meaningful work they complete and relationships they build with fellow staff and customers. With summer coming to a close and internships winding down, I asked three of our interns to reflect on their summer experience.
Maiya Gibbs interned with Farm Credit East last summer and returned for a second summer with us this year. Maiya studies agricultural sciences at Cornell University and interned in our Geneva, NY, branch office. Dillon Nimako studies finance and economics at SUNY Oswego and interned in our Claverack, NY, branch office. Trevor Wasik studies accounting at Niagara University and was an intern in our Auburn, Maine, branch office.
Here's what Maiya, Dillon and Trevor had to say.
Jean Gallagher: Maiya, why did you return to Farm Credit East for a second summer internship?
Maiya Gibbs: I decided to return to Farm Credit East for another summer internship to learn more about the services they provide. I had a great experience learning about credit last summer and returned with a focus on crop insurance this year.
Jean: Dillion and Trevor, why did you decide to join Farm Credit East as a summer intern?
Dillon Nimako: I believed it would be a diverse, yet insightful experience. Prior to starting with Farm Credit, I had been exposed to various angles of credit analysis and lending, but never from an agricultural perspective.
Trevor Wasik: I'm currently pursuing a degree in accounting, so Farm Credit East was a way to combine both my accounting knowledge and my agriculture background, and that was an avenue that really piqued my interest.
Jean: What have you enjoyed most about your summer internship experience?
Trevor: Being able to visit customers. Interacting with customers is far and above the best part of my summer spent with Farm Credit. I was able to get out and see Auburn's territory a variety of times, but one definitely stands out from the rest. I was able to join a loan officer on a trip down to Bar Harbor to visit a few clients one Friday, and one client invited us on their boat to see how a lobster boat operates. Being on a boat in Maine's most popular tourist destination, all while being at work, is my favorite memory of the summer.
Jean: What have you learned during your internship experience?
Dillon: What have I not learned? For someone who had no agricultural experience prior to this internship, I learned something new every time I stepped on a farm or even into the office. However, the main thing this experience allowed me to realize is the underlying values that govern those working in the agricultural industry. The virtues of pride, honesty and determination run deep in the hearts of farmers that allow them to stay resilient, despite being in such a volatile industry.
Jean: What has surprised you most about Farm Credit East?
Maiya: I was surprised by how compassionate Farm Credit East is considering it's a "bank." They take pride in their long-term relationships and do their absolute best to position operations for success.
Jean: How would you describe Farm Credit East's culture?
Trevor: Amazing. All of the employees go out of their way to make you feel welcome and help you with whatever you need. Coming from a family of farmers, it was refreshing to see and experience how dedicated Farm Credit East employees are to helping customers.
Dillon: The one word I would use to describe Farm Credit East's culture is impartial. Unlike most corporations, Farm Credit doesn't submit itself to a hierarchy based upon pay grade. The Farm Credit culture allows open and candid interaction between any two people within the company, which permits the transfer of knowledge and expertise from experienced veterans to people just beginning their career, and vice-versa.
Jean: What is your advice to someone who is considering a Farm Credit East internship?
Trevor: Simple; take the internship. I have talked to a few of my peers in my school's accounting program back home and none of them have had an intern experience like I have. Not only for the opportunity to travel, but also your time spent at work. You won't be doing the normal busy work and fetching coffee that is typically associated with intern work, you'll be working on a project that will actually benefit the company, which is rewarding.
Maiya: Spend your summer away from home and somewhere with a different type of agriculture than you are familiar with. Living away from home is a great life experience and the opportunity to learn about other types of agriculture is amazing. If you have a dairy background, go learn about grapes and apples!
Dillon: Farmers love to talk, so be willing to learn. Everyone is expert in something. Your goal is to find out what their specific expertise is. I actually believe my non-agricultural background allowed me to create deeper connections with our clients. I was willing to listen to anything they were teaching me and entered every conversation with an open mind. My advice is to be open, drop your pre-conceived notions, and treat every experience like an opportunity to learn something.
Well said, Maiya, Dillon and Trevor! Thank you to all of our 16 interns who have contributed to Farm Credit East's and our customers' success over these recent months! We look forward to welcoming you back as fellow employees, customers or friends of Farm Credit East!