Trucking Compliance for Northeast Agriculture, Forest Producers, and Commercial Fishing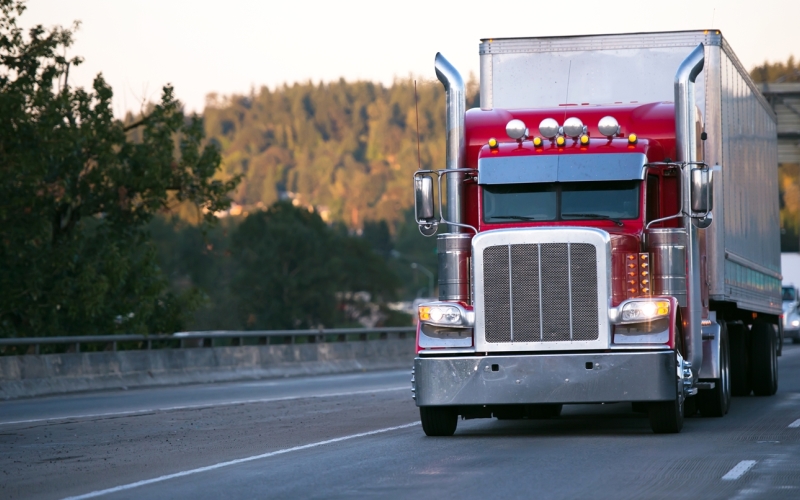 Each year, the laws and regulations relating to trucking compliance grow more and more complex. To help navigate these ever-changing laws, Farm Credit East recently hosted a webinar with Clay Eppard of Fleet Safety Services, who covered some of the key regulations Northeast producers need to know to stay in compliance, as well as some of the exemptions granted to farm vehicles. Click here for the webinar recording.
One of the first questions that many producers ask is, "Do the Federal Motor Carrier Safety Regulations apply to me?" The answer is probably at least some of them, although you may fit into certain agricultural exemptions. To know for certain, Clay began his presentation by referencing the Federal Motor Carrier Safety Regulations (FMCSR), which are the overall federal trucking regulations. These regulations guided the sections covered in the webinar.
The Basic Regulations
Trucking regulations begin with smaller vehicles than you may think. Any vehicle engaged in commerce, with a gross vehicle weight rating (GVWR) or a combination of 10,001 pounds or more, is a regulated commercial vehicle1 and subject to at least a portion of the FMCSR regulations (this means most vehicles with dual rear wheels).
The following is a list of the primary Department of Transportation (DOT) rules2 that apply when traveling the interstate at 10,001 pounds:
Must have a U.S. DOT number
Driver qualification files required (medical card, etc.)
Driver logs or electronic logging device
General rules of safe operations
Vehicle maintenance and recordkeeping requirements
Hazardous materials rules
Accident register
Parts and accessories requirements
Unified Carrier Registration
The next tier of regulation begins at 26,001 pounds or more. In addition to the above rules, the following also apply to vehicles over 26,000 pounds:
Properly classed and endorsed Commercial Driver's License (CDL)
Drug/alcohol testing requirements
Entry-level training requirements
International Fuel Tax Agreement (IFTA)
International Registration Plan (IRP)
A Note about Driver's Logs
Commercial vehicle drivers must prepare a daily driver's log unless they are traveling within 100 air miles of their home terminal (for a CDL vehicle) or 150 air miles (for a non-
CDL vehicle). Additional conditions of this exception must also be followed, or a proper daily's log is required each day. If they are required to use paper logs more than eight days in a 30-day period. (Vehicles manufactured prior to 2000 are exempt from ELDs)
Am I Exempt?
The primary agricultural exemptions fall into three categories: The "Covered Farm Vehicle," "Agricultural Operations," and the "Farm Vehicle Driver" exemption.
For the "Covered Farm Vehicle" exemption to apply, the vehicle must:
Have a farm plate or other designation that indicates it is a farm vehicle.
Be operated by the owner or operator of the farm, or an employee or family member of the farm owner.
Be used to transport agricultural commodities, livestock, equipment or supplies to or from the farm.
Must not be used "for hire," hauling third-party products.
This exemption applies to vehicles 26,001 pounds or less operating anywhere in the U.S., or to vehicles 26,001 or more pounds anywhere in the state of registration or across state lines within 150 air miles of the farm.
"Covered Farm Vehicles" are exempt from CDL requirements , drug/alcohol testing requirements , medical card requirements, hours of service, and Inspection Repair and Maintenance recordkeeping as outlined in 49 CFR part 396.
Note that "Covered Farm Vehicles" and their drivers are still required to operate safely and have a safe vehicle with properly secured cargo.
A less extensive exemption is that of "Agricultural Operations." For this exemption to apply, the vehicle must:
Be operated during "planting and harvesting periods, as determined by the state."
Be transporting agricultural commodities from the source to a location within 150 air miles, or farm supplies from a distribution point to a location within 150 air miles where they will be used.
An example of where this might apply is to a custom operator hauling crops, silage or produce from a field during harvest time. "Agricultural Operations" drivers are exempt from hours of service rules, but must comply with other regulations.
Finally, the "Farm Vehicle Driver" exemption applies to drivers for farm custom operations, including:
Transporting machinery or supplies to or from a farm for custom-harvesting operations.
Transporting custom-harvested crops to storage or market.
Transporting bees during seasonal operations.
These drivers are exempt from certain "Driver Qualification File" requirements. The exemptions are more extensive for straight-truck drivers than for articulated commercial vehicles.
Conclusion
Trucking regulations are complex and extensive. Agriculture does have some fairly generous exemptions, but it's important to know when you may be exempt and when you are not.
It's also important to note that each state has specific regulations and exemptions. See the following links for information specific to your state:
Connecticut
ct.gov/doag/cwp/view.asp?a=1366&q=258976
ct.gov/dmv/LIB/dmv/20/29/mch.pdf
Maine
maine.gov/sos/bmv/commercial/faqfarm.html
maine.gov/sos/bmv/commercial/index.html
Massachusetts
malegislature.gov/Laws/GeneralLaws/PartI/TitleXIV/Chapter90/Section5
mass.gov/doc/cdl-manual/download
New Hampshire
gencourt.state.nh.us/rsa/html/XXI/261/261-84.htm
nh.gov/safety/divisions/dmv/motor-carriers/index.htm
New Jersey
nj.gov/agriculture/divisions/md/prog/farmermotorvehicles.html
state.nj.us/mvc/vehicles/commvehinfo.htm
New York
dmv.ny.gov/commercial-drivers/covered-farm-vehicle
dmv.ny.gov/commercial-drivers/commercial-driver-licenses
Rhode Island
dmv.ri.gov/plates/other/
dmv.ri.gov/licenses/commercial/
For more information on regulations tracked nationally by Farm Bureau, the first 10 minutes of this webinar features Andrew Walmsley of the American Farm Bureau Federation.
Note that this article merely skims the surface of DOT regulations, and is not a comprehensive listing. For more information, view our webinar, and consult the FMCSR.
Farm Credit East Disclaimer: The information provided in this webinar is not intended to be investment, tax, or legal advice and should not be relied upon by recipients for such purposes. Farm Credit East does not make any representation or warranty regarding the content, and disclaims any responsibility for the information, materials, third-party opinions, and data included in this webinar. In no event will Farm Credit East be liable for any decision made or actions taken by any person or persons relying on the information contained in this webinar or its materials.
---
1 Traveling interstate. Some states have higher weight limits for intrastate only vehicles.
2 This is not an exhaustive list. See the FMCSR for the complete regulations.