Understand Financial Statements to Improve Profitability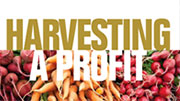 Helping young and beginning producers start and grow
As Theodore Roosevelt said, "Nothing in the world is worth having or worth doing unless it means effort, pain and difficulty." At Farm Credit East, we understand beginning farmers and agricultural business owners have big challenges and a lot on their plates. That's why we're committed to helping them start and grow their operations – through the ups and downs.
As part of our efforts to help young and beginning producers start and run successful businesses, we're hosting a Harvesting a Profit webinar series. The webinars are open to anyone seeking more financial know-how.
Our first webinar was on November 6, 2015 and covered the following to help producers understand financial statements to improve profitability.
Keep good records
The starting point to using financial information to improve profitability is keeping good records. You can only manage what you measure. Without good records, there is no way to tell how you are really doing.
Tying together financial statements and production records to help managers make good decisions is referred to as managerial accounting. This practice can play a key role in the completion of an individual's or company's goals. That said, decisions you make are only as good as the information they are based on, so accurate record keeping is important; as they say, garbage in, garbage out.
Types of financial statements
There are three main types of financial statements that can be used to gauge and measure a businesses' financial health.
1. A balance sheet is a snapshot in time that shows what you own and what you owe. The driving equation behind a balance sheet is:
Assets – Liabilities = Net Worth
2. An income statement measures revenue and expenses over a period of time, such as a month or a year. The driving equation behind an income statement is:
Income – Expenses = Net Income (profit left over)
3. A cash flow statement tracks where your money is going in and coming out of your business. This statement helps show if a business will be able to pay its bills in the given period. It's common for young and growing businesses to have a negative cash flow but still be considered profitable.
The webinar goes on to discuss cash and accrual accounting, how to measure profit and five keys to achieving profitability. A recording of the webinar is below.