Unleash the Equity in your Rural Property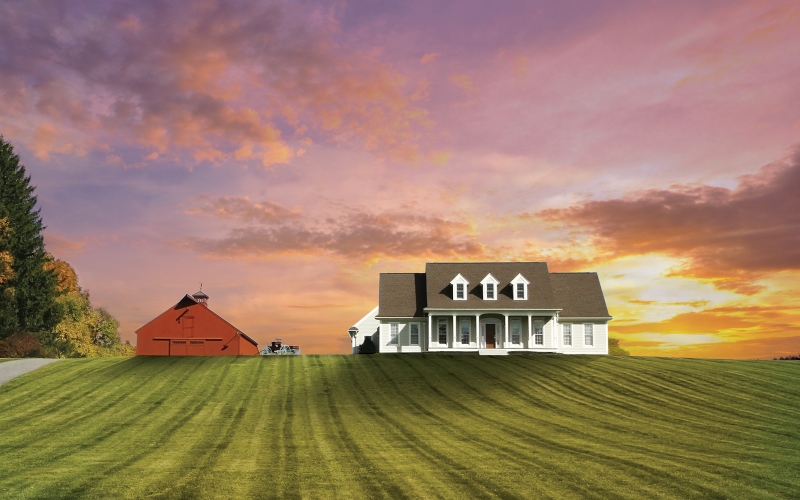 Real estate equity, or a property's market value less the liens against it, is often an asset that is not fully utilized. Typically, the tools to unlock this equity will be in the form of a home equity loan or a refinance. Leveraging the equity you have in rural property can provide the funds you need to buy additional acres, construct a home or barn, or remodel an existing structure. Here's a few scenarios when tapping into this equity may be beneficial.
More flexible and favorable interest rates and loan terms
Interest rates, loan terms and down payment requirements will differ depending on the type of collateral or security being offered. As such, refinancing your existing home with your land purchase may afford you down payment relief. Furthermore, pledging a property with a dwelling will gain a more favorable interest rate compared to vacant land. This is a function of credit risk associated with vacant land as compared to dwelling-secured properties.
Principles of compounding Interest
Becoming debt free has an unparalleled personal sense of accomplishment. However, the purchase of property from cash reserves may have a negative impact on your long-term investments. Rather than pulling funds from investment or savings accounts, it may be valuable to leverage the equity in your rural home or land to allow you to preserve investment balances in your non-real estate holdings and recognize the power of compounding interest. For example, if your stock portfolio returns outpace the interest rate on borrowed money – it could put your real estate equity to work for you.
Lending appetite of a financial institution
At Farm Credit East, we pride ourselves on the understanding of and lending for the purchase or refinance of rural homes, farms and vacant land. Our suite of Country Living loan products – CountryHome, CountryFarm and CountryLand – allows mortgage specialists to think creatively to leverage the equity in owned property to lend for the purchase or enhancement of another. Some financial institutions may not offer loans secured by excess land or farms, so real estate holdings may not be an eligible form of collateral; leaving you with larger cash down payment requirements.
Timing
We recognize that the property next door or one held within the family may only come up for sale once in a lifetime – and that timing may not align with your bank account balance.
These properties can also come with quite the price tag, making the typical down payment requirement of 20-30 percent unattainable. Country Living from Farm Credit East can work with you to create a lending solution that allows you to limit the cash needed to close by unlocking the equity in your existing real estate holdings.
Equity in an existing property does not have to be a locked asset. If you own rural property and are considering purchasing more property, refinancing for better terms, or looking to expand or remodel your existing property, talk with a Country Living mortgage specialist in one of our local Farm Credit East branch offices. Our specialists have lending solutions for all forms of rural real estate and are eager to help you unleash your rural property goals.