What Are You Thankful For?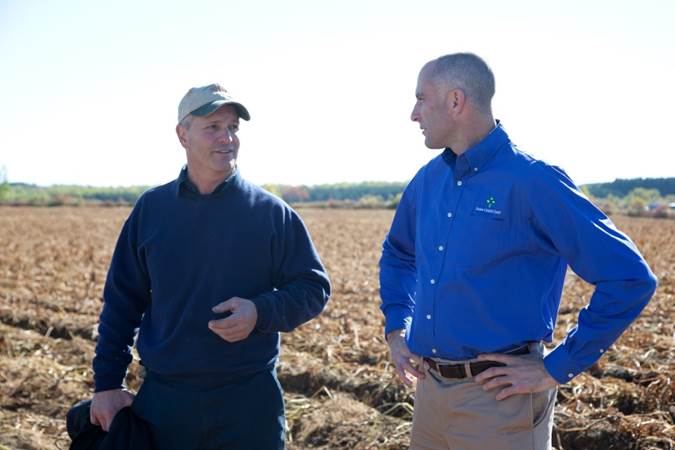 Each Thanksgiving season, I take time to reflect on the past year. In this time of reflection, I remind myself that no matter what, there is always something to be thankful for.
Two of the many things I am thankful for are the team I work with here at Farm Credit East, and the customers we work to support. Each of our nearly 500 employees come from various backgrounds and locations, but all share similar values that allow us to come to work, enjoy our time together and help our remarkable customers.
During this month of Thanksgiving, I was curious what some of our employees are thankful for, so I reached out to a few of my teammates for their reflections on the past year.
Giving thanks across the Northeast
"After five years at Farm Credit East, I am very thankful for the relationships I have built with my co-workers across the Northeast and with the customers I help to serve. I am also thankful for the opportunity to work for a company that supports its employees and their career aspirations." – Chelsea Slade, Credit Analyst, Cortland, N.Y.
"I am thankful for the opportunity to work for an organization that genuinely cares about the success of each of their members. Working with each of my customers to build risk management plans that will ensure their successes through the years to come is something that is truly gratifying." – Tristan Peterson, Northeast Marketing Agent, Cooperstown, N.Y.
"Even though Farm Credit East has 20 branches in seven states, I'm thankful that the association still has a small company feel. I can pick up the phone and contact anyone at any branch and my co-workers are always willing to answer my questions." – Rose Cruz, Accounting Associate, Bridgeton, N.J.
"I am thankful to work for a company that makes a concerted effort to show its appreciation of its employees." – Matt DiSciacca, Credit Representative, Enfield, Conn.
"I am thankful to be working for a forward-thinking organization that provides the ability to grow and learn and fosters independent thinking. The investment Farm Credit East makes in our employees and customers is something I feel compelled to reciprocate. I'd also add that Farm Credit East's work-life integration is something I am thankful for – and I don't think I am speaking out of turn when I say my wife and family share the same sentiment. – Patrick Coates, Branch Office Manager, Hornell, N.Y.
"I am thankful for Farm Credit East's benefits – 401k match, annual reviews, health insurance and more – because these benefits are a great value to employees. But I also appreciate Farm Credit's dedication to help farmers with their financial needs and the value we place on customer service." – Jane Samson, Branch Operations Specialist, Bedford, N.H.
"I am thankful for the ability to work with customers that do a great job of keeping Northeast agriculture strong and moving forward. All the industries we serve face challenges from time to time, but the great perseverance of our customers helps to keep Farm Credit East a strong cooperative. I feel fortunate to be able to serve the same industry that I grew up in and truly love." – Ghent Holdsworth, Senior Loan Officer, Presque Isle, Maine
A big thank you to my amazing teammates for sharing what they are thankful for. You will find this to be a common theme throughout Farm Credit East – our customers and coworkers are what make Farm Credit East great. I am proud to work for an organization that places such an emphasis on helping one another while pushing us to be the best we can be.
As Thanksgiving approaches, find some time to sit down and reflect on what you are thankful for. Express your thoughts with your significant other, friends or family. Write them down or make a game out of it. With this reflection, I promise that you will go into the holiday season feeling more appreciative and content.