When Company Culture aligns with Employee Values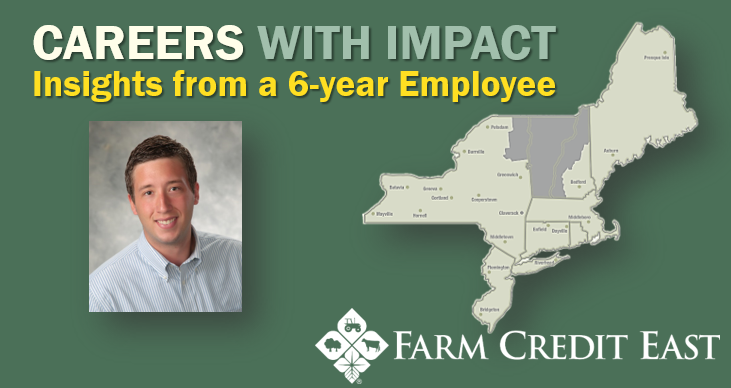 Wesley Kujawa is a Country Living Mortgage Specialist serving Farm Credit East's Burrville, NY, and Potsdam, NY, office territories. Wes started his Farm Credit East career in 2013, and over time, has taken on additional challenges and responsibilities. Most recently, he became a Regional Team Leader tasked with strategizing for the Country Living product. He's also involved in the training of all new mortgage specialists. I recently chatted with Wes to learn about his background, experiences and day-to-day life. Here's what he had to say.
Jean Gallagher: Tell me a bit about your background.
Wes Kujawa: I grew up in Adams, NY, and attended Jefferson Community College for business administration. I then transferred to SUNY Oswego where I earned a Bachelor's in finance. Following graduation, I took a job as an accountant and was in that role for 1.5 years, but quickly found that being an accountant just wasn't for me.
JG: How did you discover Farm Credit East and why did you choose to join our team?
WK: I saw an online advertisement that said Farm Credit East was hiring for a mortgage specialist. I was intrigued by both the job description and the culture of Farm Credit East. I asked around a bit about Farm Credit East (I live in an agriculturally-focused community) and everyone seemed to work with Farm Credit East in one way or another, including loans and financial services, and spoke very highly of the company.
Also, when I interviewed for the position, I learned the person in this role before me had spent several years with Farm Credit East, which told me there was a lot of stability in this position and in this company. I also liked what Farm Credit East stood for and I found it has strong ties to its local communities, while still having a footprint across multiple states.
JG: What do you do day to day?
WK: As a mortgage specialist, I guide customers through all facets of the mortgage process. I talk with them to understand their general financial picture and present their proposal to underwriting. I guide their loans from application through closing, communicating with a lot of different people along the way, including attorneys, appraisers and Farm Credit East mortgage processors, while keeping the customer informed about the status of their loan. I aim to make the closing process fast, simple and painless.
I also spend a lot of time out and about in the community, helping people to understand all that Farm Credit East has to offer to people living in rural communities. I'm often the first person a new customer will talk to since I answer a majority of new borrower inquiries in my territory.
JG: How would you describe Farm Credit East's culture?
WK: I always describe it as "work hard, play hard." You might work a crazy amount of hours one week, but the flexibility and benefits help you enjoy life, too. During my interview, my now supervisor told me that if I were to ever miss my children's event due to an imbalance of work-life, that he was not doing his job. That really helped solidify the culture here.
Farm Credit East is definitely a company focused on relationships, both its customers and its employees. The organization aims to keep the team happy and engaged in what they do. That type of culture really empowers us as employees. It's the type of place where you are rewarded double time for your efforts to assist customers – both by the customer advocating on your behalf and by Farm Credit East recognition.
JG: What is your most memorable experience with Farm Credit East?
WK: The first time I attended a Customer Appreciation Meeting. I had never worked for an organization that offered something like this. It was cool to see customers coming to the meeting engaged and asking questions. Customers were so willing to meet me as a new employee of Farm Credit East. I felt proud to be introduced as a new employee and part of the Farm Credit East family.
JG: When you think about your future with Farm Credit East, what are you most excited about?
WK: I see Country Living as one of the key drivers of Farm Credit East's future growth. Being part of that growth, transformation and change is really exciting to me. I thrive on change. Seeing change in agriculture and the rural communities is exciting, and it's exciting for me to be part of that.
JG: What do you like to do when you are not working?
WK: I like traveling. I also like attending concerts, especially Dave Matthews Band and anything classic rock. I would love to see AC/DC, Bob Segar and Fleetwood Mac. I also enjoy spending time with my family. I have two daughters, Scarlett and Madelyn. I also love to be outdoors and socialize with people.
JG: What is one fun fact people may not know about you?
WK: I am passionate about music and a self-taught guitar player. My daughters likes to listen to me play… they even strums the strings!
Wes's enthusiasm towards helping customers, mentoring other team members and developing strong relationships has been a key to his success at Farm Credit East. These attributes are the foundation of our culture. Do you know someone like Wes who shares these passions? If so, encourage them to check out our current career opportunities.