Ag Economy
Northeast Agriculture: 2021 Insights & Perspectives
Flip through the entire 2021 Insights and Perspectives publication below or scroll down the page to read the introduction and click to read individual articles.
Introduction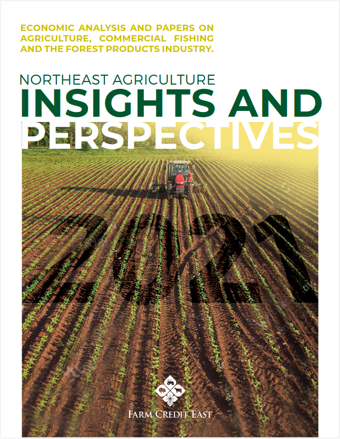 What a year 2020 was as the COVID-19 pandemic affected us all in ways no one anticipated. We began the year with a relatively "normal" couple of months, but the second quarter brought dramatic changes to our lives as schools, restaurants, retail stores, travel-related businesses and virtually any public gathering space shut down or was severely restricted.
Thankfully, our food supply chains showed a remarkable ability to pivot from foodservice markets to retail stores. By summer, most commodity prices had shown recovery and the various surpluses and shortages had largely been sorted out. Consumer spending rebounded and much of it shifted closer to home as people desired more products from local producers and increased their spending on home and garden. Many farmers who sell direct-to-consumer ended up having one of their best seasons ever. Northeast producers showed tremendous resilience in the face of the most unusual year we've seen in our lifetimes.
At Farm Credit East, we were affected as well and have taken major steps to continue to serve our customers while keeping everyone safe. Our Knowledge Exchange outreach and educational programs, typically a mix of online and live events, were shifted entirely online as we sought to keep you up to date on tax law changes, relief programs and industry outlooks. Throughout all of this, serving you, the Northeast agricultural, commercial fishing and forest products producers, has remained our top priority.
One thing that has not changed in the past year is our commitment to provide reliable credit and high-value financial services to our members.
As we look ahead in uncertain times, we hope that our Knowledge Exchange Partner e-newsletter, webinars and publications like this one are helpful. In this publication, we've tapped thought leaders in various industries to give you their outlook for the coming year. We hope that you find these Insights & Perspectives informative as you make plans for the year ahead. And whatever this year brings, know that your cooperative remains rooted in agriculture and is by your side every step of the way.
Mike Reynolds
Farm Credit East CEO
Table of Contents
Click into any of the following articles to read more.
The Northeast Farm Economy - Chris Laughton, Farm Credit East
Cybersecurity Outlook - Deanna Pellegrino, Farm Credit East
2021 U.S. Dairy Situation and Outlook - Christopher Wolf, Cornell University
2021 Grain & Oilseed Outlook - Kenneth Scott Zuckerberg, CoBank
2021 Northeast Fisheries Outlook - John Sackton, Seafood.com News
2021 Green Industry Outlook - Dr. Charlie Hall, Texas A&M University
2021 Northeast Forest Products Outlook - Paul Jannke, Forest Economic Advisors