Ag Economy
Northeast Agriculture: 2022 Insights & Perspectives
This report provides market outlooks for multiple industries, including dairy, grain, commercial fisheries, forest products, greenhouse and nursery and vegetables.
The report features the following short perspective papers:
The Northeast Farm Economy, Chris Laughton, Farm Credit East
2022 Dairy Outlook, Christopher Wolf, PhD, Cornell University
2022 Grain & Oilseed Outlook, Zach Harding, The Andersons, Inc.
The Lobster Industry in 2022, Melissa Waterman, Maine Lobstermen's Association
The Northeast Forest Products Industry Review and 2022 Outlook, Eric Kingsley, Innovative Natural Resource Solutions LLC
2022 Outlook for the Green Industry, Charlie Hall, Texas A&M University
2022 Northeast Vegetable Crops Outlook, Bradley Rickard, Cornell University
Introduction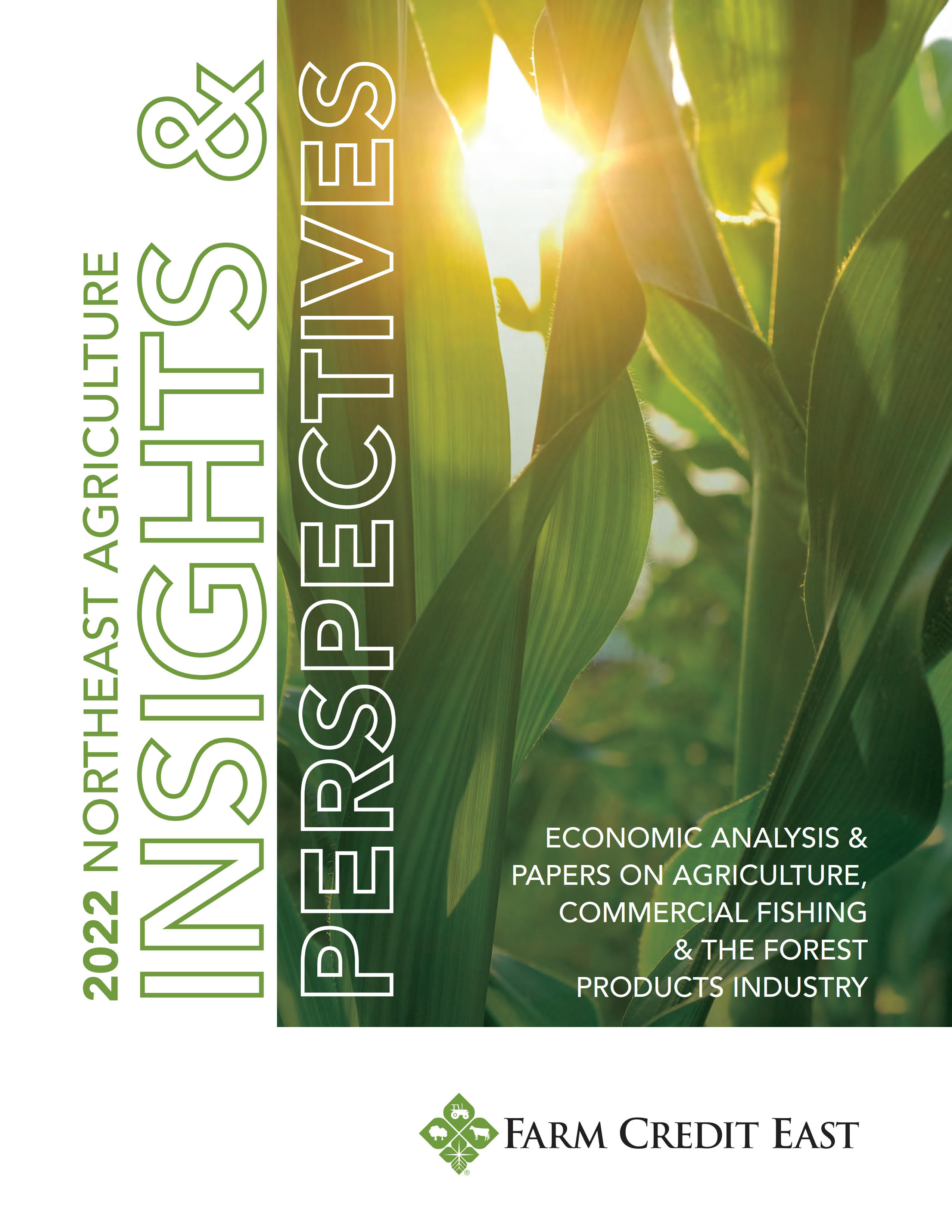 There are many things to consider when running a farm, forest products or fishing business, and navigating the COVID-19 pandemic these last few years has brought on a number of additional obstacles.
While many producers had to overcome a variety of challenges such as disrupted markets and keeping their families and workers safe, Northeast producers have shown remarkable resilience and kept producing the food and fiber products we all rely on.
As we look forward to the year ahead, it looks like 2022 will be filled with its share of new challenges and opportunities. Among the challenges is the rising cost and limited availability of many inputs including labor, however the price outlook is good for many commodities and other products. Throughout the pandemic, agricultural, fishing and forestry businesses showed how essential they are, and have gained a new appreciation from consumers, as well as new market opportunities.
Farm Credit East is committed to helping our customers thrive in this complex business landscape by providing the capital they need. In addition to a stable source of financing, this uncertain business environment requires expertise and other financial services Farm Credit East provides to help businesses stay strong and on track.
That's why as part of being our members' trusted financial partner, we also aim to provide knowledge and insights through our Knowledge Exchange program which provides a variety of content through our Knowledge Exchange Partner e-newsletter, webinars and publications like this one.
In this publication, we've tapped thought leaders in various industries to give you their outlook for the coming year. We hope that you find these Insights & Perspectives informative as you make plans for the year ahead.
As I mentioned above, there's a lot to consider in running a farm, forest products or fishing business. The good news is you don't have to do it alone. Farm Credit East's team of experts is committed to helping your business be the best it can be.
Mike Reynolds
Farm Credit East CEO