News
Farm Economy

The Farm Economy: Overall Trends
The U.S. economy has made significant progress towards recovery since our last update in July. Nonetheless, economic indicators remain well below where we were in January of this year. Unemployment spiked from 3.5% in February to 14.7% in April, just 2 months later. Since then there has been significant job recovery, and unemployment has declined to 7.9% in September.1 Forecasts suggest that unemployment will continue to decline in the coming months, although some sectors may be slower to recover than others. Travel and tourism, for example, may be particularly slow to hire workers back, leaving unemployment elevated well into 2021. Total employment rose by a robust 661,000 in September, but major corporate layoffs were announced shortly thereafter, suggesting that the pace of job recovery may slow going into the fall as business uncertainty continues.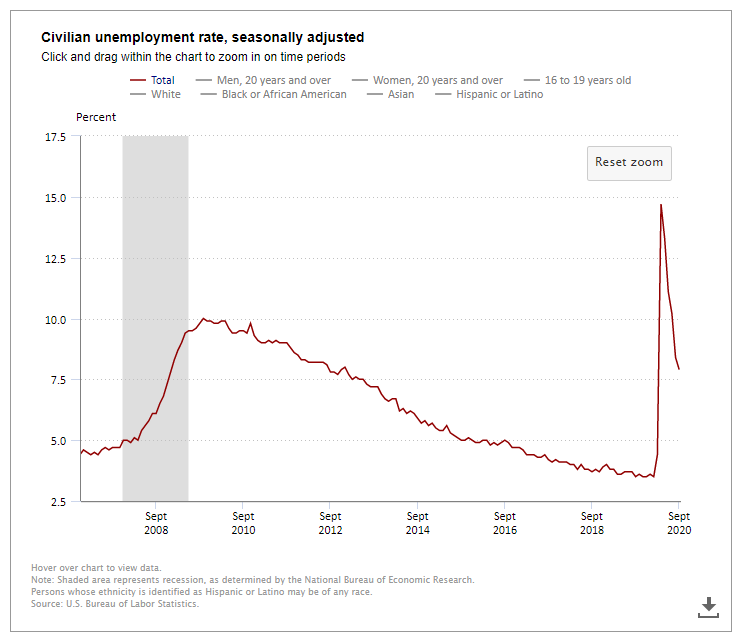 In addition to employment levels, overall economic activity has been seriously impacted by the COVID-19 pandemic. GDP Growth for the 1st quarter came in at an annualized rate of -5.0%, and -31.7% for the 2nd quarter, the greatest quarterly decline on record.2 While the economic contraction in April, May, and June was severe and unprecedented, the 3rd quarter should show a sharp rebound as many businesses reopened and supply chains normalized. Analysts estimate that GDP growth for July-September will come in anywhere from +27% to +35%, erasing a big chunk of Q2's losses. While the bulk of US GDP was restored quickly, a full recovery will likely drag into 2021, as the effects of the first round of government stimulus programs wanes and Congress unable to agree on a second round. Forecasts for Q4 GDP growth are much more modest, and economists believe that U.S. will come in somewhere around -3.4% to -3.8% for the full year.3
The impact of the pandemic varies substantially by industry sector. Food and agriculture have been less impacted overall, while others, such as travel and tourism, live entertainment, and brick-and-mortar retailing are likely to remain depressed well into next year. Government, especially at the state and local level, is likely to face serious economic challenges due to lost tax revenue. Many businesses and institutions such as schools and colleges will have to continue to make major adjustments to their operations and procedures in order to keep people safe.
Trade
Agricultural exports for fiscal year (FY) 2020, which ended September 30, are estimated to have declined slightly to $135.0 billion, while imports increased to $131.7 billion, leaving a net U.S. agricultural trade surplus of $3.3 billion. If these estimates are correct, it would be the smallest surplus since at least 2005. While progress was made on some of the United States' ongoing trade disputes, the COVID-19 pandemic stifled the impact of much of this progress.
Agricultural exports are expected to increase in FY 2021. The implementation of the U.S. Mexico Canada Agreement (USMCA) should be a plus for U.S. ag exports to Canada and Mexico, two of our largest trading partners. Exports to Canada are forecast to increase by $500 million to $40.3 billion next year, and exports to Mexico are forecast to increase by $300 million to $19.3 billion.
Asia will continue to be a significant market for U.S. agriculture, with overall exports to Asian nations forecast to increase by $5 billion for FY 2021 to a total of $61.3 billion. Much of this increase is expected to occur due to strong demand from China for soybeans, corn, sorghum, and tree nuts. Exports to China are forecast to increase by $4.5 billion to $18.5 billion. While this represents a solid increase in purchases by China, it will likely fall well short of the $43.5 billion target for 2021 outlined in the U.S.-China "Phase 1" trade deal.
Trade relations with the European Union have been contentious, mainly due to an ongoing dispute over subsidies to aircraft manufacturers. In retaliation for European subsidies to Airbus, the U.S. imposed tariffs of up to 25% on a number of European products, including wines and spirits, dairy products, and several other categories. In return, the European Union has said it may impose tariffs of its own on $4 billion worth of U.S. goods, including energy products, agricultural goods, seafood and aircraft.
Overall, 2021 U.S agricultural exports worldwide are forecast at $140.5 billion, up $5.5. billion from FY 2020.4
---
1 U.S. Bureau of Labor Statistics
2 U.S. Bureau of Economic Analysis
3 Bank of America, The Conference Board, Federal Reserve Bank of Atlanta / GDP Now
4 USDA ERS Outlook for U.S. Agricultural Trade