COVID-19 Resource Hub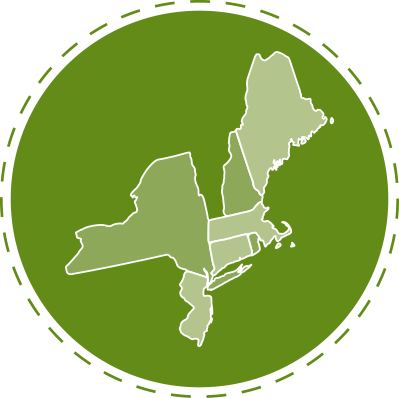 Farm Credit East branch offices are temporarily closed to visitors. Farm Credit East staff will conduct all customer meetings by phone or online during this period. To drop off information, please leave in the area designated by your local branch office.
Contents
Apply For Paycheck Protection Program
On April 23, Congress approved an additional $310 billion to support the Paycheck Protection Program. We strongly encourage Farm Credit East customers to confirm their Paycheck Protection Program (PPP) application with Kabbage is complete.

To ensure your application is fully complete:
Call the Kabbage Support Center, 888-986-8263, to verify you have everything uploaded.
Log into your Kabbage account and check the status of your application.
If Kabbage contacts you indicating additional documentation is needed, submit the requested documentation as quickly as possible. If you find there is no place to upload a document that's being requested,

call Kabbage customer support directly

to speak with a live customer service representative.
Check to see that your bank account is linked to the application and that the "micro" deposits and withdrawals have been verified.
If you have any concerns or questions, please feel free to contact your Farm Credit East branch office support specialists.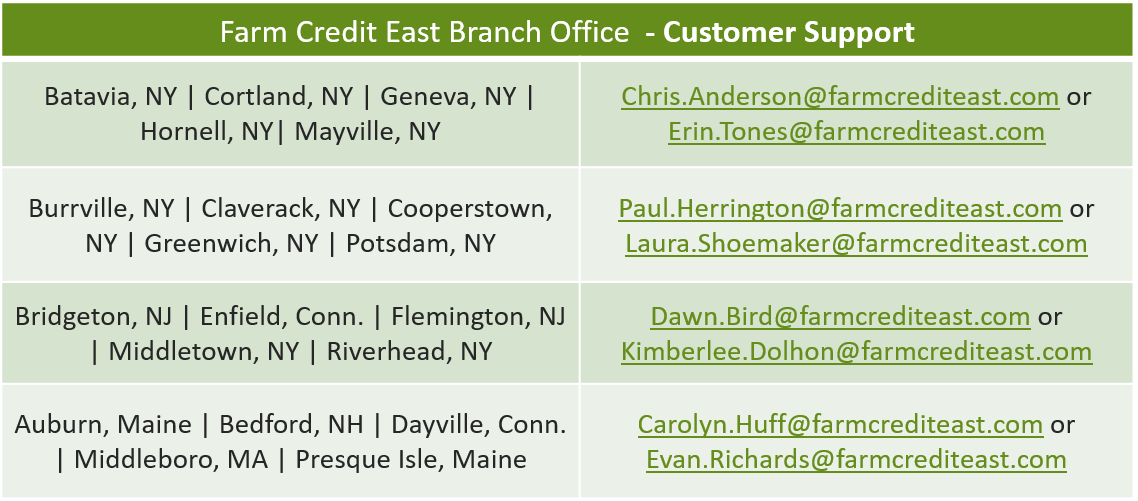 If you are a Farm Credit East customer and have yet to apply, review the resources below to submit your application.
Resources
Kabbage Support Center: 888-986-8263
PAYCHECK PROTECTION PROGRAM LOAN FORGIVENESS INformation
For those businesses that have a Paycheck Protection Program (PPP) loan, we know that loan forgiveness is important to you and your business. We encourage you to begin preparing now so you have what you need when you're asked to provide documentation in support of your PPP loan forgiveness request.
How should you prepare?
Document your expenses – both payroll costs and other eligible expenses – in detail for each week, in the 8 weeks following the loan disbursement date (when the PPP loan funds were deposited into your bank account). Here are some key factors that may affect your loan forgiveness.
Generally, businesses must maintain a similar number of employee full-time equivalents (FTE) during the 8-week period after loan disbursement, as compared to the FTEs they used to estimate their loan request.
In addition, companies must also maintain total salary and wages for each employee at least at a similar level compared to the most recent quarter during which the employee was employed prior to receiving the loan.
At least 75% of loan proceeds must be used for payroll related costs, as defined by the SBA.
No more than 25% of the loan forgiveness amount may be for eligible non-payroll costs; rent, mortgage interest and utilities.
Visit Sba.gov and Treasury.gov for information on loan forgiveness. It is your obligation, as the borrower, to understand the SBA rules.
For the Paycheck Protection Program Loan Forgiveness Application* released May 15, click here. *This page contains a fillable PDF version for ease of completion.
Frequently Asked Questions
Click here to view Frequently Asked Questions on PPP Loan Forgiveness.
Additionally, a live Q&A Session will be held on Wednesday, May 27, at 9:00 AM. Farm Credit East business consultants Erin Pirro and Keith Dickinson will answer producer questions and review any additional guidance available. Click here to register.
Two identical webinars were held on May 21 and 22 to provide initial guidance on the requirements to apply for loan forgiveness after Paycheck Protection Program funds have been spent. The presentations included a discussion of expense tracking and documentation requirements based on initial SBA guidance. Click here to view the recordings from these sessions.
Economic Injury and Disaster Loans
Congress recently increased funding for the Paycheck Protection Program (PPP) and for Emergency Economic Injury Disaster Loan (EIDL) grants.
The law also includes an important change to the EIDL program, allowing agricultural enterprises with not more than 500 employees to be eligible to receive grants and loans. Previously most agricultural enterprises were not eligible for EIDL.
This change means farmers and agribusinesses can now apply for low-interest loans through EIDL and may also qualify for up to $10,000 in emergency grants. To be eligible, a farmer or agribusiness will have to show economic harm as a result of the pandemic. The emergency grants are limited to $1,000 per employee up to a max of $10,000. Note for producers who have applied for the PPP, EIDL emergency grants would need to be rolled into the forgivable portion of any PPP loan.
Compare the PPP to the EIDL in May's Knowledge Exchange Partner.
USDA Direct Payments for Farmers
Beginning on Tuesday, May 26, the USDA Farm Service Agency will begin accepting applications from producers with COVID-related losses for a wide range of commodities. Eligible producers will receive payments based on calculations USDA has made of national losses, multiplied by the individual producer's documented production or sales. Click here to learn more about how payments will be calculated for various commodities.
Federal and State Resources on COVID-19
Farm Credit East has compiled a list of the most pertinent COVID-19 resources from the federal government, state departments of agriculture and the seven Northeast state governments in Farm Credit East's territory.
Working with Customers on Loan Adjustments

Farm Credit East is committed to helping our customers through this difficult time. We've been getting a large number of requests for assistance with loans. We want to assure you we have a number of options for making payment adjustments to existing loans and will respond to everyone requesting payment relief.
To help us better understand your specific circumstances and process your request:
Protect Yourself Against Scams
Stay vigilant, especially during a time of crisis, when stress can be high and we're looking for answers. For more information on how you can protect yourself, visit the Fraud Information Center, provided by CoBank, our valued partner and funding bank.
Tax Planning and Preparation
A message for tax clients regarding COVID-19
Farm Credit East is committed to providing you with the tax expertise and personal service that you have come to expect. If your taxes are not yet complete, we want to assure you that our tax staff is still hard at work.
Working Remote: The majority of our staff are working remotely to limit the potential to spread the virus. Farm Credit East converted to a "paperless" tax process last year and we use cloud-based software for tax preparation, so our tax staff can work wherever they have an internet connection.
Paperwork Drop-off: If you want to drop off information at the office, you will be asked to leave it in a designated area. Give us a call if you have confidential information so that we retrieve it promptly. If you have access to a scanner, scan your information and send it by secure email to your preparer.
Virtual Meetings: Customer meetings are by phone or online until further notice. We would be happy to schedule a virtual meeting so you can have a "face-to-face" discussion with your tax preparer.
Electronic Delivery: Please consider taking electronic delivery of your tax return. We are happy to send your return and source documents by secure email. This provides you with a PDF of your return that's easier to store and allows you to print a copy whenever its needed. Please confirm your email address with your local office.
The April 15 deadline for filing federal income tax returns has been postponed to July 15. Read how other Northeast states may follow suit.
Payroll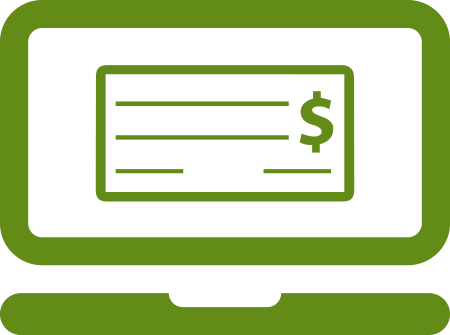 The Families First Coronavirus Response Act had many implications for businesses. Chris Laughton, Director of Knowledge Exchange, highlights how the FFCRA impacts payroll and tax credits for businesses during the COVID-19 pandemic in this post, Payroll Provisions of COVID-19 Relief Measures.
Paid sick leave and expanded medical leave
Sections of the Families First Coronavirus Response Act may impact your business. Your employees may be entitled to leave for specific reasons related to COVID-19 as outlined in guidance from the U.S. Department of Labor. These protections apply to all employers with fewer than 500 employees. Businesses with fewer than 50 employees may be exempt from the requirement to provide paid sick leave to employees who are caring for their children as a result of school closings or loss of childcare services.
Display this signage provided by the Department of Labor in an area where your employees can readily see it.
Knowledge Exchange COVID-19 Resources
Today's Harvest Blog
Farm Credit East's Tax Talks has the latest information on important tax law changes and their relevance to Northeast agriculture and Farm Credit East customers.
Other Today's Harvest blogs: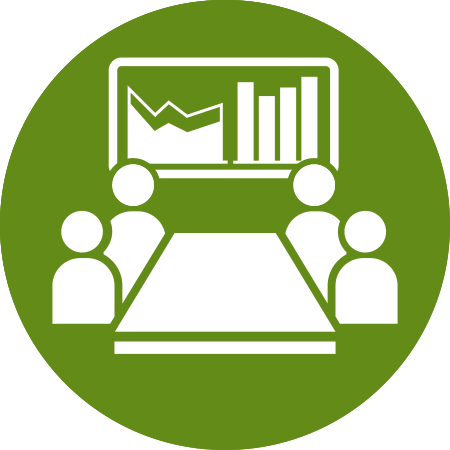 For upcoming webinars, visit FarmCreditEast.com/webinars.
May 2020 Knowledge Exchange Partner
Customer Assistance Program
As a customer-owned cooperative, Farm Credit East is committed to providing the services and resources that our members need. That is why we offer assistance and counseling services through the ESI Group, at no additional cost to our customers. Visit FarmCreditEast.com/cap for more information.