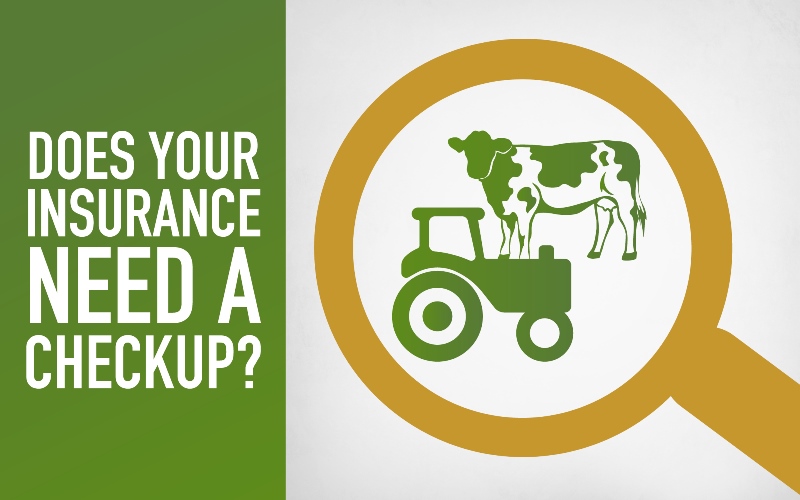 The importance of an annual insurance checkup for your business
In any business, especially one going through a transition or other change, it's important to complete an annual review of important business documents, such as insurance policies, to make sure all of the information is complete and up to date. So much goes on in a business throughout the year – you purchase new equipment, have a name change, a new member joins the business, etc. – and the last thing you want is for something to not be covered under an insurance policy.
A best practice is to start to review your insurance policy a few months before it's up for renewal. It's important to start right at the beginning… literally the front page to make sure the address is correct. While this may seem pretty straight forward, it's often overlooked. You want to make sure that if the address listed on the front of the policy is not the physical location of your insured farm business that location(s) are listed elsewhere or on a separate schedule.
The next thing to check is who is listed as a named insured on the policy. Your policy is very specific about who is a named insured. Most policies only pay claims on property owned by a named insured. For example, if your neighbor stores their tractor in your barn, and the barn burns down, your policy won't typically cover your neighbor's tractor – they are responsible for covering their own property.
There are some policies that provide nominal amounts of coverage for "property of others," but these coverages are usually limited to a few thousand dollars. Another example is if the barn is "owned" by an LLC, but listed under an individual's insurance policy and burns down, the barn may not be covered- or may at the very least lead to delays and confusion on the payment.
Confusion about owners of property and named insureds on policies can occur from lots of different things that may happen in the business throughout the year. Are there any new business partners to add? Does a deceased partner or family member need to be removed? How about any new business entities to include? Have family members in the business changed? Have you sold or purchased land? How was the newly purchased land deeded? Who (or what entity) was listed on the title of a new truck or vehicle?
Some other important things to review include coverages, especially liability categories or classes. Liability coverages can be separate and distinct – this can be very important to understand for today's diversified farm operations. There may have been a time when a farm was just a farm with only a few bulk products sold, and relatively few visitors. Now farms may include a large retail stand with tens of thousands of visits per year. They may include agritainment, retail products and processing, hay rides, trebuchets and corn cannons! It is important for your agent to know what you have going on so you can be properly covered.
This is a little like the philosophy on speeding on the highway. If asked why you shouldn't speed, how would you answer? Maybe so you don't get a citation! But the real reason is risk management and safety – your chance of getting in an accident and being seriously hurt is directly related to your speed of travel. Similarly, your chance of being disappointed when you make a claim (not getting what you need or thought you should get, being denied or even being forced to sell assets to pay a liability claim) are directly related to the amount of open communication you have with your insurance company and agent.
Have your inventories or equipment changed? You typically have a short period to notify your agent of these changes, but it's critical in the event something happens to that inventory or equipment. One example is a farmer found a great deal on a corn chopper and bought it on a Saturday. He forgot to call his agent the following Monday to add it to the insurance and six months later, the machine caught fire. Unfortunately that tractor wasn't covered.
An insurance policy check-up is not just for barns, equipment and liability. When was the last time you reviewed your life insurance policies? Have you recently completed some estate planning? If so, making sure the beneficiaries and owners are correct could be crucial to the plan. Reviewing your life and disability insurance on a regular basis (every 2-5 years) is good habit.
So how can Farm Credit East assist? Farm Credit can serve as a third party to review your policy and make sure what you have meets the needs you've identified. We work with you throughout the year, so we're familiar with what's going on in your business, and might catch things that are missing from your policy (i.e. that new piece of equipment we helped you finance). We're not selling property or liability insurance, so we're able to provide a fair assessment, and can help you ask questions of your agent to make changes in the future.