Press Releases
Winners of Farm Credit East's Lipinski Rural Initiatives Award Announced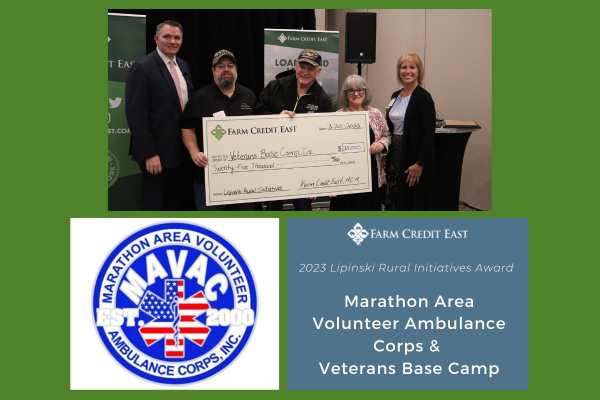 ENFIELD, CONN. — At Farm Credit East's Annual Meeting, the financial cooperative was pleased to announce two winners of the third annual Lipinski Rural Initiatives award. This award was created by Farm Credit East's Board of Directors in 2020 to recognize former Farm Credit East CEO Bill Lipinski and aims to recognize innovative and transformational efforts to revitalize Northeast rural communities. Each recipient was awarded $25,000.
Marathon Area Volunteer Ambulance Corps (MAVAC), based in Marathon, New York, is a non-profit serving 135 square miles in Central New York. Access to health care, including emergency and pharmacy services, is a challenge in many rural areas. Faced with the prospect of losing access to emergency services, MAVAC was created in 2000, and in 2022, responded to 770 calls. As MAVAC has outgrown its current space with the fire department, it's constructing its own ambulance station and its plans include space for a pharmacy so that residents will no longer have to drive more than 15 minutes to fill prescriptions. The $25,000 award will support the expansion of these essential services, improving health care access for residents in Marathon and its surrounding towns.
Veterans Base Camp, based in Chaplin, Connecticut, is a veteran-centered volunteer organization providing support services to help veterans achieve their individual goals and assist those facing challenges. Founded in 2016, Veterans Base Camp offers an in-residence program and also partners with local educational institutions to leverage their resources while also providing teaching and mentoring opportunities for veterans and skill development and training for students. In addition, Veterans Base Camps established a food pantry for veterans from across the region along with community members. Last year, the food pantry added a Vets Table Garden to provide fresh produce. Veterans Base Camp will use its $25,000 award to purchase a greenhouse to extend the growing season for produce for the food pantry.
"Bill Lipinski understood the long-term success of Northeast farm, forest products and fishing businesses depends on the health of the rural communities where they are based, so we created this award in his honor to highlight new approaches to enhance the quality of life in rural communities," said board chair Laurie Griffen. "Congratulations to this year's recipients! Both are doing excellent work to support their rural communities, which will benefit the Farm Credit East customers who call those communities home. We hope this award helps them further their efforts."
Funding for the award was made possible by contributions from Farm Credit East matched by its strategic partner, CoBank. Nominations for the 2024 award will open in November.
###