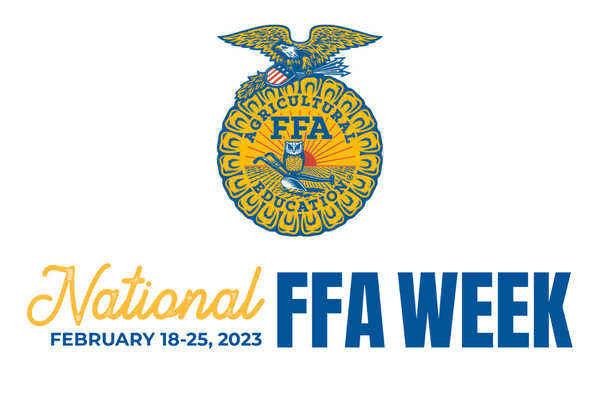 "I believe in the future of agriculture," read the opening words of the National FFA Organization's creed. Here at Farm Credit East, we, too, believe in the future of agriculture. That's why we offer programs to support and develop the industry's next generations – from a variety of scholarships to support students and agricultural educators, to FarmStart investments in startup agricultural operations, Young, Beginning, Small, Veteran Farmer Incentives and GenerationNext management development.
Beyond our programs to support the next generation, our team also believes in the future of agriculture. In fact, many also have roots in agriculture. In honor of National FFA Week (February 18-25, 2023), we recently polled our staff about their rural upbringings and FFA involvement. While the results weren't surprising, we still found them impressive and wanted to share!
Across our team of 575 agricultural specialists, we learned we had a combined 130 years of FFA involvement, extending from 1980 to the present. (We most likely have involvement reaching much earlier than that, but this was only a survey of our current team, not including retirees.)
Our team has been involved with 30 FFA chapters and our teammates have earned many honors, including 25 Greenhand Degree recipients, 25 Chapter Degree recipients, 20 State Degree recipients, and 8 American Degree recipients. We also have 41 chapter officers and eight state officers (including two state presidents – New York and Maine) among our ranks!
Finally, we learned that our staff members have competed in well over 25 different career development events, with several winning state and national recognitions, including a recipient of the National Star Proficiency in Agricultural Education.
All that's to say, our team believes in the future of agriculture. Many became involved in agriculture at a young age and later found a career at Farm Credit East to be a rewarding way to continue their service to the industry.
"In high school my FFA Advisor suggested I look at Farm Credit as a possible career because I was interested in finance. Being in the FFA was a great experience and has led to a career that is 28 years and counting," said Paul Webster, Portfolio Manager.
"I joined Farm Credit East because of its similar mission to FFA. Both organizations share core guiding principles and are committed to serving the agriculture community and supporting the industry's future," said Kyle Bell, Knowledge Exchange Coordinator.
"Being a member of the National FFA Organization was where I found my passion and desire to serve the agriculture community," said Jennifer Hunter, Documentation Specialist Leader. "To continue my service in agriculture, I joined Farm Credit East because it truly is an organization that understands the unique needs of Northeast farmers. Farm Credit East applied the foundational skills I developed while being a member of FFA and gave me the enhanced skills and knowledge to truly be able to impact the region's farmers."
We're proud of our team's FFA roots and also grateful to the National FFA Organization for influencing many of our teammates' passion for the industry.
---
If you know of an aspiring FFA student, we want to support them! Let them about Farm Credit East's FFA Student Scholarships. $500 scholarships are awarded twice per year to support FFA students' SAE projects. The next deadline is June 30.
Learn more about our FFA scholarship

We also provide $1,500 higher education scholarships to students pursuing careers in ag-related fields. The deadline to apply is April 3, 2023.
Learn more about our higher education scholarships

Meet the Authors
Connect with and discover our Today's Harvest blog authors and their broad range of financial and northeast agricultural expertise.