Ag Economy
On the Market for Equipment? Keep in mind these major themes in the farm machinery market
By: Mike Fleming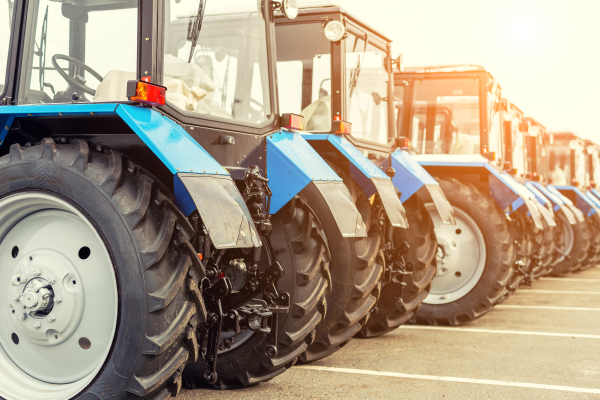 Between rate increases, tightening inventories, market volatility and the rising cost of inputs, the agricultural equipment and financing landscape is entering a distinctly different environment following years of unprecedented demand and high farm profitability. As we head into year-end, here are the major themes and factors impacting machinery purchases, financing activity and overall buyer sentiment.
Shifts in buyer sentiment
Rewind five years ago, and year over year, buyer optimism and equipment purchases continued to increase drastically from 2017 through the spring of 2022. Supply chain issues attributed to COVID-19, historically low interest rates and higher commodity prices caused the perfect formula for demand for farm equipment like we've never seen before. However, since the spring of 2022, rising interest rates have caused this trend to start to decline.
Supply chain disruption and low inventories have caused equipment buyers to be more aggressive with what they're willing to consider as alternatives to their original business plan. And with the consolidation we've seen, producers are working closer with their trusted partners and lenders to be proactive with their financing plans and budgets.
Rates and financing considerations
Rates, of course, are an important consideration in any financing plan. According to Alex Bauer, an AgDirect territory manager in Nebraska, financing activity has remained relatively steady in his region despite rising rates and equipment shortages.
"Rates have increased over the last 12-18 months which has caused some slowdown, but not as slow as what might be yet to come," he shares. "Cash has become a larger component of purchases because of higher rates and buyers still seem to have a lot of cash on hand." 
However, in other areas of the country, farmers have started to pull back the reins on machinery purchases and equipment financing. According to Heath Gentis, an AgDirect territory manager in Indiana, equipment financing has decreased primarily due to increased interest rates and tighter margins that have resulted from higher rates. "Cash flow really tightens up when you double the interest payment from the previous year's cash flow statement," he commented.
One theme that is consistent across the territories AgDirect serves is farmers are sharpening their pencils on payments as part of their equipment acquisition decision making. Creative financing will be key to lowering payments and providing a little bit of rate relief.
Chad Goldsmith, an AgDirect territory manager in Oregon and Washington, expects leasing, stretching out terms and other financing strategies will play a much bigger role in equipment purchasing going forward. "With large cost increases, these will be some of the tools that will have to be used to keep producers in the equipment they need," he said.
Supply and demand trends
While interest rates have a widespread impact on the machinery market, supply and demand trends of new and used iron are much more dependent on where equipment is purchased and sold. Here in the Northeast, equipment supplies are easing. Compact and mid-size tractors are readily available. Specialty equipment and larger horsepower tractors are limited. Skid loaders are still in big demand across the board due to commercial business competition.
Overall, economic challenges are signaling a potential slowdown in the machinery market as production gradually catches up with demand while rising rates and inflated equipment values create some buyer hesitancy. Dealers and equipment lenders will play an important role in helping customers cover their replacement needs.
As a nationwide equipment financing program, AgDirect is acutely aware of the challenges and opportunities equipment dealers and ag producers are navigating. With our knowledge and dedication to serving agriculture, customers can be confident in AgDirect as a trusted financial partner.
AgDirect offers competitive rates and terms for both new and used equipment. Apply online, check rates, quote payments and compare options with the free AgDirect Mobile application, or learn more about AgDirect equipment financing by locating your nearest AgDirect territory manager or contact the AgDirect financing team at 888-525-9805. 
For inquiries in Farm Credit East's Territory, New York, New Jersey and the New England states, contact:
Mike Fleming
(203) 695-2000
Mike.Fleming@agdirect.com

Meet the Authors
Connect with and discover our Today's Harvest blog authors and their broad range of financial and northeast agricultural expertise.