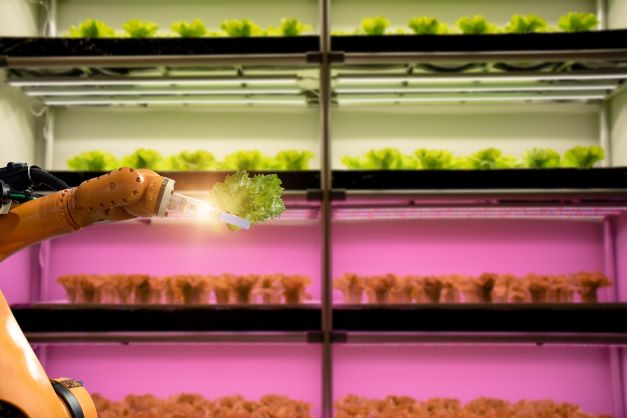 Recently, I had the opportunity to attend the Indoor AgTech Innovation Summit in New York City. The two-day event was a whirlwind of networking, interesting lectures and trade show exhibitors. The theme of this year's event focused on the innovative things happening in Controlled Environment Agriculture, or CEA for short.
The conference opened with remarks from NYC Mayor Eric Adams. While agriculture of any kind may seem far removed from the business of a big-city mayor like Adams, he brought it home by talking about some of the amazing businesses that are growing food in urban areas in and around New York City. He highlighted their connection to nutrition and opportunities for youth to get involved.
Following Adams' welcome were two full days of programming. While too extensive to cover in this brief blog post, here is a recap of some of the notable lectures:
Gaining Efficiencies and Solving Labor Challenges with Artificial Intelligence (AI), Automation, and Robotics presented by a panel that included some leading CEA growers and technology providers. This session talked about the challenges of staffing an indoor growing operation and how innovations in technology and equipment are helping growers leverage their staff and expertise with cutting-edge machinery and systems to streamline and automate everything from climate control, to planting and growing, harvesting, and packaging and shipping.
Utilizing Space-Based Research to Enable Stronger, Disease Resistant Crops presented by Christine Kretz from the International Space Station. In this session, Ms. Kretz talked about some of the groundbreaking research that's being done in space and possible real-world applications for it on Earth. On the International Space Station, they are doing what could be described as the "ultimate controlled environment agriculture." They are growing crops in space both for scientific experiments as well as for consumption by astronauts. Some of what they are learning can be translated into important knowledge for Earth-bound growers both in CEA as well as more traditional field-based farmers.
Start-up Technology Showcase was a pitch competition from four leading-edge technology innovators. This session featured two principals from venture capital firms who invest in CEA startups who were presented to by several ag tech founders seeking capital to develop their ideas.
Connecting with the Conscious Consumer featured a panel of growers, retailers and produce marketers. They discussed consumer marketing; how consumers view CEA and indoor-grown produce; what appeals to them and what doesn't; and how indoor growers can add value to their greens and other produce.
View the full agenda and learn more about this year's speakers by visiting the Summit's website here. Session content will be available on demand through July 24, 2022.
Along the way, I had a number of conversations with growers as well as equipment and technology providers about how Farm Credit East fits into this exciting and fast-growing field. Many of the startup and fast growing companies in this space are using venture capital funds to finance rapid growth. But Farm Credit East has a role to play as well. For some small-scale startups, our FarmStart program can be a key funding piece to get them up and running. We have already made investments in some small CEA growers, both in greenhouse production of greens as well as some container-based vertical farms.
For other CEA businesses, Farm Credit East has provided debt capital to leverage their equity and enable them to purchase equipment, scale up, or for operating expenses as they grow their businesses.
All in all, this conference was a great way to catch up with some of the exciting innovations, trends, inventions and new technologies that define this rapidly growing and evolving part of agriculture.
Whether you're growing crops in the field, in a greenhouse, or in a hydroponic vertical farm, Farm Credit East is there to provide capital and financial services to your business. As farming evolves, we want to evolve with it, staying on the cutting edge along with our customers who continue to push the boundaries of what is possible in agriculture.
Meet the Authors
Connect with and discover our Today's Harvest blog authors and their broad range of financial and northeast agricultural expertise.