Farm Credit
Improving Access to Fresh Food and Expanding Diversity in Agriculture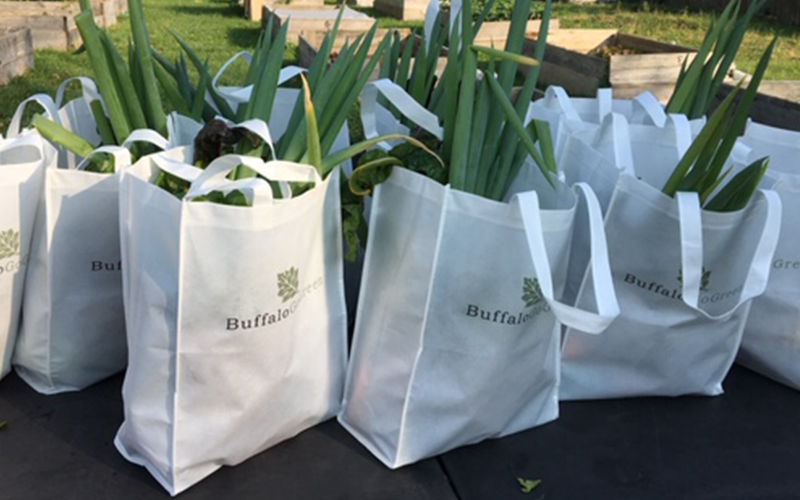 In 2022, Farm Credit East aims to grow its ESG efforts, especially in the areas of environmental stewardship and diversity, equity and inclusion. As it relates to environmental stewardship, Farm Credit East supports producers' conservation practices and efforts to combat climate change. The cooperative has been proud to assist customers as they invest in new technologies. Learn more about some of those producers' efforts in our Stewards of the Land blog series. The organization is also a strong supporter of programs such as the Leopold Conservation Award in New York and New England, which recognizes agricultural producers' conservation efforts.
Diversity, equity and inclusion is an area where Farm Credit East strives to do better. The first step in creating a more diverse agricultural community in the Northeast is to support the efforts of organizations like Buffalo Go Green. Based in Buffalo, NY, the organization aims to both expand access to fresh, healthy food, while also growing diversity within the agriculture industry.
Improving access to healthy food
Buffalo Go Green was founded with the mission to enhance wellness in underserved communities by way of improving access to healthy food. At its core, Buffalo Go Green is an urban farm, but its efforts expand well beyond just growing healthy food.
While Western New York is home to lush farms, Allison DeHonney, CEO and executive director of Buffalo Go Green, noticed a disconnect between that healthy food and access to it among residents in urban centers. The organization was founded to close that gap by bringing food production right into Buffalo's east side, where food apartheid exists, Allison explained.
Buffalo Go Green constructs greenhouses and raised beds on vacant city lots to grow food which is then sold through mobile and farmers' markets. In addition to food production, they partner with clinics and physicians who believe food is medicine to offer a fruits and vegetables prescription program.
Growing diversity in agriculture
Allison described another core part of their mission is to educate people of color who've been separated from the land due to racism and trauma. They work diligently to get them integrated back into agriculture and the food system by teaching them the history of agriculture, including information about growing and how food is prepared.
Buffalo Go Green partners with a number of organizations to further their mission, including Northeast SARE, Cornell University, Buffalo Niagara Medical Campus and many others.
"These partnerships are instrumental in helping us grow our technical knowledge in agriculture," commented Allison.
Last winter, Farm Credit East provided Buffalo Go Green with a grant to grow their operations. "Funds were used to repair raised beds, purchase fertilizer and purchase additional outfittings needed for our high tunnel greenhouses, such as another wash sink to accommodate necessary COVID-19 sanitation precautions," said Allison. Farm Credit East has also supported Buffalo Go Green partner organizations, including the Providence Farm Collective and the Greater Buffalo Urban Growers.
Farm Credit East realizes the importance of organizations such as Buffalo Go Green to not only connect urban residents and those in underserved communities with access to fresh, healthy food, but also to grow diversity within the agriculture industry. To learn more about Buffalo Go Green, visit BuffaloGoGreen.org. Farm Credit East looks forward to furthering partnerships with organizations like Buffalo Go Green to expand its resources and offerings to help grow a more diverse agricultural community in the Northeast.
In the next and final installment of our ESG blog series, we'll head to the Boston, Mass., area to learn more about The Food Project , an organization working to create a thoughtful and productive community of youth and adults who work together to build a more just and sustainable food system. In the meantime, read previous posts in the series to learn more about the Curriculum for Agricultural Science Education (CASE), which aims to educate the next generation of agriculture leaders, and Three River Farmers Alliance , an organization connecting farmers with expanded markets while increasing access to fresh, healthy food in the communities they serve.
Meet the Authors
Connect with and discover our Today's Harvest blog authors and their broad range of financial and northeast agricultural expertise.