Farm Credit
Three River Farmers Alliance: Connecting farmers with expanded markets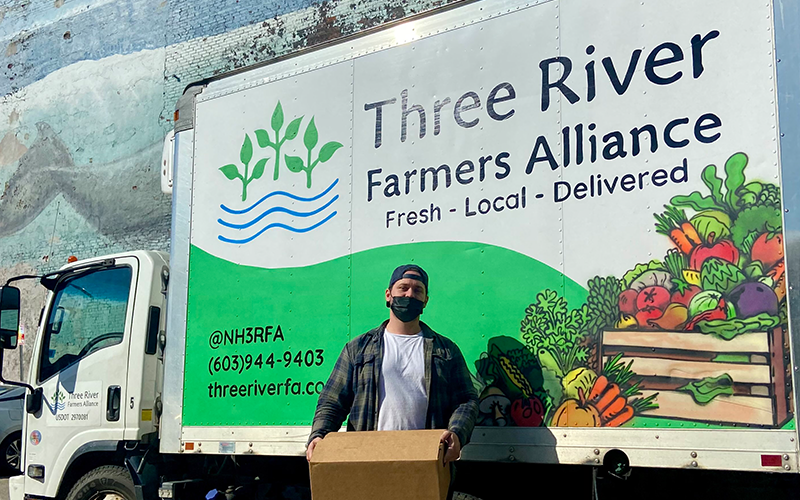 The dictionary defines stewardship as "The job of supervising or taking care of something." Farm Credit East's role as steward is one it takes seriously — in fact, it's part of our organizational DNA. Not only are investors, policymakers and other stakeholders increasingly interested in our ESG — or Environmental, Social and Governance — efforts, but these factors are also of importance to our customers, our employee team and the organization as a whole.
ESG is a key focus of our board of directors. In 2020, our board of directors reorganized their committee structure to combine stewardship and governance into one committee to make sure its goals and objectives align. The board plans to build on Farm Credit East's many existing ESG initiatives in the coming years.
Additionally, ESG is an area we had partned with Yankee Farm Credit for many years, including through programs like Farm Credit Northeast AgEnhancement and FarmStart for beginning entrepreneurs. So as we combined our organizations earlier this year, expanded stewardship efforts to continue being a positive influence in the rural communities we serve is a core focus.
Today's blog kicks off a series that will focus on Farm Credit East's ESG efforts by highlighting organizations we have supported and the positive impact they have had in developing agriculture's next generation, increasing access to fresh, healthy food options, and revitalizing rural communities. In this first installment, meet Three River Farmers Alliance based in New Hampshire's Seacoast Region.
Connecting farmers with expanded markets
Founded and owned by farmers, Three River Farmers Alliance aims to develop relationships between local farms, customers and businesses with the vision to create healthy communities and expand economic opportunities for regional farmers and producers.
Early on, the alliance's four founders realized the benefit of working together to meet the same goals. With a combined infrastructure, they could expand their economic opportunities and extend their network to local farms that might not have the capital, staff and other resources necessary to reach expanded markets. Three River Farmers Alliance fills the gap, providing the logistics of transportation, storage, sales, customer service, marketing, etc., to allow small
farmers to attain those business opportunities.
Pivoting business model to continue to serve through the pandemic
Traditionally, Three River Farmers Alliance served wholesale markets. But when COVID-19 struck, they pivoted their business model overnight to direct-to-customer home delivery sales. The alliance has been growing rapidly ever since.
"We projected there would be a shift to e-commerce in the grocery arena, but COVID-19 accelerated the process, which resulted in enormous growth for us," said Evan Eppler, operations director of Three River Farmers Alliance.
Returning revenues to improve infrastructure
In the spring of 2021, Three River Farmers Alliance was a recipient of Farm Credit East's inaugural Lipinski Rural Initiatives Award, receiving a $25,000 award in recognition of their efforts to revitalize rural Northeast communities.
"Our infrastructure wasn't able to sustain the level we were growing," said Evan. "Since being granted the Lipinski award — which was absolutely incredible — we have been able to move into a better facility and are working on building interior refrigeration and setting up a loading-dock accessible area."
"Our mission is to support local agriculture, and we're able to do that through the network and infrastructure we've created that small farms and businesses may not have the ability to do," Evan continued. "As we grow, we keep returning our revenue to infrastructure improvements, which creates jobs and we're able to offer more services to our farmers. For example, we'd love to offer pick-up from all of our farms, but we need the trucks and more staff and drivers to be able to do that. The more we're able to grow, the more successful we'll be in supporting our mission and local agriculture."
Lipinski Rural Initiatives Award
When the Farm Credit East Board of Directors established the Lipinski Rural Initiatives Award, it aimed to further the recipients' mission to make a positive impact in rural communities into the future. Three River Farmers Alliance embodies the award's intent, connecting farmers to expanded market opportunities and extending access to fresh, local food among residents in the communities the organization serves.
For 2022, Farm Credit East and its strategic partner CoBank have committed a combined $50,000 to individuals, organizations or institutions that are undertaking innovative and transformational efforts to revitalize Northeast rural communities. To learn more about the award, or to nominate someone, visit FarmCreditEast.com/Rural. Nominations are due by January 31, 2022.
To learn more about Three River Farmers Alliance and their work to connect farmers with expanded markets while increasing access to fresh, healthy food in the communities they serve, visit ThreeRiverFA.com. And stay tuned for the next installment in our ESG series which will highlight the Curriculum for Agricultural Science Education (CASE).
Meet the Authors
Connect with and discover our Today's Harvest blog authors and their broad range of financial and northeast agricultural expertise.