Newsroom
Stay up to date on the latest Farm Credit East news. Also, enjoy the latest edition of our Financial Partner magazine
Latest News
Press Releases
Farm Credit Awards Efforts to Develop and Promote Northeast Agriculture
The Farm Credit Northeast AgEnhancement Program, a joint effort of Farm Credit East and CoBank, recently provided $65,000 in grant funding to 17 organizations to assist their efforts to support young and beginning farmer initiatives, encourage youth leadership development, promote diversity equity and inclusion, and advance northeast agriculture, forestry and commercial fishing. Submissions for the next round of grant funding are due by April 1.
January 30, 2023
All Releases
The search results are displayed
Press Releases
Students Earn Career Training at Farm Credit East
Farm Credit East was pleased to host 14 college students with career aspirations in production agriculture, agribusiness, accounting, finance or related fields this summer as part of its internship program. As the interns' summer experiences comes to a close, we thank each of them for their efforts which will contribute lasting value and information for association initiatives and future planning.
August 09, 2021
Press Releases
Farm Credit East Awards $55,500 in Higher Education Scholarships
Farm Credit East, the Northeast's largest agricultural lender, recently awarded $55,500 in higher education scholarships to 33 student recipients. Farm Credit East's scholarship program supports students with diverse career aspirations in agriculture, commercial fishing, forest products and related fields from across the association's seven-state territory, including six diversity candidate recipients.
June 28, 2021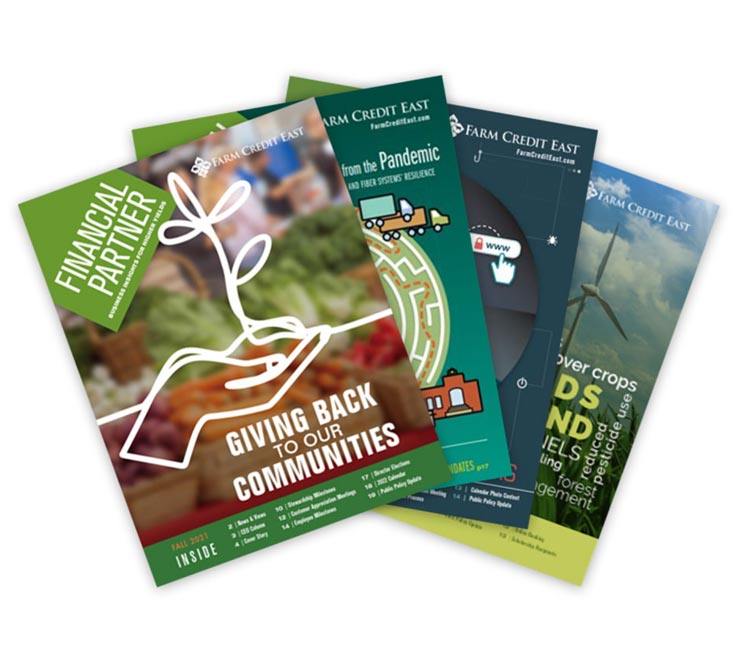 Financial Partner Magazine
Our Financial Partner magazine provides business insights and cooperative updates for customers, employees and friends of Farm Credit East.