Newsroom
Stay up to date on the latest Farm Credit East news. Also, enjoy the latest edition of our Financial Partner magazine
Latest News
Press Releases
Farm Credit Awards Efforts to Develop and Promote Northeast Agriculture
The Farm Credit Northeast AgEnhancement Program, a joint effort of Farm Credit East and CoBank, recently provided $65,000 in grant funding to 17 organizations to assist their efforts to support young and beginning farmer initiatives, encourage youth leadership development, promote diversity equity and inclusion, and advance northeast agriculture, forestry and commercial fishing. Submissions for the next round of grant funding are due by April 1.
January 30, 2023
All Releases
The search results are displayed
Press Releases
Winners of Farm Credit East's Lipinski Rural Initiatives Award Announced
At Farm Credit East's 2022 Annual Meeting, the financial cooperative was pleased to announce two winners of the second annual Lipinski Rural Initiatives award. This award was created by Farm Credit East's Board of Directors in 2020 to recognize former Farm Credit East CEO Bill Lipinski and aims to recognize innovative and transformational efforts to revitalize Northeast rural communities.
April 18, 2022
Press Releases
Farm Credit East Reports Strong 2021 Financial Results
Farm Credit East reported solid 2021 financial results today, showing continued growth in loans coupled with strong earnings, which allowed the Farm Credit East to distribute a record $91 million in patronage dividends to eligible customer-owners based on 2021 earnings.
April 01, 2022
Press Releases
Farm Credit East Encourages Stockholders to Vote in 2022 Director Elections
The 2022 director candidates were formally introduced at Farm Credit East's Annual Meeting in March, and subsequently, voting stockholders were mailed their ballots to vote in the 2022 Director Elections. As a customer-owned cooperative, the annual director election is an important opportunity for stockholders to express their voice in ownership and direction of the cooperative. Farm Credit East encourages members to vote. Online voting is available for those stockholders who have opted-in to receiving electronic communications. Ballots must be received by 5:00 p.m. on Wednesday, April 13.
March 30, 2022
Press Releases
Farm Credit East Scholarship Application Open
Farm Credit East is currently accepting scholarship applications from high school seniors and college students with career aspirations in agriculture, commercial fishing and the forest products industries from across the association's eight-state territory. Applications are due by April 1.


March 23, 2022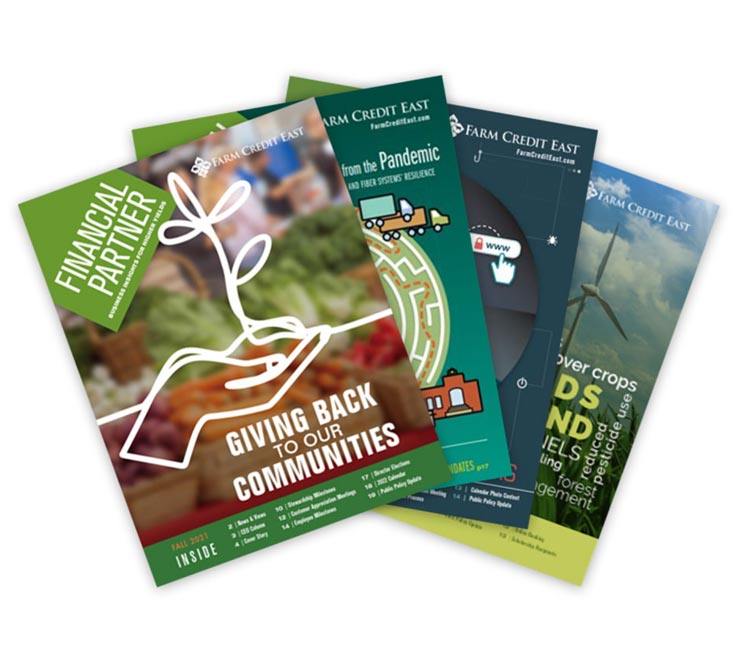 Financial Partner Magazine
Our Financial Partner magazine provides business insights and cooperative updates for customers, employees and friends of Farm Credit East.