Newsroom
Stay up to date on the latest Farm Credit East news. Also, enjoy the latest edition of our Financial Partner magazine
All Releases
The search results are displayed
Press Releases
Crops Growers Hosts Webinar Series: 2023 Crop Insurance and Dairy Outlook
As the new year begins, producers need forecasts and strategies in order to solidify their 2023 risk management plans. Join Crop Growers, LLP for two free 2023 outlook and risk management webinars being hosted this January: 2023 Crop Insurance Strategies and Outlook, and Dairy Outlook 2023 – Managing Your Risk: Markets, Margins and Revenue.
January 08, 2023
Press Releases
Reminder: Perennial Crop Sales Closing
The deadline to insure Northeast perennial crops for the 2023 crop year is November 20, 2022. Insurable perennial crops include apples, peaches, grapes, cranberries, blueberries, pears and cherries.
October 02, 2022
Press Releases
Reminder: Spring Crop Sales Closing
The deadline to insure spring crops in the northeast for the 2022 crop year is March 15, 2022. Insurable spring crops include field and vegetable crops such as corn, soybeans, barley, oats, fresh market sweet corn, cabbage, processing beans, processing sweet corn, dry beans, green peas, fresh market beans, tomatoes, tobacco and potatoes.
February 02, 2022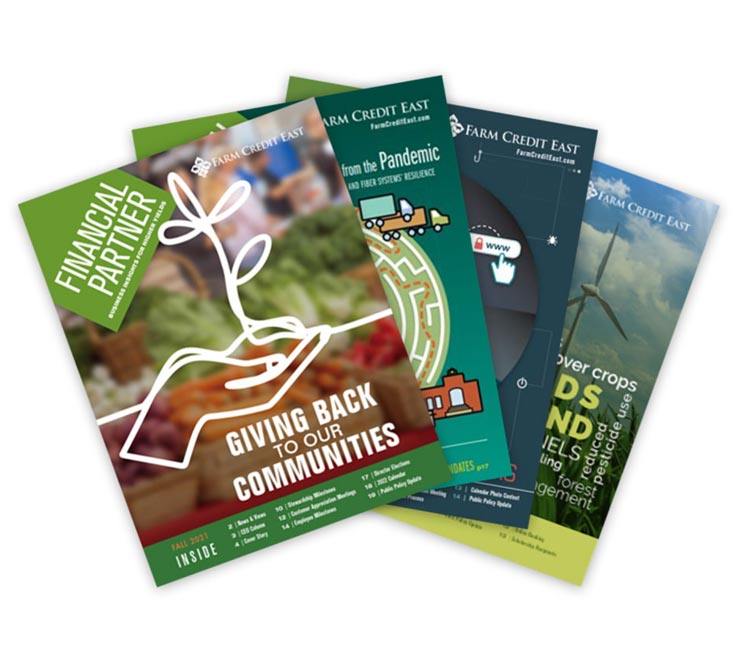 Financial Partner Magazine
Our Financial Partner magazine provides business insights and cooperative updates for customers, employees and friends of Farm Credit East.